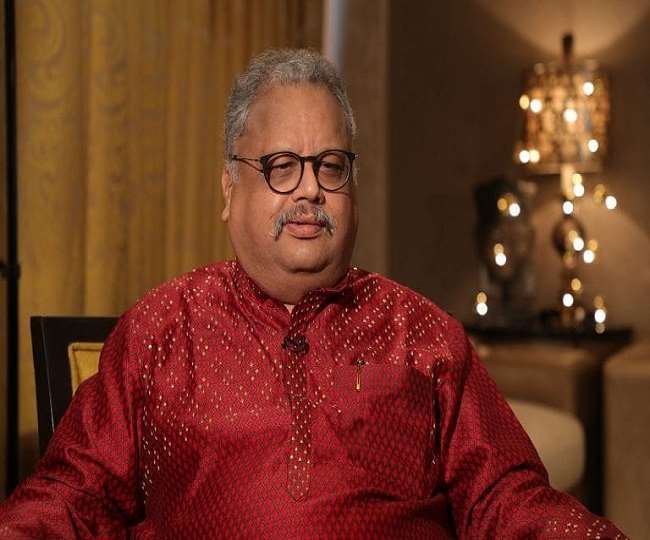 Rakesh Jhunjhunwla Biography:
An investor and an Indian business magnate Rakesh Jhunjhunwala manages his own portfolio as a partner in his asset management firm, Rare Enterprises. Rakesh Jhunjhunwala is popularly referred to as the "Warren Buffett of India" and the "King of Bull Market". 
Rakesh Jhunjhunwla Age:
Born on 5th July 1960, Rakesh Jhunjhunwala is 61 years old.
Rakesh Jhunjhunwala Net Worth:
As, of October 2021, Rakesh Jhunjhunwala net worth is estimated at around $5.8 Billion which is 590 Crores USD.
Rakesh Jhunjhunwala Wife:
Rakesh Jhunjhunwala is married to Rekha Jhunjhunwala and the couple has 3 children.
Rakesh Jhunjhunwala Education and early life:
Rakesh Jhunjhunwala grew up in a Rajasthani family in Bombay with his father working as a Commissioner of Income Tax. Going by Rakesh's surname, his ancestors belonged to Jhunjhunu, Rajasthan. Rakesh graduated from Sydenham College, and after that enrolled himself at the Institute of Chartered Accountants of India (ICAI).
Rakesh Jhunjhunwala Airlines: 
Rakesh Jhunjhunwala is soon up to start his Airlines company, Akasa Airlines, with former Jet Airways CEO, Vinay Dube being the CEO of Akasa Airlines.
Rakesh Jhunjhunwala Career:
Rakesh Jhunjhunwala is the chairman of Hungama Digital Media Entertainment Pvt. Ltd. and Aptech Limited. Rakesh also sits as the board of directors of Geojit Financial Services, Praj Industries Limited, Provogue India Limited, Bilcare Limited, Concord Biotech Limited, Prime Focus Limited, Innovasynth Technologies (I) Limited, Mid Day Multimedia Limited, Nagarjuna Construction Company Limited, Viceroy Hotels Limited, and Tops Security Limited.
As of 2021, Rakesh Jhunjhunwala's biggest investment is in the Titan Company worth Rs, 7,294.8 crores. While Rakesh Jhunjhunwala also has stakes in privately held companies such as Metro Brands, Concord Biotech, and Star Health Insurance.
Rakesh Jhunjhunwala is currently a member of the Board of Advisors of India's International Movements to Unite Nations (I.I.M.U.N.).