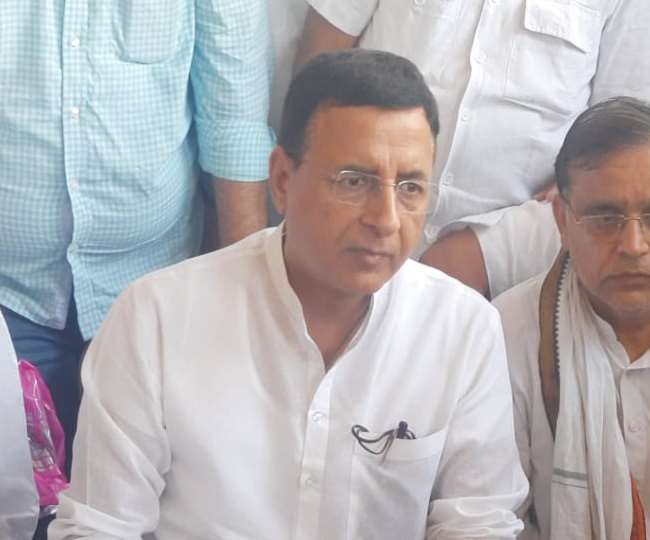 Randeep Surjewala on Yesterday's order of the Centre 
Congress leader Randeep Surjewala today denounced the centre's "unilateral" decision to increase the powers of BSF in Punjab and other states and claimed that it was meant to divert the attention from from the movement of heroin through the Adani-run Mundra Port in Gujarat this year. 
Inspired by the "Chronology samajhiye" remark of Union Home Minister Amit Shah, Randeep Surjewala linked the reported movement of 25000 kg shipment through the port in June and capture of 3000 kg shipment from the same port in September to the new order on enhancing the powers of Border Security Force.
"The Chronology -
25,000 kg of heroin came through Adani Port, Gujarat on 9/6/2021
3,000 kg of heroin caught at Adani Port, Gujarat on 13/9/2021.
BSF jurisdiction unilaterally increased from 15 km to 50 km in Punjab.
Federalism Dead, Conspiracy Clear," he tweeted.
In September this year,consignment of 3,000 kg heroin was captured by the authorities from the Mundra Port of Adani Group. The consignment came from Afghanistan,world's largest producer of Opium, via Iran.
Last Month, Congress' spokesperson Pawan Khera also questioned the government and criticised it for not being able to stop the drugs from entering the country and said,"Can (the BJP) tell us why Gujarat has become such a hotbed for drug smuggling... Why are we not busting this racket? How is it the syndicate still carrying on? This is a serious matter..." 
He took a dig at the government after the Home Ministry issued an order last night, providing the BSF with power to carry out search,arrest and seizures within 50km from the international borders of Punjab, West Bengal, Assam and the newly formed Union Territories of Ladakh and Jammu and Kashmir.
Centre's Order to Enhance BSF Powers
Previously BSF had power to carry out such functions within 15 km in these states,according to an order in 2014. However, the erstwhile state of Jammu and Kashmir,which got bifurcated into Two Union Territories in August 2019, was not included in that order. But the last night's order specifically mentioned the Union Territories of Jammu and Kashmir and Ladakh.
Hence, according to the fresh order, BSF will now be able to carry out searches and can make arrests within 50 km area from international borders in the states of Ounjab, Assam, West Bengal and Union Territories of Jammu and Kashmir and Ladakh
Punjab's Chief Minister, Charanjit Singh Channi opposed the decision and called it "a direct attack on federalism."