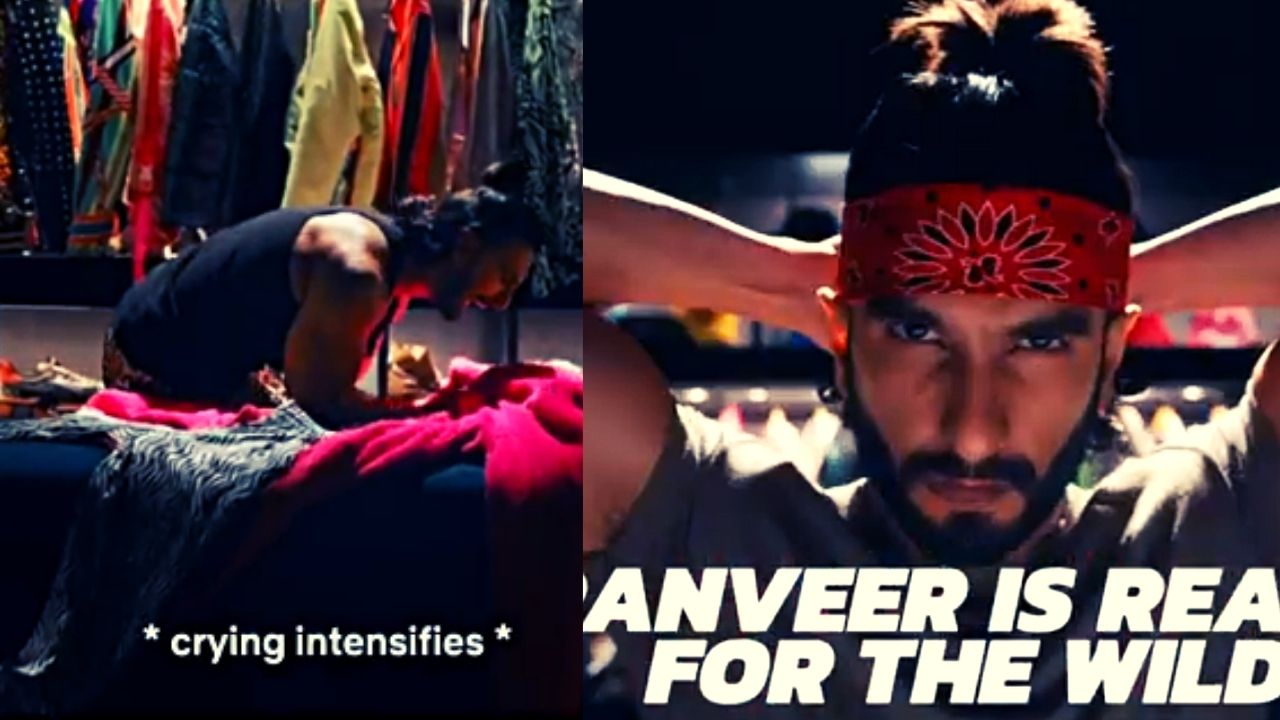 Ranveer SIngh is all geared up to fight the wild just for his beloved wife Deepika, yes because he has to get that flower no matter what!!. Well, the Birthday boy Ranveer who turned 37 this year is soon to feature in the first ever Netflix's original where he will collaborate with all time famous wildlife survivor Bear Grylls. The programme, titled Ranveer Vs Wild With Bear Grylls, will broadcast on July 8 and Ranveer has been building up anticipation. In the recent promo he was ditching his flower boy closet to gear up for something thrilling.
Ranveer Singh ditches his colorful closet for Man Vs Wild
We all know Ranveer and his obsession with quirky flamboyant ensembles, actors loves sporting his unique style wherever he goes but this time Rocky or Rani star has to ditch his style and he is too upset about it. Ranveer posted a video of himself Tuesday in front of his closet. The actor comically sobbed while holding a pink coat in his arms and then laid it down on the table,  Ranveer bid farewell to the flashy attire while sobbing and kissing. The movie then cuts to a sequence of him and Bear Grylls sprinting through the wilderness. 


Taking to his twitter account ranveer wrote "You know things are getting serious when I left my wardrobe behind and picked camo pants instead. Get ready for a Ranveer you've never seen before #RanveerVsWildWithBearGrylls Netflix India's first interactive special arrives on July 8!



Well, yes Ranveer we know things are quite serious and so are the fans about the series who are eagerly waiting to stream the fresh new series of Man Vs Wild adventure.


What is Ranveer Vs Wild With Bear Grylls trailer about
The trailer follows Ranveer Singh as he searches for a rare flower for his wife Deepika Padukone while traveling with adventurer Bear Grylls in the wild. Well, Ranveer is not the first Indian who will collaborate with Mr. grylls before him Prime Minister of India Mr. Narendra Modi, Akshay Kumar, Ajay Devgn, Rajnikanth etc big names from the country have already showed the adventurous side of themselves through the show.