Ranveer Singh joins BTS Jimin at Tiffany and Co. event in New York City; pics surfaces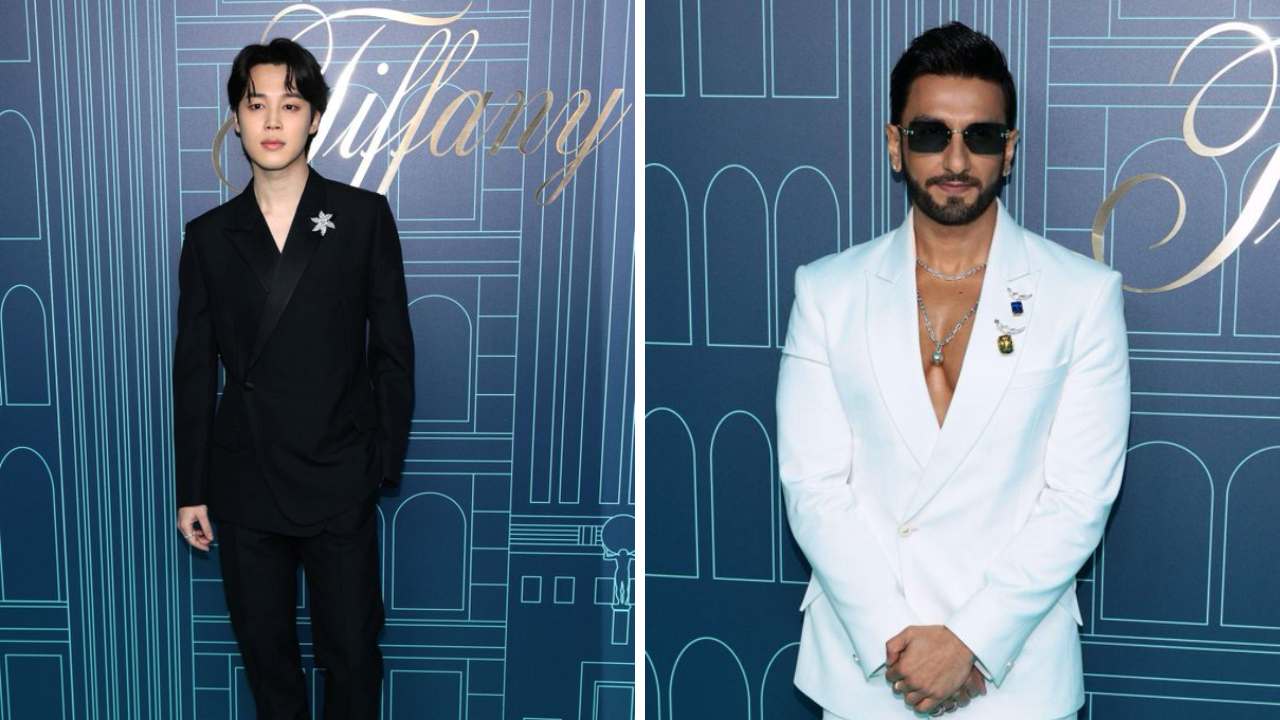 BTS member Park Jimin was recently announced as the global brand ambassador of luxury jewelry label Tiffany and Co. days ago Jimin was spotted leaving South Korea to attend the big Inauguration event of the label happening in New York City. The same day Bollywood actor Ranveer Singh was also spotted leaving for New york and since then Desi fans have been anticipating the meeting and greeting of the two celebs. But, now it has been made clear that Ranveer Singh is attending the same event as BTS member Park Jimin. The duo were spotted alongside many big faces including Miss Flo, Anya, Jacob, Blake Lively, Katy Perry etc. The pics from the grand event are surfacing and twitter is flooded with reactions.
Jimin & Ranveer Singh attends Tiffany and Co. event 
Park Jimin is making millions of hearts race as he channeled his model aesthetics in an all black ensemble while walking the red carpet of Tiffany and Co. inauguration event. Jimin who recently released his solo album Face was seen posing alongside Alexandre Arnault. This might be Jimin's first appearance without any BTS members. On the other hand Ranveer arrived at the Tiffany & Co. location today wearing a white suit. Ditching the shirt and anything beneath he kept things sexy. He completed the ensemble with sunglasses and a layered necklace.


Twitter trends Park Jimin
jimin and ranveer are in the same tiffany event ! we atleast need a picture together 😭😩 pic.twitter.com/mUZ8ijOkNh

— ╰ ayu⁷ ╮🇮🇳 (@_DevAkshi__) April 28, 2023
THE MAIN EVENT PARK JIMIN pic.twitter.com/IuNok5KHJq

— JIMIN VOCAL | threads & analyses (@PJM_vocal) April 27, 2023
all eyes on park jimin#JiminxTiffanyAndCo pic.twitter.com/MmcIS3aPpi

— JMF (@jmfolder) April 28, 2023
everyone smiling while taking pictures of park jimin 😭 and he's so polite too#JiminxTiffanyAndCo #JiminxTiffanyLandmarkhttps://t.co/iEmMCynIVm pic.twitter.com/5MkAbzRJoQ

— prod jm (@jmnpromise) April 28, 2023
Ranveer Singh arrived at the Tiffany & Co the land mark opening 💙 #TiffanyAndCo pic.twitter.com/JDRHnTezdu

— Ranveer Singh TBT (@Ranveertbt) April 27, 2023
Her are pictures of @RanveerOfficial, @winmetawin, @GalGadot & #jimin as they attend the reopening of the @TiffanyAndCo NYC Flagship store.#RanveerSingh #Ranveer #JiminXTiffanyAndCo#galgadot #TheTiffanyLandmark #TiffanyAndCo #winmetawin #TiffanyAndCoxWIN #TiffanyAndCoxJimin pic.twitter.com/V5eBZcrupO

— GOODTIMES (@mygoodtimes) April 28, 2023
BTS on the work front
The 7 member Boy Band from South Korea, is currently busy focusing on their solo career while also juggling in between their mandatory military services for the country. As of now Kim Seokjin and Jung Hoseok have successfully enrolled for the military. Meanwhile the rest of the members including Jimin, Suga, RM, Taehyung and Jungkook are releasing their solo albums one by one. BTS Suga aka Min Yoongi kicked off his first solo world tour and his next stop will be the US. On the other hand there are rumors of Jungkook visiting India for the first time with supermodel Kylie Jenner for some big event happening in November, however Big Hit is yet to confirm the news