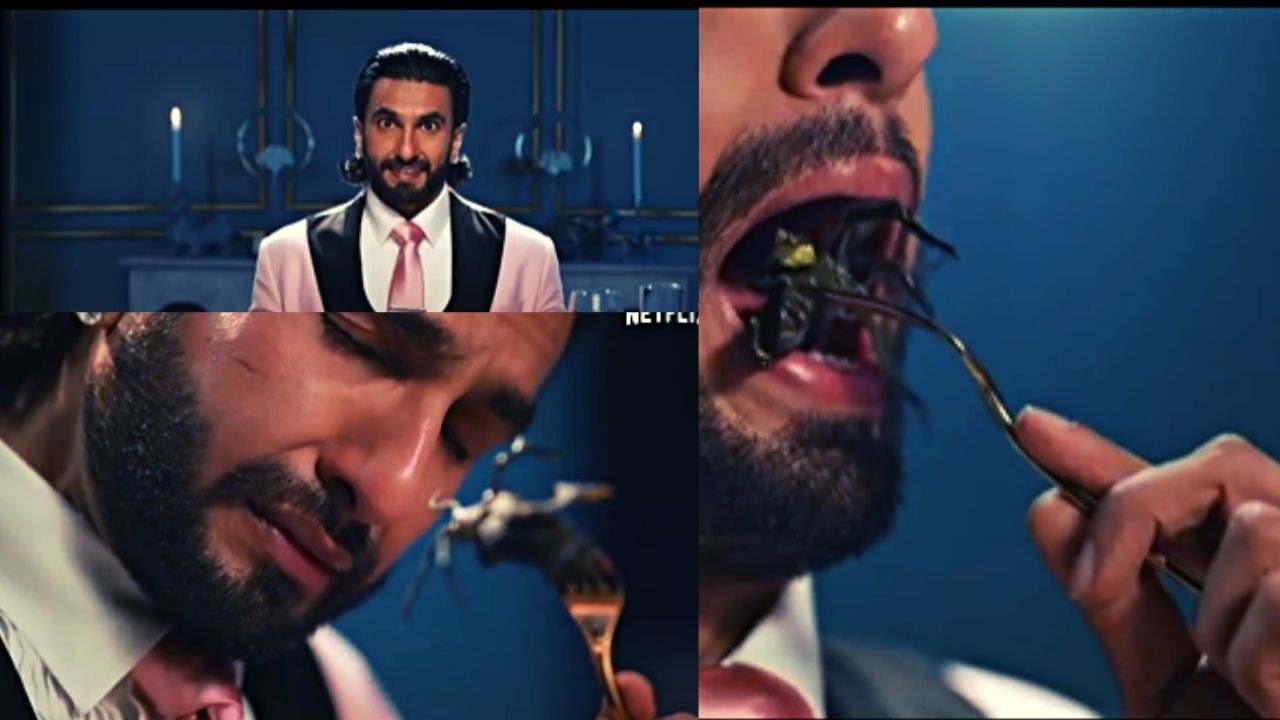 Imagine if someone serves you an Insect for dinner and you have no option left other than to chew it down, yes something similar is happening here as well. Streaming from Tomorrow exclusively on Netflix Ranveer Singh is on an adventure spree with British adventurer and wildlife survivor one and only Bear Grylls. Titled as Ranveer Vs Wild with Bear Grylls Netflix has taken the charge to air the special series for the first time. Following which many show promos and challenges are being dropped by the makers as Ranveer buckles up to get a wild flower for his beloved wife Deepika Padukone. 
Ranveer Singh nibbles insect in the promo of man Vs wild
In a recent Netflix promo, Ranveer is seen chomping down on an awful insect that is being served on the menu of a five-star hotel. The video then jumps ahead to the real-world wildlife adventure of Ranveer and Bear Grylls. The trailer begins with Rocky or Rani star eagerly inquiring, "What's in the menu," and as soon as the server reveals the dish, he has no choice but to eat living insects for his survival. Captioning 'dil darega nahi karega' Netflix wrote "Menu mein kya hai? Aap hi batao!You decide what Ranveer Singh eats, where he goes, how he sleeps. Sab kuch!Catch India's first interactive special - Ranveer Vs Wild With Bear Grylls, only on Netflix. Dropping July 8.
Ranveer Vs wild with Bear Grylls release date
The show will be aired on Netflix starting from 8th July 2022, globally. Earlier in the promo Ranveer was seen bidding goodbye to his flamboyant closet as he gets into the shoes of a wildlife adventurer.  The teaser follows Ranveer Singh as he ventures into the wilderness with brave explorer Bear Grylls in pursuit of a rare flower for his wife Deepika Padukone.