Mahatama Gandhi principle of Ahimsa: Long ago Mahatma Gandhi was assassinated and from there started a wide range of contention in India and abroad on what Gandhi left for humanity and whether his lessons and principles would still endure the trial of time. While many believes that Gandhi's most principals are not relevant as they fail practically to  fulfil modern time needs, so it looks only good in the books and quotes. But looking at the present scenario, one can argue at the point that Gandhi's principle  has become much more relevant in the 21st century modern world. Gandhi was known as the "Father of the Nation" for a reason, and his many admirers and supporters cherished and respected him. However, we cannot deny that he was also responsible for some divisions and abrupt decisions that were not well received by all, and this is most likely the reason why historians have depicted Mahatma Gandhi as a multi-faceted figure, and have applied many interpretations to him.
While the world continues to argue whether Gandhi's principles should be followed or not, they forget that even the most ardent critics of him cannot neglect the fact that some of  his principles are globally followed and adopted. Mahatma Gandhi was himself a visionary before being a political leader, undoubtedly he has written many philosophies given many concepts etc. Gandhiji's opinions on the necessity for universal basic education, decentralization of power, women empowerment are few of the examples which even the present times global leaders can't neglect. Former US president Barack Obama to Dalai Lama consider themselves as the devotee of Gandhi's principal.
The question is Why Gandhi still matters? In a 21st century violent world', how pertinent is the possibility of peacefulness? For a post-truth society, what pertinence would compassion be able to have? Let's find out
Relevance of Mahatma Gandhi's Principle of Ahimsa in the 21st Century:
Every second country by each passing day is on its way to emerge as a superpower. The reason is growing insecurity and increasing terror.  In present day scenario, especially considering the nuclear era when one possess the power to destroy another in just one click, Gandhi's principle of Ahimsa comes into light. Sometimes it's not a fight or showing off the powers which solves the problem, but it's the talk and discussion in peace to find a way out and can make a difference. And that's why there are many peaceworkers organizations working globally to promote peace instead of war. 
Why would anyone follow a frail naked man or his philosophies when everything could be solved through wars and brute forces. Because he  appealed to our morality, and made people to see that when spiritual strength appears to establish itself, it reduces the materialistic world's values to powerlessness. In 21st century eye to eye can never be a permanent solution all it will cause is a vast level of destruction where the people, states and countries will thrive to prove their powers against other by any means. Gandhi's way to deal with problems was always unique, he always looked for an ideal society consisting of non-violence, liberty and equality.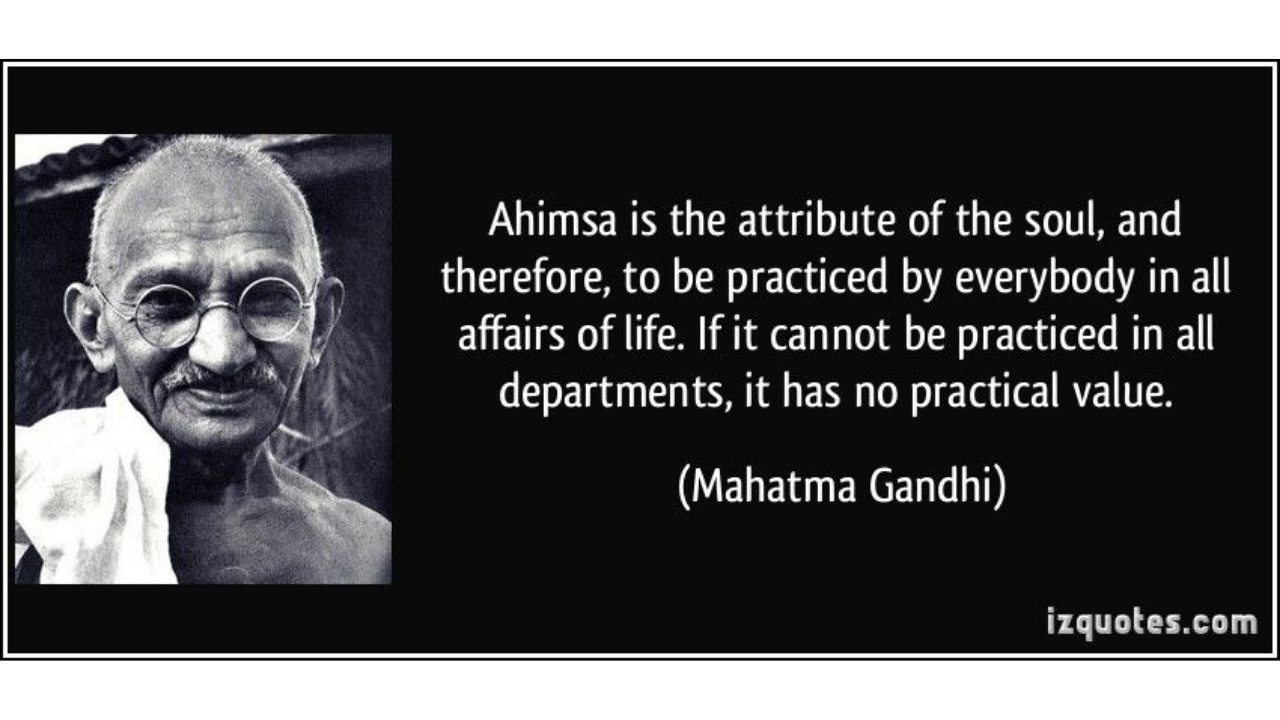 Relevance of Gandhi's principle in modern India:
Currently, communal hatred is fuelled by a number of significant issues in India, including caste, creed, race, politics, industry, and a lack of education, or vice versa. This takes us back to Gandhi's period, when communal harmony was the most important thing to him. With a sense communal amity  In terms of religion, Gandhi highlighted the importance of social unity based on equal respect for all religions. Gandhi considered that education is the light of life and the most important source for developing or establishing a sense of unity in one's mind. According to him, the best way to attain religious harmony is through universalization of education 
Once our former president MR. Ram Nath Kovind said "Mahatma Gandhi was India's conscience keeper. The Mahatma is our past, he is our present and he is also our future," The principle of Ahimsa is very relevant in today's world, which is experiencing violence in the form of terrorism and other conflicts" he added.
Though many of Gandhi's principles are considered archaic now, as seen by the fact that no one uses Gandhiji's iconic spinning wheel in the age of information technology, and there is little chance of self-control in the age of consumption, we must not miss this one Idea of following Ahimsa. Infact every citizen of every country should atleast try to induct this quality in themselves which is the only way this world can survive. Today's modern India may find ahimsa quixotic but, Many of our leaders, like our former Prime Minister, Mr. Manmohan Singh, and our President, Mr. Ramnath Kovind, feel that the path of ahimsa may bring about significant change and guide nations around the world on the correct path.