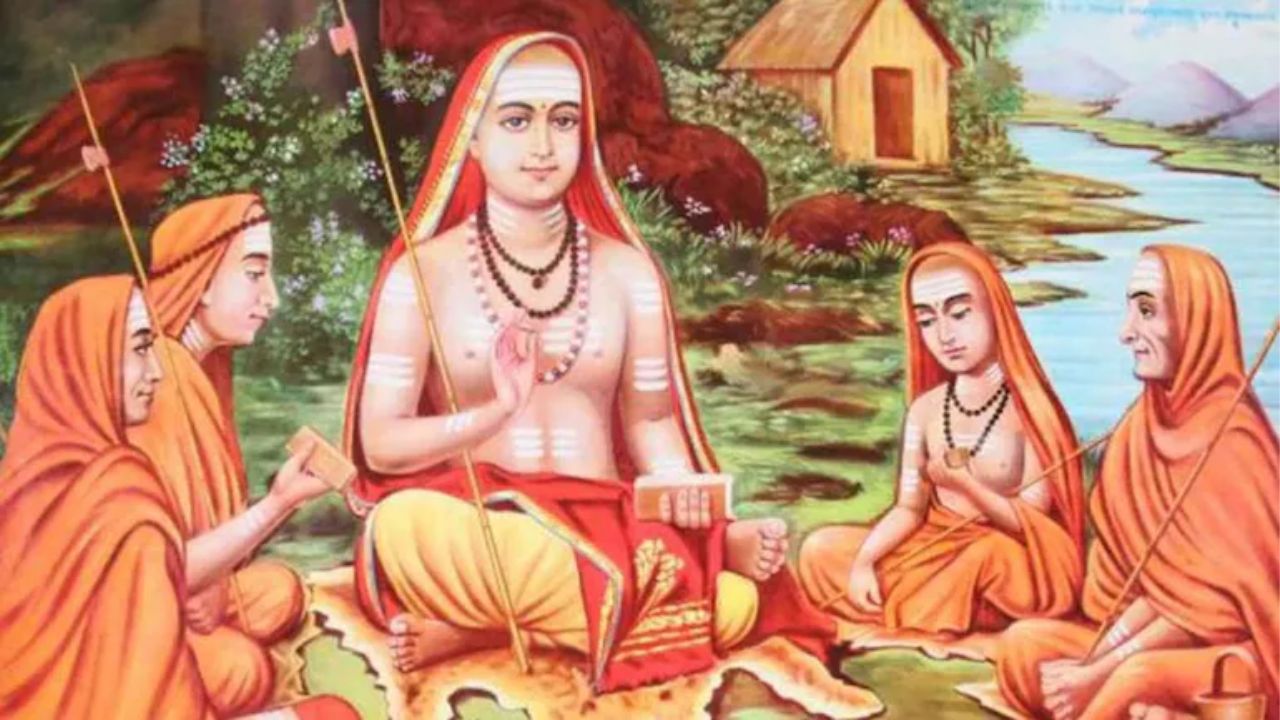 Shankaracharya Jayanti 2022: The birth anniversary of Shankaracharya is observed on Panchami Tithi during Shukla Paksha of Vaishakha month or in the month between April and May. This year the birth anniversary of Shankaracharya is observed on May 6. His teachings and philosophy influenced and revived when Hindu culture. It is said that Shankaracharya, along with Madhava and Ramanuja, was instrumental in the revival of Hinduism.
Shankaracharya/ Adi Shankaracharya: Early Life and Background
According to some scholars, he was born in 788 circa in a poor Brahmin family in Kaladi, Chera Kingdom, present-day Kerala, India. His father was Sivaguru and his mother was Aryamba. Let us tell you that his parents were childless for a long time and had prayed a lot to Lord Shiva to bless them with a baby. Soon, they became parents of Shankaracharya. He was an intelligent boy who have mastered all the Vedas and six Vedangas from the local gurukul. As mentioned above from a young age he was more inclined towards religion and spirituality and was not interested in worldly affairs. He was not interested in marriage and so he remained unmarried his whole lifetime.
Shankaracharya/ Adi Shankaracharya: Later Life
He wants to take Sanyasa and wants to learn under a guru who can show him the right path. Once he met Swami Govindapada Acharya in a hermitage in Badrinath in the Himalayas. He told his life story nad asked him to accept him as a pupil. He was pleased and initiated him into the sacred order of Sanyasa. Then he taught Shankaracharya the philosophy of Advaita which he had learned from his guru Gaudapada Acharya.
Shankaracharya went to Kashi and there he wrote his commentaries on the Brahma Sutras, the Upanishads and the Gita. He travelled a lot in his life, usually, he participate in public philosophical debates with religious scholars, preached his teachings and founded several "matha' or monasteries. He is regarded as a founder of the Dasanami Sampradaya of Hindu monasticism.
Shankaracharya/Adi Shankaracharya: Works
He has written spectacular commentaries on ancient texts which is still revisited by people. 
- Shankaracharya's review of 'Brahma Sutra' is known as 'Brahmasutrabhasya' and is the oldest surviving commentary on Brahma Sutra.
- He wrote commentaries on Bhagavad Gita.
- He also wrote commentaries on ten principal Upanishads.
- He is also well-known for his "stotras' or poems. He had composed several poems, praising gods and goddesses. One of his stotras one is dedicated to the Lord Shiva and Krishna and is considered most important.
- He also composed 'Upadesasahasri' which means 'thousands teachings'. This is his one of the most important philosophical works.
We can't ignore the fact that his teachings played a pivotal role in the development of Hinduism over the centuries.
Shankaracharya/ Adi Shankaracharya: Philosophy
His philosophy was simple and straightforward. He advocated the existence of the soul and the Supreme Soul. He believed or told that the Supreme Soul alone is real and remains unchanged or can't be changed but the soul id a changing entity and so it does not have any absolute existence.
Shankaracharya/ Adi Shankaracharya: Mathas
Let us tell you that as per the scholars he has founded four mathas or monasteries namely Sringeri Sharada Peetham, Dvaraka Pitha, Jyotirmatha Peetham and Govardhana Matha.