Jagran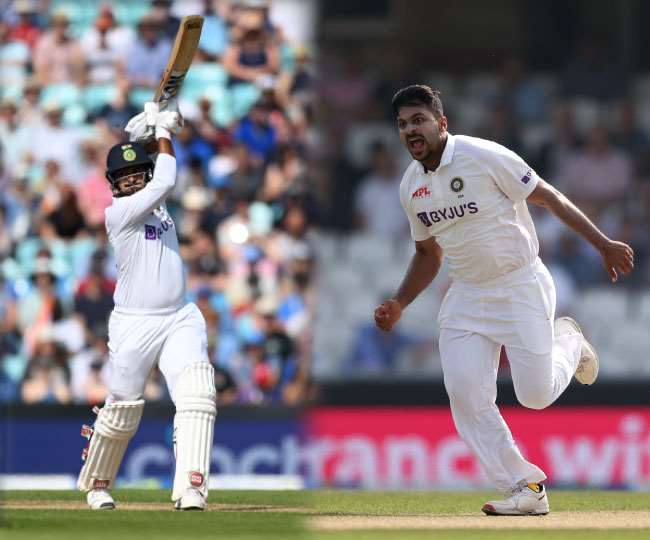 Shardul Thakur Biography: 
Shardul Thakur is one of the well-known cricketers of India, his career has reached international cricket, we know him as a medium fast bowler in the cricket world. Shardul Thakur was born on 16 October 1991 in Palghar, Maharashtra and completed his studies. He started his career in Ranji Trophy, IPL cricket match and international match (ODI) with Test cricket match. He first made his debut in the IPL for Kings XI Punjab, after that he has also spent a few years with Rising Star Pune and now he is playing for Chennai (CSK) in 2021. CSK won the IPL 2021 trophy. 
Shardul Thakur Personal Information 
Full Name - Shardul Thakur
Father's Name - Narendra Thakur
Mother Name - Hansa Thakur
Age - 29 Years (2021)
School - Swami Vivekanand International School, Palghar
College - University of Mumbai, Mumbai
Born - 16 October 1991
Birth Place - Palghar, Maharashtra, India
Shardul Thakur Early Life
Shardul Thakur was born on 16 October 1991 in Palghar, Maharashtra, and according to 2021 his age is 29 years, he completed his studies from Swami Vivekananda International School Palghar and then completed his college studies from Mumbai University.
Shardul Thakur Family 
The Shardul Thakur family is similarly related to Hinduism, in which its father's name is Narendra Thakur, who is currently doing coconut business.
Shardul Thakur Career 
Shardul Thakur cricketer started his career as a medium fast bowler. He played his first match against Rajasthan in November 2012. In which he took 4 wickets in that match at an average of 82.0. Shardul Thakur could not get a very good start in his career. 
He has been a part of the Mumbai team since 2012, he has played many innings in his career, in which he has also had a great performance in the Ranji Trophy.
Shardul Thakur took eight wickets in the final match of the 2015-16 Ranji Trophy against the Saurashtra team and led the Mumbai team to victory for the 41st time. Shardul Thakur got a chance to play for India in the last match against South Africa in February 2018, in which he took 4 wickets. Which is his best performance in his international career.
Shardul Thakur IPL Career
After Shardul Thakur's brilliant performance in Ranji Trophy, his selection has been done till the international match, so here we are talking about IPL, then Shardul's IPL career has started from 2014. In which he played for Kings XI Punjab in 2014, which his team bought him for 20 lakhs, after that Rising Star Pune kept Shardul in his team for 2 years where his performance has been almost average. After that, Chennai Super Kings (csk) has bought him for 2.6 crores in 2018 and has given him a place in his team and in 2021 too, Chennai has bought him for 2.6 crores (Price).