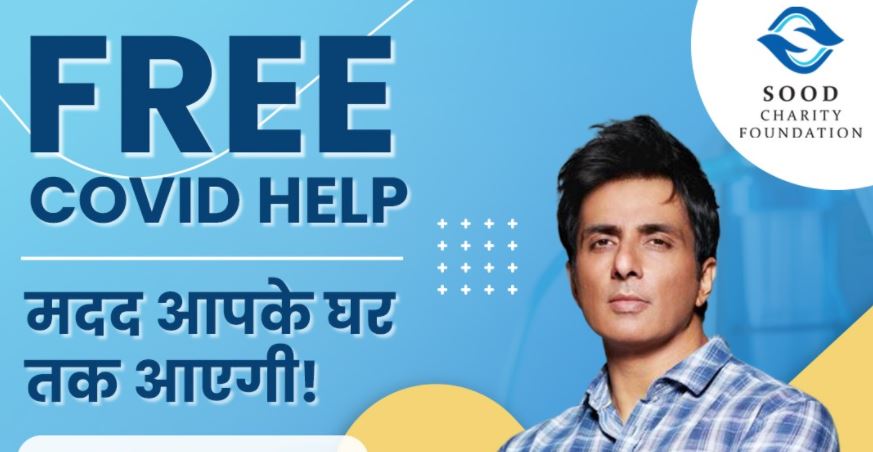 Sonu Sood App for Covid- 19:  Bollywood actor Sonu Sood has been in front of helping people since the lockdown in March last year. He along with his team are working tirelessly for the people who are in need and fighting together in these bad times of pandemic. Last year he helped the migrant workers to reach their home from different parts of India and arranged vehicles and other essentials for their travel. He also worked to and helped people to have employment since many people lost their jobs during the coronavirus pandemic. Now when the country is battling with the second wave of Covid-19, it has become more severe than the last wave. But Sonu Sood is again on his toes and is working out straight to help people who need oxygen and other medical supplies. He even Launched Free Covid 19 Help under his foundation 'Sonu Sood Charity Foundation'. 
Sonu Sood App for Covid- 19 Helpline 
Sonu Sood shared the information about his application on Twitter and revealed that his app FREE COVID HELP will reach everyone at home for any help. He wrote in his tweet, "You, take REST. Let me handle the TEST. Launching FREE COVID HELP with @HealWell24 @Krsnaa_D @SoodFoundation."
With the help of Free COVID HELP people can take free advice from doctors and also free corona tests. The Sonu Foundation, Heal Well 24 and Krsnaa Diagnostics will work together for this. Sonu also released a WhatsApp number on which Covid related information will be available.
Well, Sonu Sood has always been on the frontline to help the people of his country. Even when he himself was tested positive with Covid-19, his team was there for people in need. He is working day and night for people and is doing his every bit. In one of his tweets he wrote, "In the middle of night,after making numerous calls if u r able to get beds for needy, oxygen for some people n save few lives, I swear..it's million times more satisfying than being a part of any 100cr film. We can't sleep when people are infront of hospitals waiting for a bed."