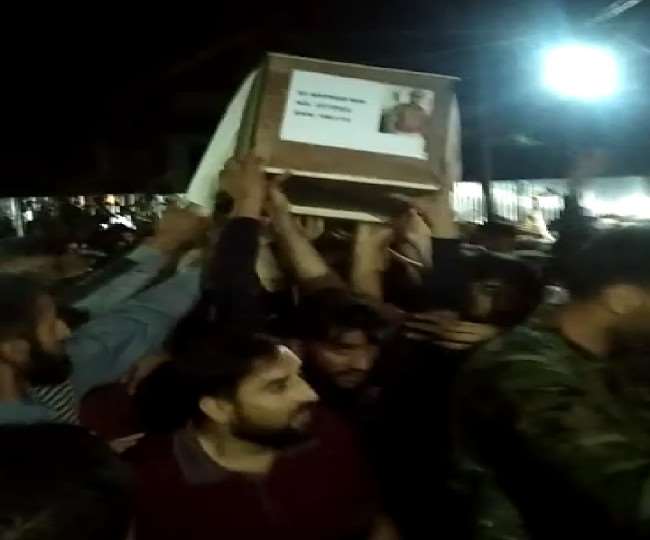 Srinagar Militant Attack, Arshid Ahmad Mir:
Another Sub-Inspector Arshid Ahmad Mir in Kashmir sacrificed his life for the country. Arshid Ahmad Mir who got martyred by a terrorist ambushing in a market in the Khanyar area of Kashmir, near LoC.
The body of the Martyr reached his home, at the Kulmuna village of Kupwara district, adjacent to the Line of Control when thousands of people gathered to pay homage. The ones including the police personnel to the officers who brought the body, everyone was so emotional. Seeing the crowd, the security forces deployed to maintain law and order also appeared helpless. People were raising slogans against Pakistan.
Everyone appeared stunned to see the crowd at the funeral of the martyr. Earlier this type of crowd was seen at the funerals of terrorists. A village elder stated that Arshid was a brave man and since childhood, he had a passion for patriotism. Each person from the village urged for termination of such terrorist attacks in Kasmir. The family was in a bad condition in the house of the martyr Arshid Ahmad Mir. 
Prior to this, the tribute was paid to the martyr Sub Inspector Arshid at the Police Headquarters where DGP Dilbag Singh has described it as a big loss for the police.
Such attacks are a matter of concern:
After the martyrdom of Police Sub Inspector Arshid Ahmed in Khanyar, Srinagar in the terrorist attack, Director General of Police Dilbag Singh said that whether the murder is of a policeman or a common man or security personnel, it is a matter of concern. As far as this case is concerned, our investigative agencies and operational team are working. The matter will be resolved soon. He said that the martyr sub-inspector was faithful in his duty. The police family has suffered a great loss due to martyrdom. Political parties have strongly condemned the killing of Sub Inspector by terrorists. While the National Conference has called it a cowardly and senseless act.