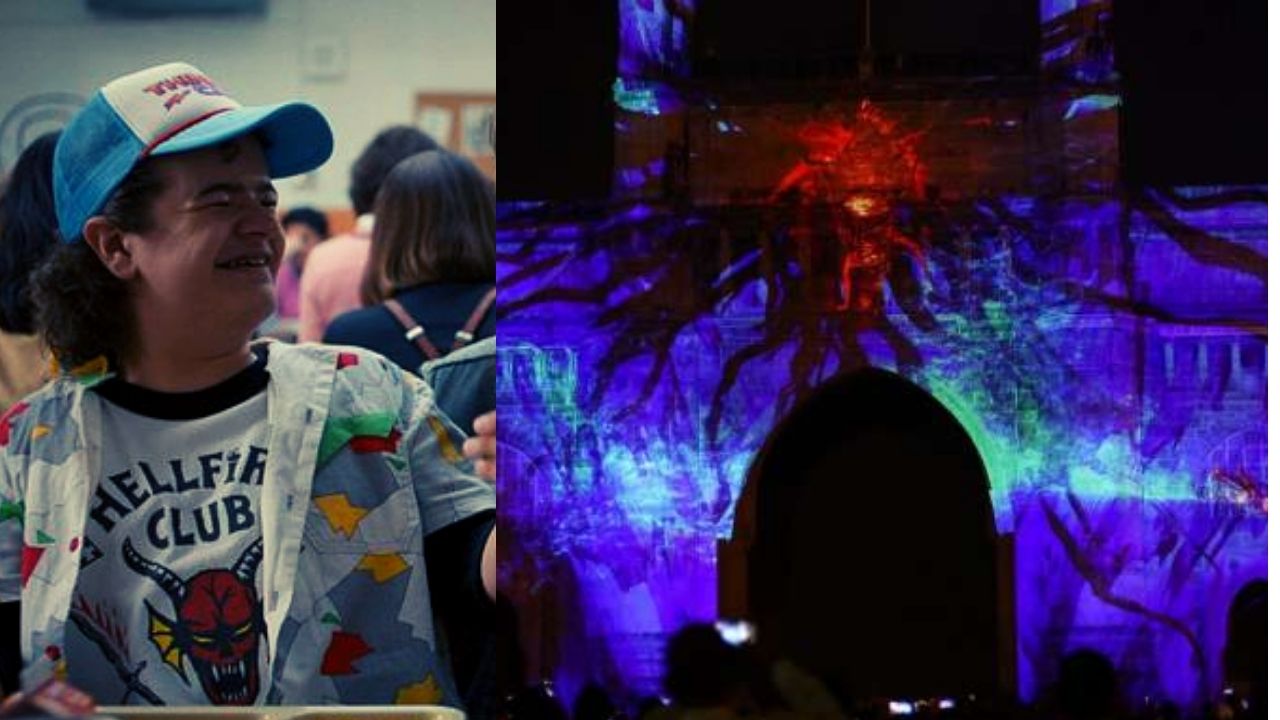 Stranger things 4: The Gateway of India in Mumbai was lit up with peeks of Stranger Things characters to celebrate the release of Season 4 Volume 1 of the show. The highly famous and followed American supernatural thriller stranger things season 4 has marked it's comeback on Ott giant Netflix on 27 May 2022. To celebrate the occasion Gateway of India along with 15 others historic landmarks across the globe was decorated with lights and graphics.
Gateway of India lit up with Stranger things  4
The iconic monument was transformed into a massive canvas in a dramatic unveiling of Stranger things 4, displaying the characters of Eleven, Mike, Will, Dustin, Lucas, Max, and the rest of the gang. The first volume was launched today, with seven episodes available to stream starting May 27th.
Watch video
Stranger Things 4 celebrates global fan event in 14 countries
over 15 prominent locations in 14 countries on May 26 as part of a Netflix global fan event witnessed this historic moment. The Empire State Building in New York City, Bondi Beach in Australia,Duomo Square in Milan, Gran Malecón de Barranquilla in Colombia, The Gateway of India in Mumbai, Menara Kuala Lumpur in Malaysia are just a few of these locations.
Stranger things 4 release date in India
The show was globally released on 27May,2022. The two last episodes will be included in the second volume, which will be released on July 1st. The quest by Hawkins to take over the world will be at the center of the forthcoming season, as Eleven strives to live a normal life without her talents. Stranger Things 4 is projected to be even better than the previous seasons, diving deeper into the dark side in unforeseen ways. The latest release of the series will be released in India in English with dubs in Hindi, Tamil,Italian and more.
Stranger things reviews