Taehyung is the hottest chef in Seojin's Kitchen, catch BTS V sweat out while cooking in first episode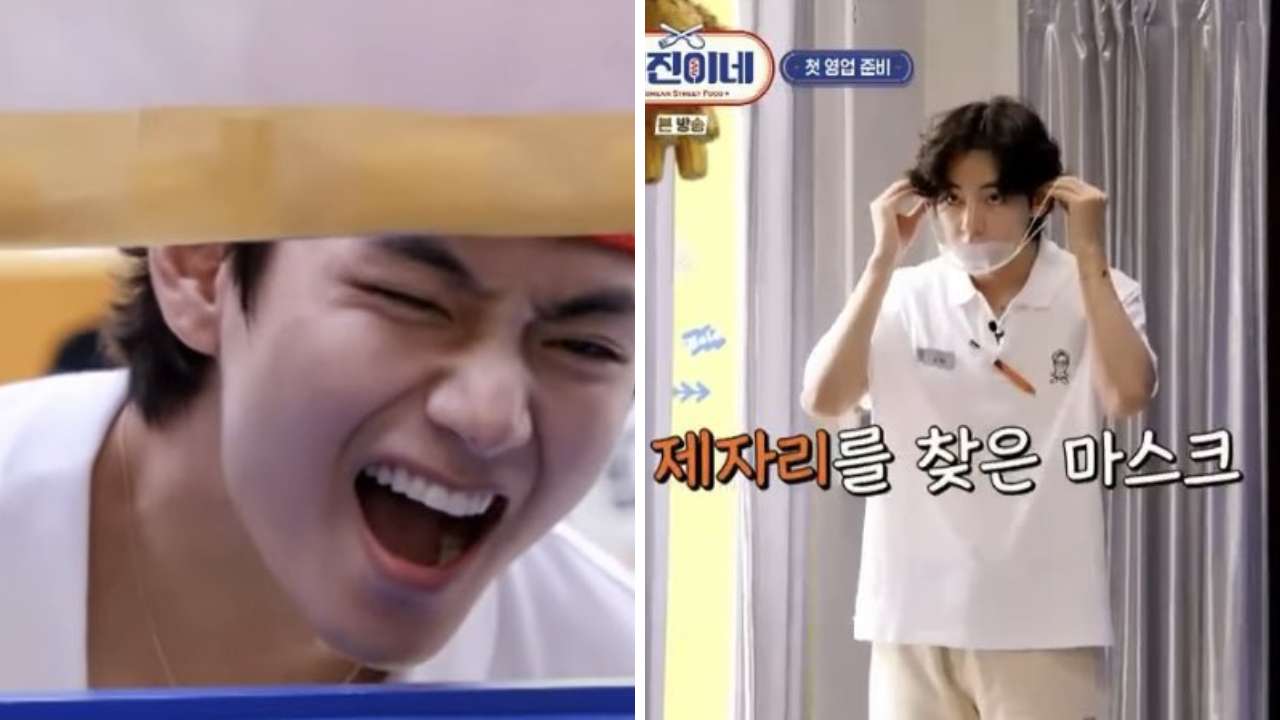 BTS V aka Kim Taehyung has finally appeared in a full fledged episode of Seojin and ARMY cannot keep calm watching the hottest intern on the show. The first episode of Seojin Kitchen aired on February 24, 2023 and will continue to air till February 28 for a whole 10 episodes. Seojin's Taehyung-staring advertisement slots reportedly sold for the startling sum of 300M KRW. The airing network has not, however, confirmed the same as of yet. A new restaurant operated by Seo-jin, who was previously the director of Youn's Kitchen, is a highlight of Jinny's Kitchen. Twitter is currently flooded with small clips of hard working Taehyung in the kitchen sweating out his cooking passion and passing his iconic smile to the customers check out.
Taehyung on Seojin
Taehyung wearing the protective mask for cooking upside down and the way he looked so confused, he is so hilarious 😭#TAEHYUNG #TAEHYUNGonSeojins#TAEHYUNGonJinnysKitchenpic.twitter.com/ohFjMnwI12

— Jiya⁷ FACE IS COMING🪞🧡 (@BTSTJ4SR) February 24, 2023
Chef Kim Taehyung 💜😩#TaehyungOnJinnysKitchen
JINNYS KITCHEN WITH V TODAY
pic.twitter.com/ZA6hxNAasN

— newtannies ⁷𓃺 slow (@newtannies) February 24, 2023
🐻por favor, cilantro.

Pero por favor, su voz suena tan hermosa en español. Tan bella y única, como lo es él.#TAEHYUNGonJinnysKitchen #TAEHYUNGonSeojins pic.twitter.com/BHdkyJ65hk

— 🍀Taekook♥︎Snow🍀 (@taekook_snowing) February 24, 2023
JINNYS KITCHEN WITH V#TAEHYUNGonJinnysKitchenpic.twitter.com/Q3wk1m0msP

— ⟭⟬♡ (@BTSArmy_47) February 24, 2023
Taehyung gesturing tapping the bell and his giggles😂pic.twitter.com/ORXdScW442

JINNYS KITCHEN FIRST EPISODE
KIM TAEHYUNG IN MEXICO#서진이네막내_김태형#서진이네 #김태형 #뷔 #V#TaehyungOnJinnysKitchen

— Taehyung Tiktok (@KTH_Tiktok) February 24, 2023
our social butterfly already vibing with mexican locals#TAEHYUNGonJinnysKitchen pic.twitter.com/L7RGOi2QBD

— ً (@folderoftae) February 24, 2023
About Seojin
The follow-up to or spin-off from "Youn's Kitchen," Seojin's, a new franchise restaurant owned by Lee Seo Jin, offers dining drama. Before being elected president, Lee Seo Jin served as the director at "Youn's Kitchen." They are creating a lovely restaurant with the assistance of the intern Choi Woo Shik, the director Jung Yu Mi, the general manager Park Seo Joon, Lee Seo Jin, and BTS V (who will be the newest worker in the kitchen).