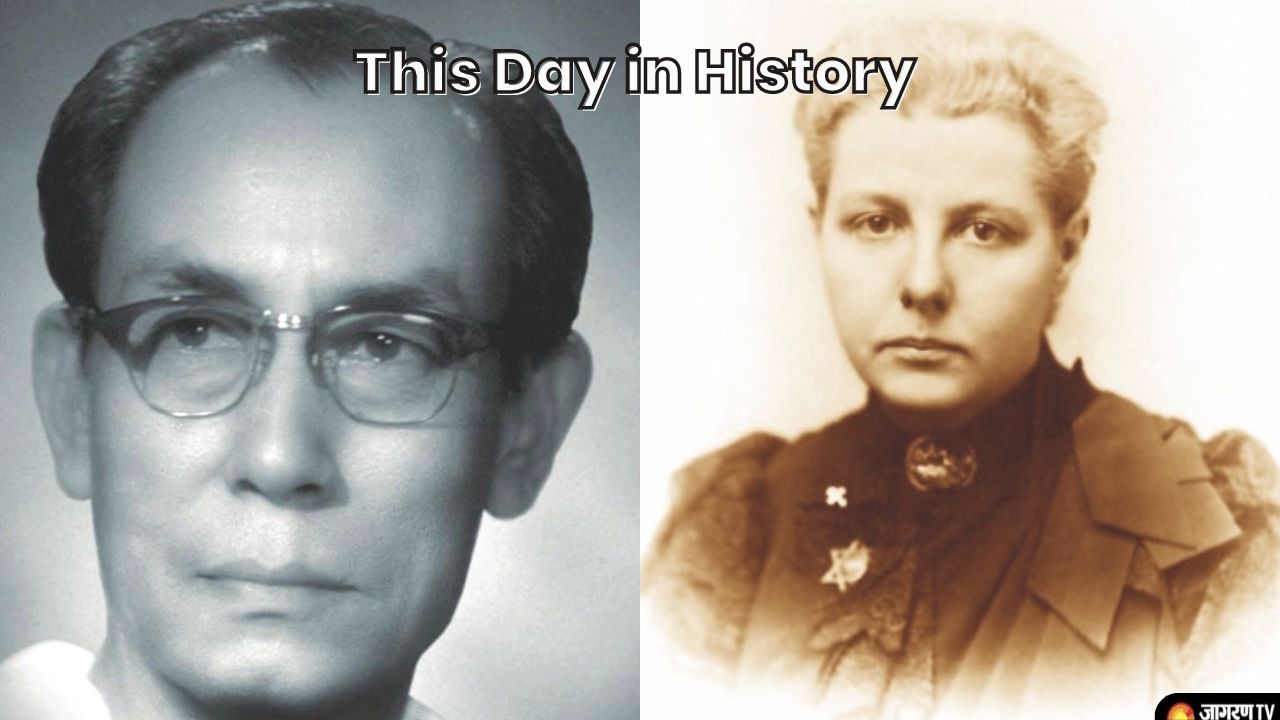 This Day in History: According to the Gregorian calendar, 1 October is the 274th day of the year and the 275th day of a leap year.
On this day let's see some important events and anniversaries. We have compiled a list of some monumental events that happened worldwide on 1 October as well as the birthdays of famous people.
Major Events Happened on this Day
Annie Besant Birthday
Born on this day in 1847, Annie Besant is a  women right's activist and educationist. She, along with Lokmanya Tilak launched Home Rule League Movement in 1916. She became the first woman president of the Indian National Congress in 1917. She also established Central Hindu College in Banaras (now Varanasi). Annie also founded the Scout Movement in India.
Sachin Dev Burman Birthday
Born on this day in 1906, Sachin Dev Burman was an Indian music director and singer. Burman composed the songs for more than 100 films, including Bengali and Hindi films. Along with being a prolific composer, he also sung songs in Bengali folk and light semi-classical styles. His son, R. D. Burman, was also a well-known Bollywood film music composer. The top performers of the time, including Kishore Kumar, Lata Mangeshkar, Mohammed Rafi, Geeta Dutt, Manna Dey, Hemant Kumar, Asha Bhosle, Shamshad Begum, Mukesh, and Talat Mahmood, sang Burman's works. Burman performed 14 Hindi and 13 Bengali film songs as a playback vocalist.
Ram Nath Kovind Birthday
Born on this day in 1945, Ram Nath Kovind is an Indian politician who served as the 14th President of India. He is the second member of the Dalit group to hold the position, following K. R. Narayanan. Prior to becoming president, he held the positions of Rajya Sabha Member from 1994 to 2006 and the 26th Governor of Bihar from 2015 to 2017. He practised law for 16 years at the Delhi High Court and the Supreme Court of India before entering politics. He did so from 1993 to 1997.
International Day for Older Persons
Every year on October 1, the United Nations observes the International Day of Older Persons to recognise the contributions of older people and to look at the problems that older people experience or that have an impact on their life.
International Coffee Day
Events are now taking place all around the world in honour of International Coffee Day, a day intended to promote and celebrate coffee as a beverage. According to the International Coffee Organization at the time, the first official date was set for October 1, 2015, and it was introduced in Milan. On this day, fair trade coffee is promoted as well as the predicament of coffee growers is brought to the public's attention. 
People's Republic Of China Established
On this day in 1949, the People's Liberation Army, led by the communist Mao Zedong, declared the People's Republic of China to be established in Beijing, with the majority of the Chinese mainland still under its control.