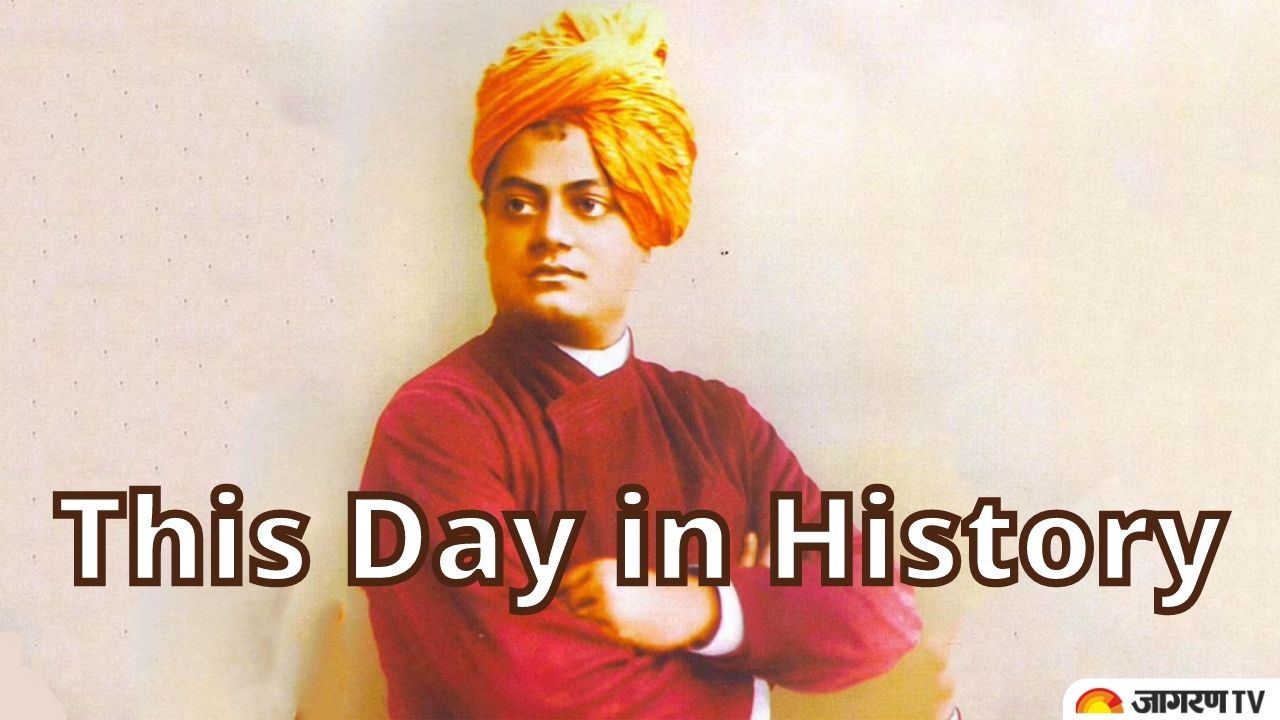 This Day in History: According to the Gregorian calendar, January 12 is the 12th day of the year and the 12th day in a leap year.
On this day let's see some important events and anniversaries. We have compiled a list of some monumental events that happened all around the world on 12 January as well as birthdays of famous people.
10 Major Events Happened Today in History 
Swami Vivekananda Birthday 
 
Born on 12th January 1863 in Kolkata, Swami Vivekananda was a Hindu spiritual leader and philosopher. On 12 January 2022, we will celebrate his 159th birth anniversary. He relentlessly worked was to put humanity and youth to their best use. To commemorate his birth anniversary National Youth Day, also called Yuva Diwas is celebrated all across the country.


National Youth Day 2022  
This day is observed every year on 12 January. It is also called Yuva Diwas 2022. It highlights the most precious asset of a nation is its youth. Youth have the potential, zest and energy to uplift the country from degeneration. A country's future is lying in the hands of youth. So it is important to motivate the young generation to strive for excellence. 
Maharishi Mahesh Yogi Birth Anniversary 
Maharishi Mahesh Yogi was an Indian guru, remembered for developing the Transcendental Meditation technique. He was the leader and guru of a worldwide organization, the Transcendental Meditation movement.


Haiti hit by an earthquake
On this day in 2010, a magnitude-7.0 earthquake devastated Haiti. The main area affected was Port-au-Prince. The earthquake resulted in the death of more than 200,000 people and left more than 1,000,000 homeless.
M. S. Nagappa Death Anniversary
Nagappa was an Indian sculptor who designed statues and monuments in British India. Nagappa was appointed official sculptor to the British Crown by George V in 1935.
Harika Dronavalli Birthday
Born in 1991, Guntur, Andhra Pradesh, Harika Dronavalli is an Indian chess grandmaster. She holds the FIDE title of Grandmaster. in the Women's World Chess Championship, in 2012, 2015 and 2017 she has won 3 bronze medals. The government of India conferred her with Arjuna Award on 2007-08. Dronavalli has also been awarded Padma Shri in 2019. 
Surya Sen Death Anniversary
An Indian revolutionary who participated in the Indian independence movement against British rule in India. He is best known for leading the 1930 Chittagong armoury raid.
Mahatma Gandhi Begins his Final Fast

In 1948 on this day, Mahatma Gandhi begins his final fast. After 18 days he assassinated by Nathuram Godse


Bhagwan Das Birth Anniversary
Bhagwan Das was an Indian philosopher, academic, and politician. He served in the Central Legislative Assembly of British India.
Women's Suffrage Bill
In 1915, the Women's Suffrage Bill was voted down. This judgement allowed women the right to vote. The actual vote count was 204 against and 174 for this bill. Women's Suffrage leaders such as Ann Howard Shaw and Carrie Chapman Catt stated they would continue to find for the right to cast a ballot. Finally, the right to vote was granted to women in 1920.
Above are the 10 most important events that happened in the history of India and the whole world. It includes major birthdays, death anniversaries, fun facts and important historical events that occurred in India as well as globally.