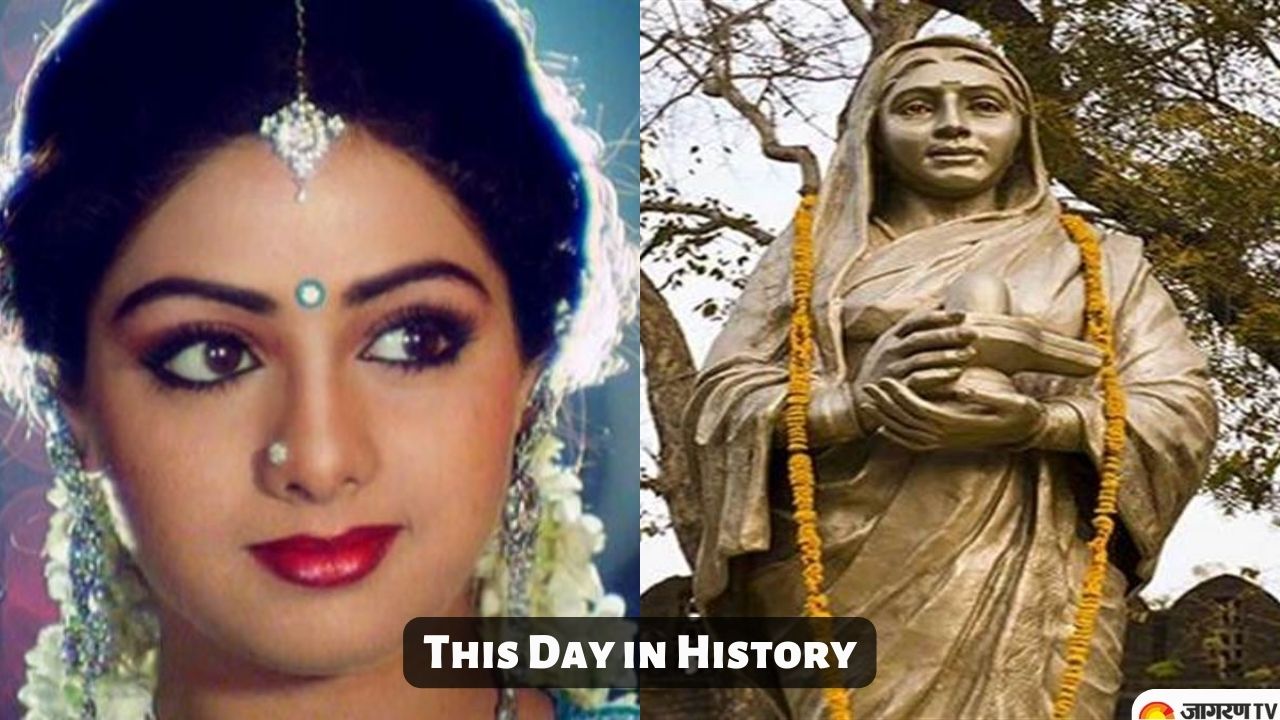 This Day in History: According to the Gregorian calendar, 13 August is the 225th day of the year and the 226th day of a leap year.
On this day let's see some important events and anniversaries. We have compiled a list of some monumental events that happened all around the world on 13 August as well as the birthdays of famous people.
Major Events Happened on this Day
Sridevi Birthday
Born on this day in 1963, Sridevi was an Indian actress and producer, who predominantly worked in Telugu, Tamil, Hindi, Malayalam and Kannada films.She is known as the "First Female Superstar" of Indian cinema. Also, she was the recipient of various accolades, including the National Film Award, the Nandi Award, the Tamil Nadu State Film Award and more. Some of her famous movies are  Mr. India (1987), Chandni (1989),  English Vinglish (2012) etc. 
Vyjayanthimala Birthday
The first successful South Indian actress in Hindi film is Vyjayanthimala. Vyjayanthi Mala elevated the importance of the heroine's dance in Hindi cinema by giving her the appearance of a classical dancer. The first South Indian actress to achieve success in Hindi cinema and attain star status throughout the nation was Vyjayanthimala. She was born in Madras, Tamil Nadu, on this day in 1936.
Bhikaiji Cama Death Anniversary
On this day in 1936, Bhikaiji Cama who was one of the prominent figures in the Indian independence movement passed away. 
Maharani Ahilyabai Holkar Death Anniversary
On this day in 1795, Maharani Ahilyabai Holkar, the wife of Khanderao, son of Malharrao Holkar passed away. Although Ahilyabai was not the monarch of a large realm, the things she accomplished while in power are astounding. She was a fearless fighter and an expert archer. She bravely battled while mounted on an elephant while leading her army in numerous battles. Khanderao passed away in 1754. As a result, Rani Ahilyabai became the new ruler of the country following the passing of Malhar Rao. Until her passing in 1795 AD, Rani Ahilyabai controlled the state with great efficiency.
Fall of the Aztec empire
On this day in 1521, After a 93-day siege, Spanish adventurer Hernán Cortés took Tenochtitlán (now Mexico City), toppling the Aztec empire and securing Mexico for the Spanish throne.
Julia Child Death Anniversary
American author, television celebrity, and cooking instructor Julia Carolyn Child passed away on this day in  2004. Her first cookbook, Mastering the Art of French Cooking, and her subsequent television programs—the most renowned of which was The French Chef, which debuted in 1963—are credited with introducing French cuisine to the American audience.