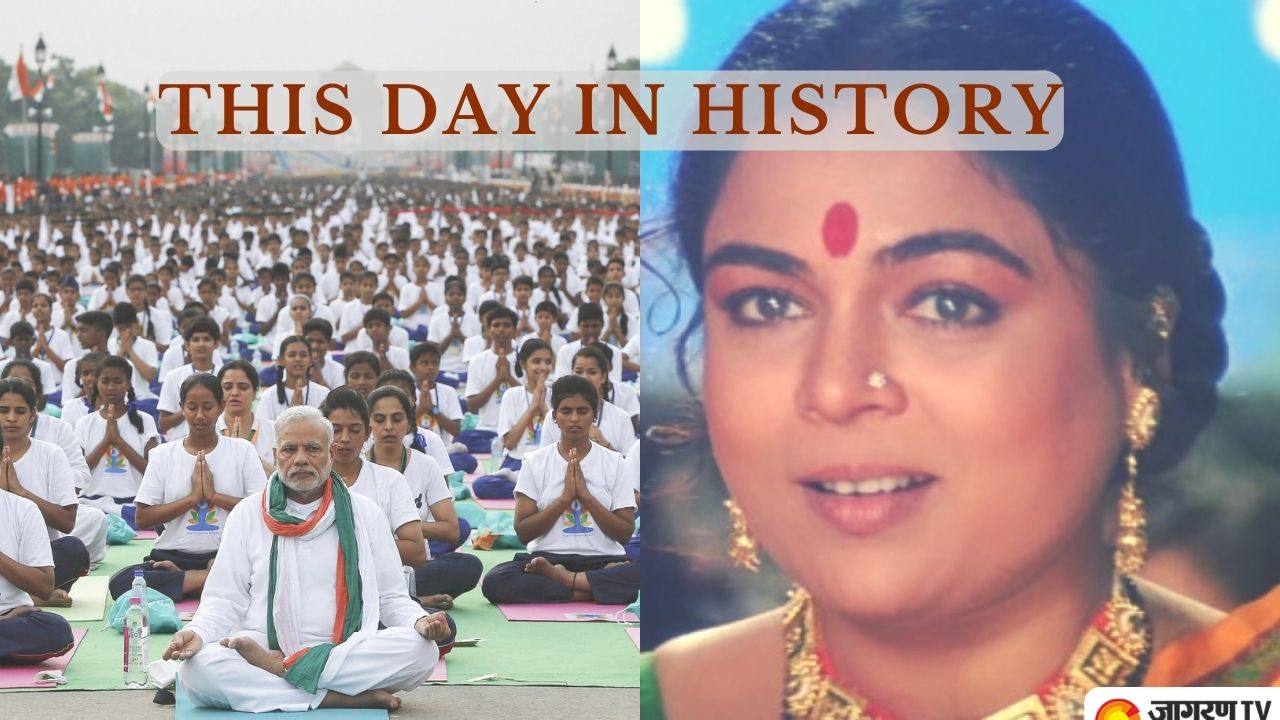 This Day in History: According to the Gregorian calendar, June 21 is the 172nd day of the year and the 173rd day of a leap year.
On this day let's see some important events and anniversaries. We have compiled a list of some monumental events that happened all around the world on 21 June as well as the birthdays of famous people.
Major Events Happened on this Day
Abhinandan Varthaman Birthday
Born on this day in 1983, Abhinandan Varthaman is an Indian Air Force fighter pilot who was held captive in Pakistan for 60 hours after his aircraft was shot down in an aerial dogfight. He was awarded with Vir Chakra by the Indian government for downing a PAF F-16 with his MiG-21 Bison, though his claim has been rejected by Pakistan.
Reema Lagoo Birthday
Reema Lagoo was an Indian stage and screen actress who appeared in Hindi and Marathi films. She began her acting career in the Marathi theatre, and in the 1990s and early 2000s, she became well-known for performing motherly roles. After her roles in the 90s iconic TV comedy Shriman Shrimati (as Kokila Kulkarni) and Tu Tu Main Main (as Devaki Verma starring opposite Supriya Pilgaonkar), she was immortalised and became a household figure.
Keshavrao Baliram Hedgewar Death Anniversary
Keshav Baliram Hedgewar (1 April 1889 – 21 June 1940), commonly known as Doctorji, was an Indian physician and the Rashtriya Swayamsevak Sangh's founder Sarsanghachalak (or "Chief"(RSS). Hedgewar established the RSS in Nagpur in 1925, based on the Hindutva ideology and with the goal of establishing a Hindu Rashtra. 
P.V Narasimha Rao Appointed as Prime Minster of India
On this day in 1991, P.V. Narasimha Rao becomes Prime Minister of India as head of the Congress minority government.
Battle of Haldighati
On this day in 1576, Mughal army defeated Rana Pratap in the battle of Haldighat.
World Music Day 
This day is observed as World Music Day. Citizens and residents are encouraged to play music in their neighbourhoods and parks on Music Day. Free concerts are also held, where musicians play for fun.
International Yoga Day
 It is observed on June 21 to spread awareness about the benefits of yoga. This year it is the 8th edition of the International Yoga Day. International Yoga Day is also called World Yoga Day. For the first time, it was celebrated on 21 June 2015. This initiative was taken by the Prime Minister of India Narendra Modi by giving an impactful speech related to yoga on 27 September 2014 in the United Nations General Assembly and for this reason, on 21 June, it was declared "International Yoga Day". The proposal to celebrate the International Day of Yoga on 21 June in the United States was approved by 193 members on 11 December 2014.
Japanese forces defeated on Okinawa
Japanese resistance on Okinawa was finally crushed this day in 1945, less than three months after U.S. troops landed there as the last stepping-stone before the planned assault on Japan's main islands in World War II.