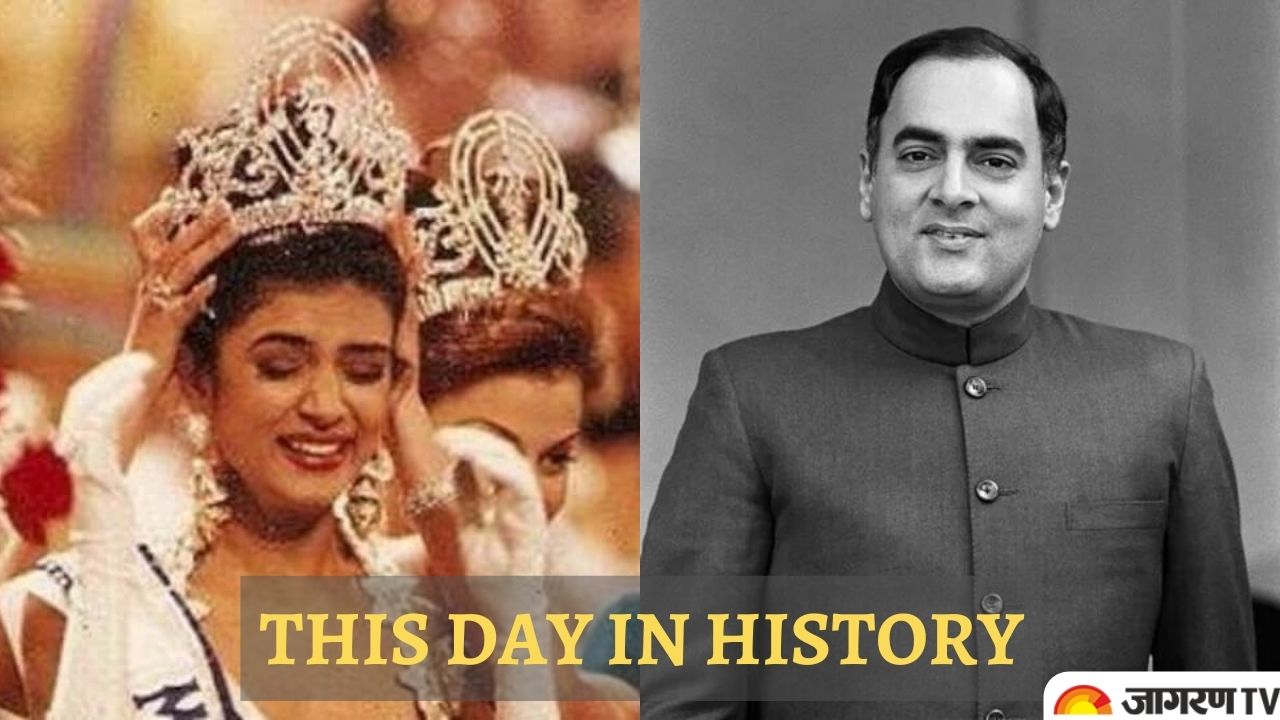 This Day in History: According to the Gregorian calendar, May 21 is the 151th day of the year and the 152st day of a leap year.
On this day let's see some important events and anniversaries. We have compiled a list of some monumental events that happened all around the world on May 21 as well as the birthdays of famous people.
10 Major Events Happened on this Day
Ustad Sabri Khan's Birthday
Ustad Sabri Khan was an Indian sarangi player. His Gharana traces the tradition of its music back to Mian Tansen, the great vocalist in the court of Mughal Emperor Akbar.
K. N. Ezhuthachan Birthday
Born on this day in 1911, K. N. Ezhuthachan was an Indian writer and scholar of Malayalam literature. He is the first Malayali to win Sahitya Akademi Award in Sanskrit literature.
Rajiv Gandhi Death Anniversary
In 1991, former prime minister and politician from Congress Party Rajiv Gandhi was assassinated. Rajiv Gandhi was married to Sonia Gandhi. Rajiv Gandhi has two children son Rahul Gandhi and daughter Priyanka Gandhi. Rajiv Gandhi and his younger brother Sanjay Gandhi.
First Miss Universe of India
On this day in1994, Sushmita Sen became the first Indian to be crowned as Miss Universe. Later she became one of the top actresses in the Hindi cinema. Her commercially successful films include Aankhen (2002), Main Hoon Na (2004), and Maine Pyaar Kyun Kiya? (2005) etc. 
Xbox One Released
On this day in 2013, Microsoft announces the release of Xbox One.
FIFA Established
On this day in 1904, FIFA-Federation Internationale de Football Association was formed in Paris, France.
National Anti-Terrorism Day 
To deal with the dreadful issue of terrorism, the day of 21 May is celebrated in India as 'National Anti-Terrorism Day. In fact, it is a day to pay tribute to those who lost their lives in terrorist attacks and the day also honours the sacrifice of thousands of soldiers who fought against terrorism. ts official announcement was made on 21 May 1991 following the assassination of India's seventh Prime Minister Rajiv Gandhi, who was killed in Sriperumbudur, Tamil Nadu during a terrorist operation by the Liberation Tigers of Tamil Eelam (LTTE).
World Day For Cultural Diversity For Dialogue And Development
The UN General Assembly in its resolution declared 21 May as the World Day for Cultural Diversity for Dialogue and Development in December 2002. This day is celebrated under the UNESCO adoption of the Universal Declaration on Cultural Diversity in 2001. The day is observed annually on May 21 globally to bridge gaps between different races, cultures, religions, countries and more. This day aims to bring solidarity and harmony between different communities. 
First Nonstop Solo Transatlantic Flight Made By Charles Lindbergh
American aviator Charles Lindbergh completed the first nonstop solo flight across the Atlantic Ocean on this day in 1927. He travelled from New York to Paris in the monoplane Spirit of Saint Louis in about 33.5 hours.
First Woman Pilot solo Flight
On this day in 1932, American aviator Amelia Earhart became the first woman to pilot an aeroplane solo across the Atlantic Ocean.
Above are the 10 important events that happened in the history of India and the whole world. It includes major birthdays, death anniversaries, fun facts and important historical events that occurred in India as well as globally. 
For more such interesting content, daily check out This Day in History. CLICK HERE.