Today in History February 22: From Kasturba Gandhi Death Anniversary to Foundation of the Bombay Spinning Mills, list of 10 most important events happened today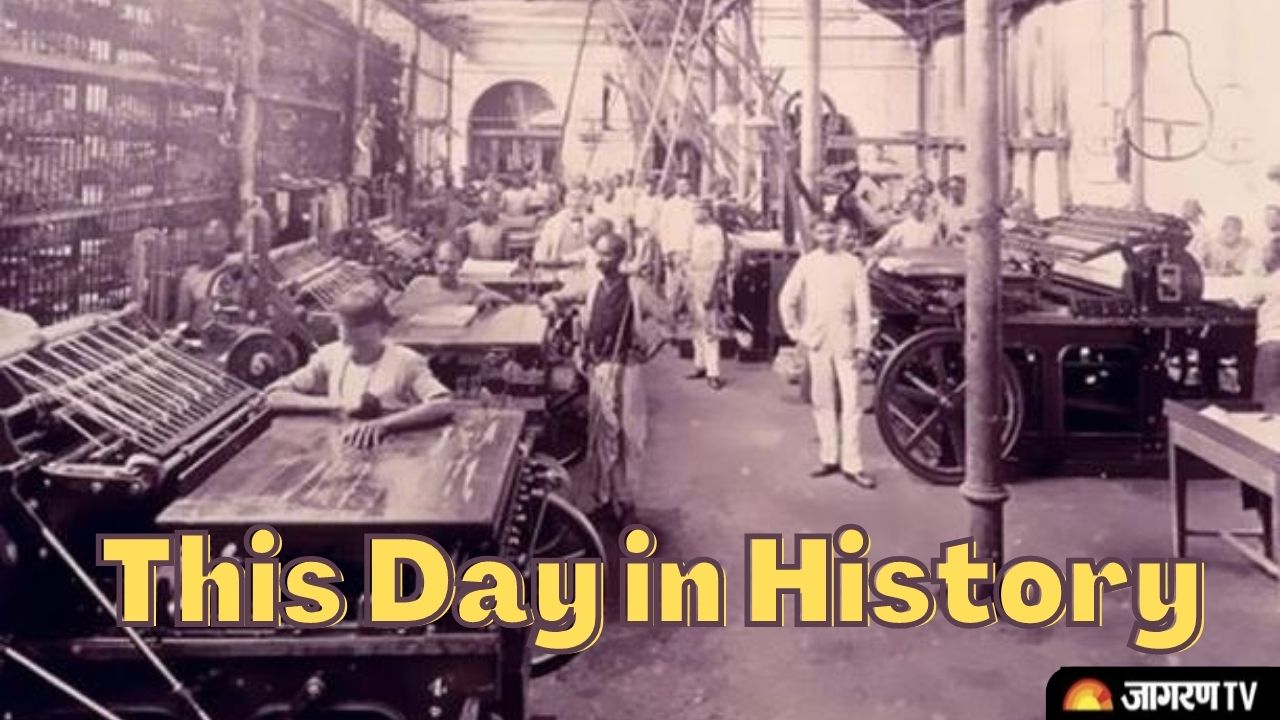 This Day in History: According to the Gregorian calendar, February 22 is the 53rd day of the year and the 53rd day in a leap year.
On this day let's see some important events and anniversaries. We have compiled a list of some monumental events that happened all around the world on 22 February as well as birthdays of famous people.
10 Major Events Happened Today in History
Chamarajendra Wadiyar X Birthday
Maharaja Chamarajendra Wadiyar X,  the twenty-third maharaja of the Kingdom of Mysore, between 1868 and 1894 was born on this day in 1863. 
Maharaja HH Chamarajendra Wadiyar X
22 Feb 1863 - 28 Dec 1894
Was the 23rd maharaja of the Kingdom of Mysore, between 1868 & 1894

Wadiyar was a great patron of arts and music
Second picture of Wadiyar was painted by Raja Ravi Varma

Successor of HH Krishnaraja Wadiyar IV pic.twitter.com/abM6nmK8SM

— Anjali Nataraj (@AnjaliKoundinya) February 22, 2019
 Indulal Yagnik Birthday
Indulal Kanaiyalal Yagnik, also called Indu chacha was an Indian independence activist, who purchased Indian tricolour flag hoisted by Madam Bhikaji Cama from Germany to India. He was a leader of the All India Kisan Sabha and one who led the Mahagujarat Movement, which spearheaded the demand for the separate statehood of Gujarat on 8 August 1956. 
1950s :: 'Janata Curfew' Was Started by Indulal Yagnik . Indu Chacha Was Leader of Maha Gujarat Andolan pic.twitter.com/dWTw72ABmJ

— indianhistorypics (@IndiaHistorypic) March 19, 2020
The Bombay Spinning Mills Founded
In 1854 on this day, Cowasji Nanabhai Davar started First Cotton Mill named "The Bombay Spinning Mills". Prior to the middle of the nineteenth century, India used to export cotton to Britain and later re-imported the textile. While the year 1820 saw the total textile import valued at only Rs, 350,000; the prices escalated until in 1860 the textile imports reached Rs. 19.3 million. The Bombay Spinning Mill" with opposition from the Lancashire mill owners eventually combated by the support of the British manufacturers of textile machinery. Additionally, by 1870 there were 13 mills, exclusively in Bombay.
Cowasji Nanabhai Davar Started First Cotton Mill That Was Called "The Bombay Spinning Mills."
Here's more of what had happened on 22nd February in the past!#KasturbaGandhi #CowasjiNanabhaiDavar #AbulKalamAzad #historyoftheday #history #22ndfeb #22february #Jeffrey pic.twitter.com/nIUZeQJtxP

— FilmyDuniya (@FilmyDuniya11) February 22, 2021
World Thinking Day
World Thinking Day is celebrated every year around the world on this day to appreciate the help and guidance of brothers and sisters around the world. It is also celebrated by Scout and Guide organizations around the world. It is a day when they think about their "sisters" (and "brothers") in all the countries of the world, the meaning of Guiding, and its global impact.
Most recently, the World Association of Girl Guides and Girl Scouts has selected an important international issue as the theme for each year's World Thinking Day, and selected a focus country from each of their five world regions. 
We officially started our journey to World Thinking Day 2022 today in @GatsiboDistrict .
See the Highlights of the day😍.
Twite ku iterambere ry'uburinganire tunarengera ibidukikije. @REMA_Rwanda @wagggsworld#OurWorldOurEqualFuture#WTD2022 #TheGuidingWeek pic.twitter.com/BKRgxwuRzk

— Rwanda Girl Guides (@guidesrwanda) February 19, 2022
 Kasturba Gandhi Death Anniversary
Kasturbai Mohandas Gandhi was an Indian political activist. She married Mohandas Gandhi in 1883. With her husband and son, she was involved in the Indian independence movement in British India. She was, to a great extent, influenced by her husband. National Safe Motherhood Day is observed on 11 April every year. 
Kasturba Gandhi https://t.co/rWo0vGE8iy
FAMEPedia is free, online encyclopedia, you can also have your article.#wikipedia pic.twitter.com/9UvbVX8KdD

— FAMEPedia (@Famepedia) February 14, 2022
Abul Kalam Azad Death Anniversary
Abul Kalam Ghulam Muhiyuddin Ahmed bin Khairuddin Al-Hussaini Azad was an Indian independence activist, Islamic theologian, writer and senior leader of the Indian National Congress. In October 1920, Azad was elected as a member of foundation committee to establish Jamia Millia Islamia at Aligarh in U. P. without taking help from British colonial government. 
At a public meeting in Bombay , 1940.
From left in the front row , are Nagindas T. Master , Jawaharlal Nehru , Maulana Abul Kalam Azad and Sarojini Naidu. pic.twitter.com/gSjxXIIcSC

— Jawaharlal Nehru Memorial Fund (@jnmfsm) February 13, 2022
George Washington Birthday
George Washington was an American soldier, statesman, and Founding Father who served as the first president of the United States from 1789 to 1797. Washington has been called the "Father of the Nation" for his manifold leadership in the formative days of the country.
How did George Washington celebrate his 63rd birthday? In 1795, during his Presidency, Philadelphia—the capital of the new nation—made sure the President's birthday was a notable day. After a day of artillery salutes, the City Dancing Assembly held a birthday ball in his honor. pic.twitter.com/FYOhDPy73x

— Mount Vernon (@MountVernon) February 18, 2022
Cloning of Dolly
On this day in 1997, a team of British scientists working under the direction of Ian Wilmut at the Roslin Institute near Edinburgh announced the birth of Dolly the sheep, the first clone of an adult mammal.
#OnThisDay 1997: The successful cloning of Dolly the sheep was announced to the public pic.twitter.com/Vm5aPNBFIp

— Biochemical Society (@BiochemSoc) February 23, 2018
Czechoslovakia becomes a communist state following a coup d'etat
In 1948 on this day, Czechoslovakia becomes a communist state following a coup d'etat.
The country became a parliamentary republic following the non-violent "Velvet Revolution" in 1989 and was split into the Czech Republic and the Slovak Republic in 1993.
Turning Back the Clock to: 1948. Czechoslovakia became a communist state following a coup d'etat. #History pic.twitter.com/6FIKWZQAJJ

— History Then (@then_history) February 22, 2021
The People Power Revolution begins in the Philippines
In 1986 this day the People Power Revolution begins in the Philippines. It was the nonviolent campaign that resulted in the fall of President Ferdinand Marcos and the restoration of the country's democracy.
FEU SAGA's STATEMENT ON #EDSA35:

Today, the Philippines marked its 35th anniversary of the People Power Revolution. This movement ousted the 20-year dictatorial regime of former president Marcos. pic.twitter.com/t64Em6ZcXQ

— FEU SAGA (@TheFEUSAGA) February 25, 2021
Above are the 10 most important events that happened in the history of India and the whole world. It includes major birthdays, death anniversaries, fun facts and important historical events that occurred in India as well as globally. 
For more such interesting content, daily check out This Day in History. CLICK HERE.