Today in History February 23: From 1st council meeting of Southeast Asia Treaty Organization to Madhubala Death Anniversary, list of 10 most important events happened today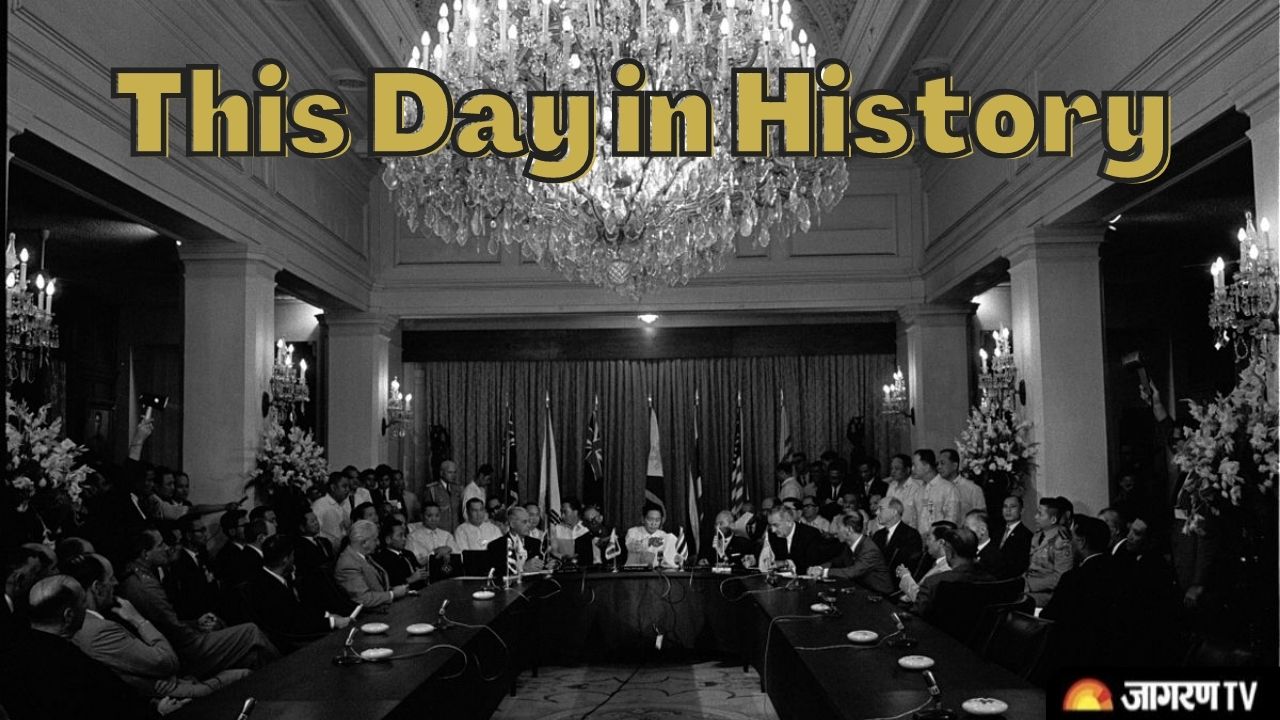 This Day in History: According to the Gregorian calendar, February 23 is the 54th day of the year and the 54th day in a leap year.
On this day let's see some important events and anniversaries. We have compiled a list of some monumental events that happened all around the world on 23 February as well as birthdays of famous people.
10 Major Events Happened Today in History
Birthdays on this day
Kaliprasanna Singha
Kaliprasanna Sinha well known by his pen name Hootum Pyancha, was a Bengali author, playwright, and philanthropist.  His most famous work was the translation of the ancient Hindu epic Mahabharata into Bengali. Singha's book Hootum Pyanchar Naksha. 
My humble tributes to the great Bengali author and playwright, Shri Kaliprasanna Singha, on his Birth Anniversary.

A luminary in the field of literature, we fondly remember his magnum opus — his translation of the ancient Hindu Epic "Mahabharata" into Bengali. pic.twitter.com/ZqtCCPXozT

— Suvendu Adhikari • শুভেন্দু অধিকারী (@SuvenduWB) February 23, 2021
 Gadge Maharaj
Gadge Maharaj was an Indian mendicant-saint and social reformer from the Indian state of Maharashtra. He lived in voluntary poverty and wandered to different villages promoting social justice and initiating reforms, especially related to sanitation. He is still revered by the common people in India and remains a source of inspiration for various political parties and non-government organizations.
#inspiringquotes

"You can always eat from your hands but without education, life is incomplete..."~#GadgeMaharaj

Pic:Dr Babasaheb Ambedkar with Karmaveer Bhaurao Patil and Sant Gadge Maharaj, in July 14, 1949. pic.twitter.com/OxkUIZdLz1

— Dayanand Kamble (@dayakamPR) February 14, 2022
Hem Singh Pruthi
Hem Singh Pruthi was an Indian entomologist who served as Imperial Entomologist, being the first native Indian in that position.
 
Events on this day
 
First council meeting of Southeast Asia Treaty Organization (SEATO)
The Southeast Asia Treaty Organization (SEATO) was an international organization for collective defence in Southeast Asia created by the Southeast Asia Collective Defense Treaty, or Manila Pact, signed in September 1954 in Manila, the Philippines. The organization's headquarters were also in Bangkok. Eight members joined the organization.
The U.S. Navy aircraft carrier USS Yorktown (CVS-10) in a posed formation with her escorts and some of her aircraft during Exercise Sea Imp, a major Southeast Asia Treaty Organization exercise conducted in the Western Pacific during the first part of 1966. pic.twitter.com/0B7cL7RMmu

— Chris Bolton (@CcibChris) May 25, 2019
World Peace and Understanding Day
The month of February is very special in the Rotary calendar because it includes the anniversary of the first meeting of Rotary held on February 23, 1905, now designated as the World Understanding and Peace Day. In designating World Understanding Month, the Rotary International board asks all Rotary clubs to plan special programs for their weekly meetings and undertake special activities to promote "understanding and goodwill as essential for world peace."
Peace cannot be kept by force; it can only be achieved by understanding, said Albert Einstein. Happy world peace and understanding day.#worldpeace #understandingday #myndia #india #bharat #shopping #AatmnirbharBharat #onlineshop pic.twitter.com/NriQCujrOc

— myndia.in (@myndiaonline) February 21, 2022
First Rotary Club Founded
Rotary International is an international service organization that brings together business, professional, and community leaders in order to provide service to others, promote integrity, and advance goodwill, peace, and understanding in the world.
The Rotary Club of Balwyn's Centenary Grants project, offering $1 million in funding to clubs across Australia, has announced its first round of recipients. Continue the story on RDU's website 👉 https://t.co/VkJROOJ7MV pic.twitter.com/jHer2cF0iK

— Rotary Down Under (@rotarydownunder) February 22, 2022
Death Anniversaries on this day
 
Madhubala
Madhubala was an Indian actress and producer who worked in Hindi cinema. She starred in more than 60 films in a career spanning over two decades. She progressed to leading roles in late 1940s, and earned success with the dramas Neel Kamal (1947) and Amar (1954), the horror film Mahal (1949), and the romantic films Badal (1951) and Tarana (1951). Following a brief setback, Madhubala rose to international prominence with her roles in the comedies Mr. & Mrs. '55 (1955), Chalti Ka Naam Gaadi (1958) and Half Ticket (1962), the crime films Howrah Bridge and Kala Pani (both 1958), and the musical Barsaat Ki Raat (1960). 
these are THE pictures of madhubala. pic.twitter.com/WSUhirESid

— ً (@madhubelIa) January 17, 2022
Vrindavan Lal Verma
Vrindavan Lal Verma was a Hindi novelist and playwright. He was honoured with Padma Bhushan for his literary works. He received the Soviet Land Nehru Award and the government of India also awarded him for his novel, Jhansi Ki Rani.
India Post issued 2 Rupee commemorative stamps in 1997 to honour Vrindavan Lal Verma.

Read more here: https://t.co/bZxyF3lqxA pic.twitter.com/PPRM8AB9P1

— Mintage World (@MintageWorld) January 9, 2020
Vijay Anand
Vijay Anand also fondly called Goldie Anand, was an Indian filmmaker, producer, screenwriter, editor and actor, who is known for acclaimed films such as Guide (1965), Teesri Manzil (1966), Jewel Thief (1967) and Johny Mera Naam (1970). He made most of his films for the in-house banner Navketan Films and was part of the Anand family.
Tribute to VIJAY ANAND on death anniversary.
Legendary filmmaker born in Gurdaspur. He wrote 'Taxi Driver' at 19 and 3 yrs later directed his 1st film 'Nau Do Gyarah' (1957)

seen here with his producers : Dev Anand (Guide, Jewel Thief) and with Nasir Husain (Teesri Manzil) pic.twitter.com/V9kXEfHwuI

— Film History Pics (@FilmHistoryPic) February 23, 2019
Nirmala Srivastava
Nirmala Srivastava also known as Shri Mataji Nirmala Devi, was the founder and guru of Sahaja Yoga, a new religious movement sometimes classified as a cult. She said, "You cannot know the meaning of your life until you're connected to the power that created you". 
The best way to be with your spirit is to forgive. - Nirmala Srivastava #Quoteoftheday #virtualoffice #success pic.twitter.com/7htNUg4Spz

— VA Connect (@VAConnectSA) January 18, 2018
Above are the 10 most important events that happened in the history of India and the whole world. It includes major birthdays, death anniversaries, fun facts and important historical events that occurred in India as well as globally. 
For more such interesting content, daily check out This Day in History. CLICK HERE.