Today in History February 24: From Battle of Karnal to Central Excise Day, list of 10 most important events happened today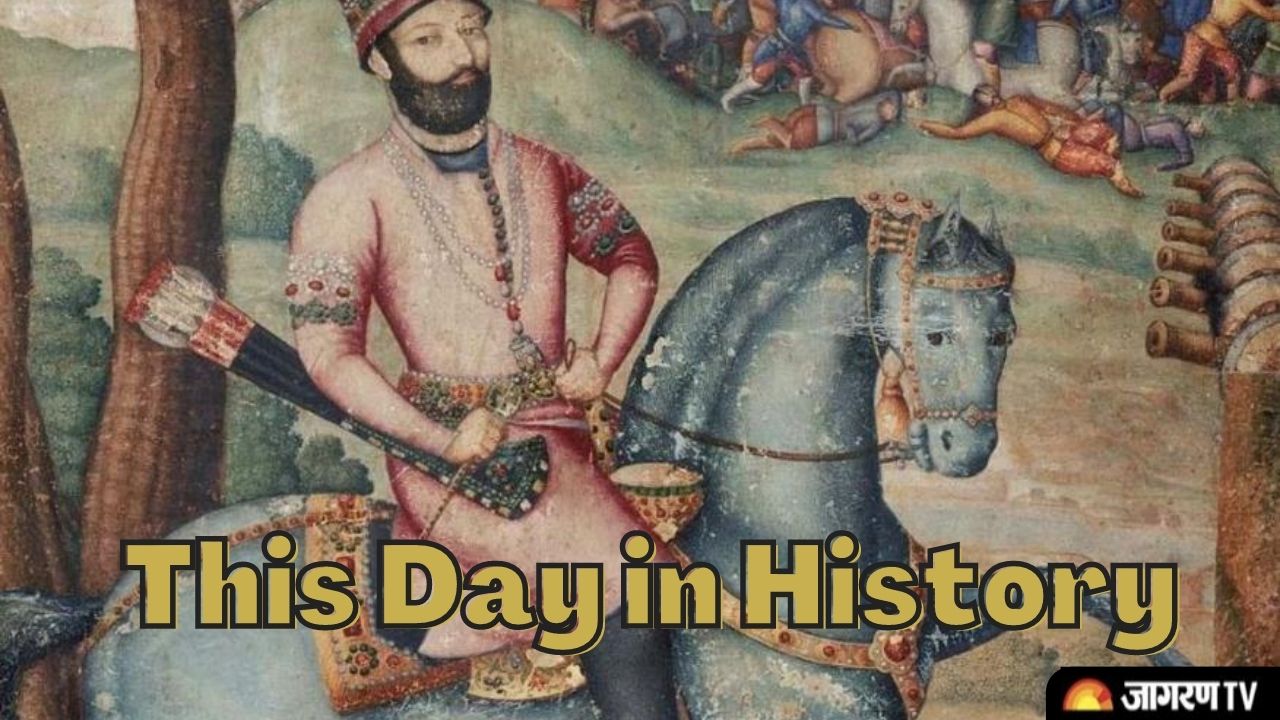 This Day in History: According to the Gregorian calendar, February 24 is the 55th day of the year and the 55th day in a leap year.
On this day let's see some important events and anniversaries. We have compiled a list of some monumental events that happened all around the world on 24 February as well as birthdays of famous people.
10 Major Events Happened Today in History
Rajaram I Birth Anniversary
Rajaram Bhosle I was the third Chhatrapati of the Maratha Empire, who ruled from 1689 to his death in 1700. He was the second son of the Shivaji, the founder of the empire and younger half-brother of Sambhaji, who he succeeded. 
After the fall of Raigad to the Mughals, Panhala served as the de-facto capital of the Marathas. It was here that Tarabai, the widow of Shivaji's son Rajaram I, declared an independent kingdom of Kolhapur in 1709. Unfortunately, its imposing fortress today is losing its identity. pic.twitter.com/6LyGSXLl15

— LiveHistoryIndia (@LiveHIndia) November 10, 2020
V. Nanammal Birthday
V. Nanammal was India's oldest yoga teacher. She efficiently trained one million students over 45 years and taught one hundred students daily. Her work was honoured with India's National Nari Shakti Puraskar in 2016 and the country's fourth-highest civilian award the Padma Shri in 2018. 
#PresidentKovind presents Padma Shri to Smt V. Nanammal. India's oldest Yoga teacher at 98, Smt Nanammal still practices and teaches 100 students daily. She has trained over a million students pic.twitter.com/QMRnb4zJzB

— President of India (@rashtrapatibhvn) March 20, 2018
Joy Mukherjee Birthday
Joy Mukherjee was an Indian film actor and director. He was titled the 'heart throb of the 1960s and 1970s'.
#Sadhana #JoyMukherjee #BollywoodFlashback #muvyz #muvyz022222 pic.twitter.com/RGwMHQGV2a

— Vintage Bollywood (@VintageMuVyz) February 22, 2022
Battle of Karnal
The Battle of Karnal was a decisive victory for Nader Shah, the founder of the Afsharid dynasty of Iran, during his invasion of India. Nader's forces defeated the army of Muhammad Shah within three hours, paving the way for the Iranian sack of Delhi. The engagement is considered the crowning jewel in Nader's military career as well as a tactical masterpiece. The battle took place near Karnal, 110 kilometres (68 mi) north of Delhi, India
On this day (24 Feb 1739) Nader Shah defeated the Mughal army at the battle of Karnal.

Why did the Mughals suffer such a distraous defeat?

Strife among nobility? Poor strategy & diplomacy? Muhammad Shah's sentiments towards his soldiers? Or simply superior Persian technology? pic.twitter.com/CBQjIGNfEV

— Timurid-Mughal Archives (@Timurid_Mughal) February 24, 2020
1st Swaminarayan Temple Inaugurated
On this day in 1822, the first Swaminarayan temple in the world, Shri Swaminarayan Mandir, Ahmedabad, was inaugurated.
On this day in 1822: The first #Swaminarayan temple in present-day #Ahmedabad, #India, was inaugurated. 🙏 pic.twitter.com/n0XA6oGrON

— Brijesh (@bbrijesh) February 24, 2016
Central Excise Day in India
It is observed on this day every year to commemorate the Central Excise and Salt Act which was enacted in 1944. The day honours the contribution of the Central Board of Indirect Taxes and Customs (CBIC) to the country and the officers associated with it and their services. The day also encourages the officers to carry out their duties with utmost sincerity. Every year, officers do their duties of checking the corruption of goods from the manufacturing sector.  
Revenues collected from taxes play important role in people's welfare, development of infrastructure or meeting security & defence needs. On Central Excise Day, let's support those officials who work honestly, diligently for the nation. @cbic_india pic.twitter.com/RQc3Gdivtf

— Dr Harsh Vardhan (@drharshvardhan) February 24, 2019
National Artist Day in Thailand
Since 1985, the honours have been presented on this day, "National Artist Day", in Thailand. The date was chosen because it is the birthdate of Buddha Loetla Nabhalai, or King Rama II, who was an artist himself. In 1986, King Bhumibol Adulyadej, an accomplished musician, photographer, and painter, was named "Supreme Artist".
24 February is National Artist Day in Thailand recognizing notable Thai artists in literature and the arts. #art pic.twitter.com/Zy8OaIeVnh

— World Wide Days (@worldwidedays) February 24, 2020
Rukmini Devi Arundale Death Anniversary
Rukmini Devi Arundale was an Indian theosophist, dancer and choreographer of the Indian classical dance form of Bharatanatyam, and an activist for animal welfare. She was the first woman in Indian history to be nominated as a member to the Rajya Sabha, the upper house of the Parliament of India. The most important revivalist of Bharatanatyam from its original 'sadhir' style prevalent amongst the temple dancers, the Devadasis, she also worked for the re-establishment of traditional Indian arts and crafts.
It's International Women's Day & today I'm thinking of someone I was so lucky to have in my life: My godmother Rukmini Devi Arundale, who revived the bharatnatyam art form in India, banned under British rule because of how sensual it was. It earned her her own postage stamp pic.twitter.com/UkC2LfWMhs

— Rukmini Callimachi (@rcallimachi) March 9, 2018
Lalita Pawar Death Anniversary
Lalita Pawar was an Indian actress, who appeared in over 700 films in Hindi, Marathi and Gujarati cinema. Pawar is the awardee of a Filmfare award for best-supporting actress for Anari. She featured in hit films such as Netaji Palkar (1938), made by Bhalji Pendharkar, New Hana Pictures' Sant Damaji, Navyug Chitrapat's Amrit, written by VS Khandekar, and Chhaya Films' Gora Kumbha. 
RAJ KAPOOR AND LALITA PAWAR In Hrishikesh Mukherjee Classic, ANARI (1959). The Duo Won Best Actor And Best Supporting Actress Filmfare Respectively. Movie Also Won National Award For Best Hindi Film pic.twitter.com/b5iqYnRGrP

— Subhash Shirdhonkar (@4331Subhash) February 15, 2022
Bhimsen Joshi Death Anniversary
Bhimsen Gururaj Joshi also known by the honorific prefix Pandit, was one of the greatest Indian vocalists from Karnataka, in the Hindustani classical tradition. He is known for the khayal form of singing, as well as for his popular renditions of devotional music (bhajans and abhangs).
Old clip of Pt Bhimsen Joshi Performing at #Kundagol #Nadgirwade pic.twitter.com/AhPLMI4sDJ

— Patrao (@in_patrao) February 4, 2022
Above are the 10 most important events that happened in the history of India and the whole world. It includes major birthdays, death anniversaries, fun facts and important historical events that occurred in India as well as globally. 
For more such interesting content, daily check out This Day in History. CLICK HERE.