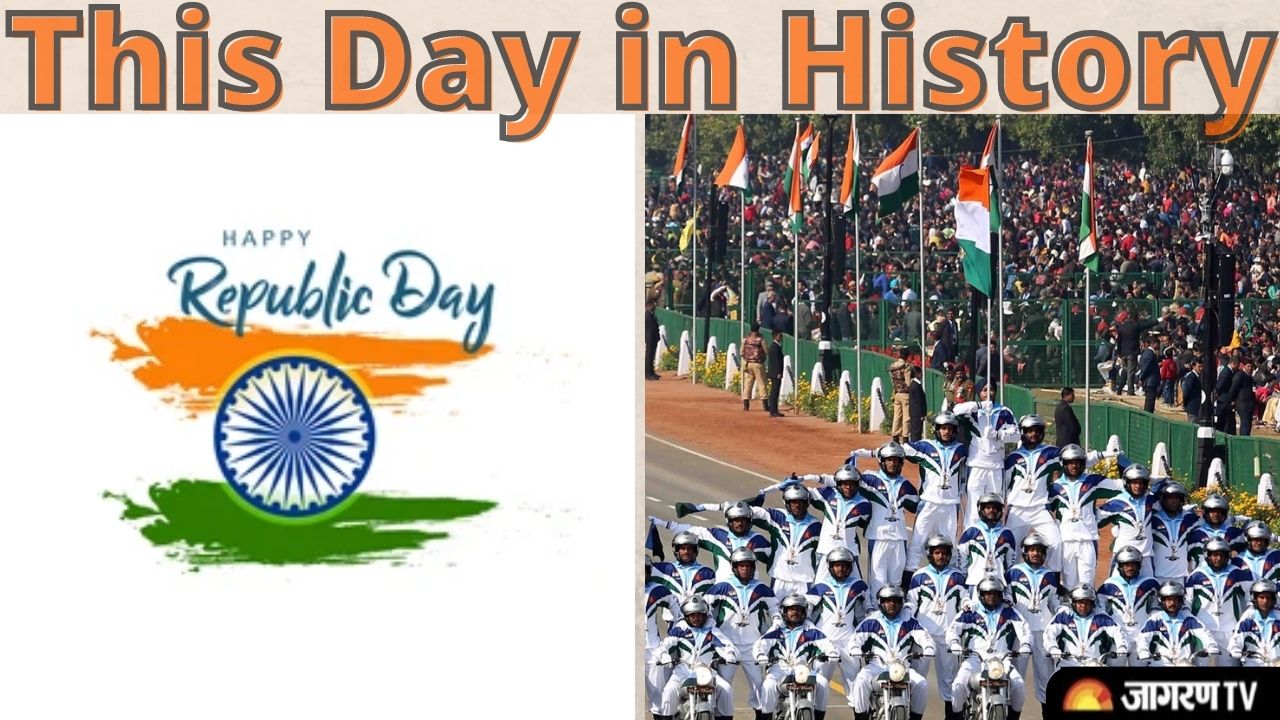 This Day in History:
According to the Gregorian calendar, January 26 is the 26th day of the year and the 26th day in a leap year.
On this day let's see some important events and anniversaries. We have compiled a list of some monumental events that happened all around the world on 26 January as well as birthdays of famous people. 
10 Major Events Happened Today in History
Republic Day of India
After being under the clutches of the British Era for 200 years, India got independence in 1947. On this day in 1950, the country was declared a 'Sovereign Democratic Republic,' two years later. this time India will celebrate 73rd Republic Day. Indian constitution came into force in 1950.
K. S. Narasimhaswamy Birthday
Kikkeri Subbarao Narasimhaswamy famously known as K. S. Narasimhaswamy, was an Indian poet who wrote in the Kannada language. His most popular literary work and collection of poems, Mysooru Mallige. Narasimhaswamy is a recipient of the Sahitya Akademi Award, Kannada Sahitya Academy Award. Also, he was conferred with the Asian Prize for literature.
Raveesh Kumar Birthday
In 1971, Raveesh Kumar who is an Indian diplomat in the Indian Foreign Service was born. He is an Indian ambassador to Finland also accredited to Estonia, residing in Helsinki.  He was the former official spokesperson of the Ministry of External Affairs) in the Government of India. Kumar was the youngest ever official spokesperson. 
World's Largest Diamond Found
In 1905, The Cullinan Diamond, World's largest diamond was found in South Africa.
Rajendra Prasad: India's first President.
On this day in 1950, Rajendra Prasad was elected as first President of India. 
Australia Day 
Australia Day is the official national day of Australia. This day marks the 1788 landing of the First Fleet at Sydney Cove and the raising of the Union Flag by Arthur Phillip following days of exploration of Port Jackson in New South Wales. 
Jodhpur ruler, Hanwant Singh Death Anniversary
Hanwant Singh was the ruler of the Indian princely state of Jodhpur from 1947 to 1949. He succeeded his father as Maharaja of Jodhpur in 1947. 
 Kartar Singh Duggal Death Anniversary
Kartar Singh Duggal was an Indian writer who wrote in Punjabi, Urdu, Hindi, and English. His literary works include short stories, novels, dramas and plays. His works have been translated into many Indian and foreign languages. Duggal has also served as director of the All India Radio. He was awarded the Padma Bhushan by the Government of India in 1988. 
 Michigan became the 26th U.S. state
On this day in 1837, President Andrew Jackson signed a bill making Michigan USA's 26th state. Additional land was provided to Michigan, the part of the state known as the Upper Peninsula, making it the state with the most area bordering the shores of the Great Lakes.
Massive Earthquake in Gujrat
In 2001, a massive earthquake struck near Bhuj, Gujarat, India. It killed more than 20,000 people and caused extensive damage to property and human life. 



Above are the 10 most important events that happened in the history of India and the whole world. It includes major birthdays, death anniversaries, fun facts and important historical events that occurred in India as well as globally. 
For more such interesting content, daily check out This Day in History. CLICK HERE.