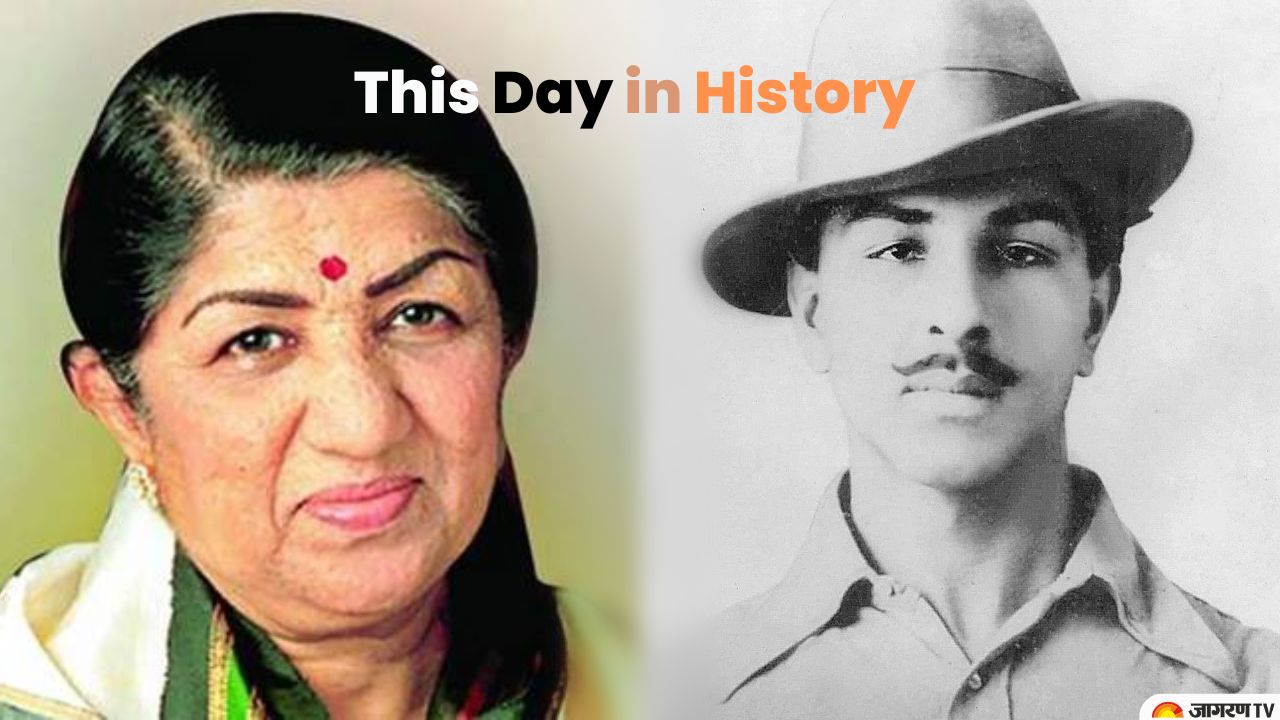 This Day in History: According to the Gregorian calendar, 28 September is the 271st day of the year and the 272nd day of a leap year.
On this day let's see some important events and anniversaries. We have compiled a list of some monumental events that happened worldwide on 28 September as well as the birthdays of famous people.
Major Events Happened on this Day
Lata Mangeshkar Birthday
Born on this day in 1929, Lata Mangeshkar was one of the best known and the most respected playback singer and music director of India. Her contribution to the Indian music industry in a career spanning eight decades gained her honorific titles such as the "Queen of Melody", "Nightingale of India", and "Voice of the Millennium". She has been awarded prestigious awards like Bharat Ratna, Dadasaheb Phalke Award, National Order of the Legion of Honour and more. 
Bhagat Singh Birthday
Born on this day in 1907, Bhagat Singh was a socialist revolutionary who fought hard for the freedom of India. He was executed at the age of 23 years and is since a hero of the Indian independence movement. In Lahore, Punjab, in what is now Pakistan, in December 1928, Bhagat Singh and a companion, Shivaram Rajguru, both members of a small revolutionary group, the Hindustan Socialist Republican Association (also Army, or HSRA), shot and killed a 21-year-old British police officer, John Saunders, thinking he was the British senior police superintendent, James Scott, whom they had intended to assassinate. Saunders was still on probation.
Akbar II Death Anniversary
On this day in 1837, Akbar II was the second last Mughal emperor of India who reigned from 1806 to 183. Due to growing British influence in India via the East India Company, Akbar had little de facto control. Ram Mohan Roy was sent by him as an ambassador to Great Britain, and he was given the title of Raja. In 1835, when he was in power, the East India Company stopped referring to itself as the Mughal Emperor's vassal and stopped issuing coins in his honour. The Persian lines stating as much were removed from the company's coins.
Bahadur Shah II took over the rule of Delhi
On this day in 1837, Delhi's reign was taken over by Bahadur Shah II. He was both an Urdu poet and the twentieth and final Mughal Emperor. He succeeded his father, Akbar II, who passed away on September 28, 1837, and was the second son. Because the Mughal Empire only existed in name and his jurisdiction only extended to the walled city of Old Delhi, he was only known as the titular Emperor (Shahjahanbad). After being found guilty of multiple charges stemming from his participation in the Indian Mutiny of 1857, the British deported him to Rangoon in British-controlled Burma in 1858.
Discovery of California
Explorer Juan Rodríguez Cabrillo, known as the "discoverer" of California, landed this day in 1542 near what is now San Diego and became the first European to set foot on the west coast of what would become the United States.