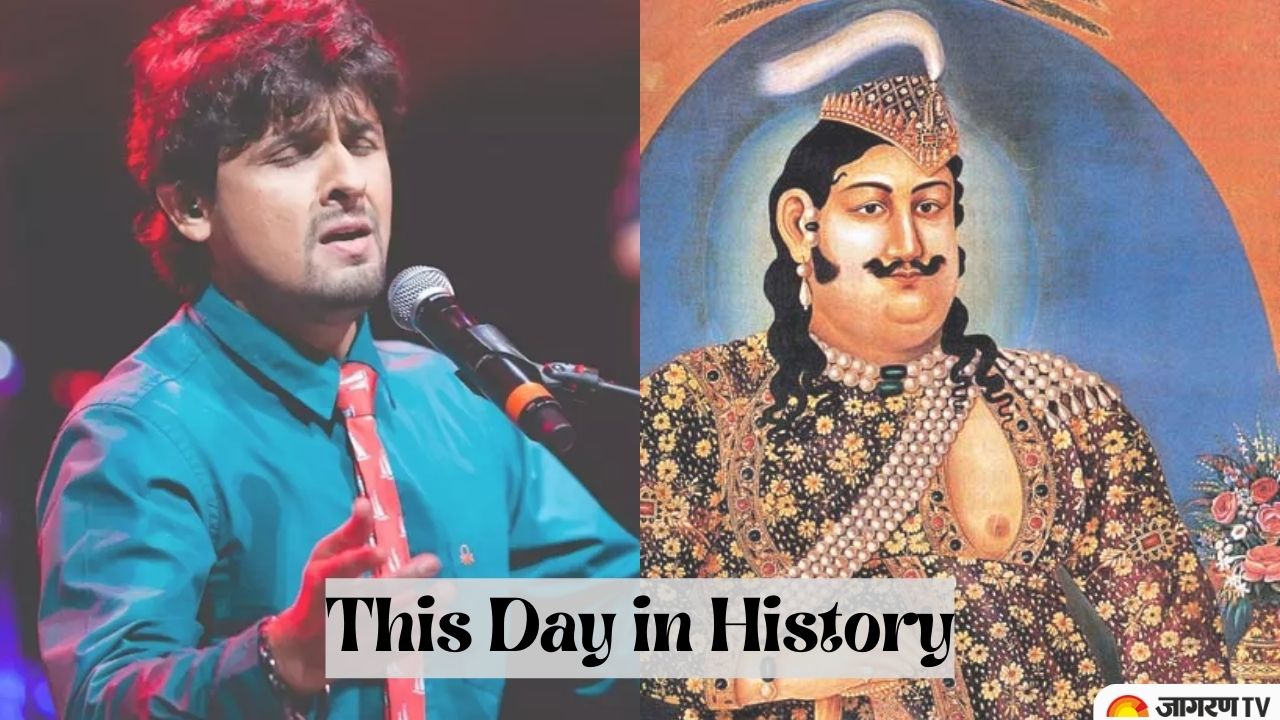 This Day in History: According to the Gregorian calendar, July 30 is the 211st day of the year and the 212th day of a leap year.
On this day let's see some important events and anniversaries. We have compiled a list of some monumental events that happened all around the world on 30 July as well as the birthdays of famous people.
Major Events Happened on this Day
Sonu Nigam's Birthday
Born on this day in1973, Sonu Nigam, Indian singer and composer born in Faridabad, Haryana, India. For his contributions to the arts, the Indian government has recognised him with the Padma Shri, the fourth-highest civilian honour in the nation. However, Nigam has also performed in Bengali, Marathi, Telugu, Tamil, Odia, Bhojpuri, Gujarati, Malayalam, Nepali, Tulu, and other Indian languages. Nigam sings primarily in Hindi and Kannada language films. Nigam has also appeared in a few Hindi films and produced a number of non-film records. He is referred to as the "Modern Rafi," a moniker inspired by his musical hero Mohammad Rafi.
Wajid Ali Shah's Birthday
Born on this day in 1882, Wajid Ali Shah was the tenth and last King of Awadh, holding the position for 9 years, from 13 February 1847 to 11 February 1856. The East India Company (EIC), which had long protected his kingdom under a treaty, annexed it on February 11, 1856, two days before the ninth anniversary of his coronation. The Nawab spent the remainder of his life on a comfortable pension after being sent to Garden Reach in Metiabruz, then a neighbourhood of Kolkata. He was an accomplished poet, writer, dancer, and arts patron. He is largely regarded with bringing back Kathak as a significant style of traditional Indian dance.
Arnold Schwarzenegger Birthday
Actor, producer, businessman, former bodybuilder, and politician Arnold Alois Schwarzenegger is Austrian-American. He was the 38th governor of California from 2003 until 2011. He was the most recent Republican governor of California as of 2022. In 2004 and 2007, Time magazine included Arnold Schwarzenegger in its list of the 100 most influential persons in the world. Some of his famous movies are The Terminator (1984), Total Recall (1990), True Lies (1994) and more. 
National Motto Of USA Adopted
On this day in 1956, The phrase "In God we trust" legally became the national motto of the United States. The United States Congress changed the de facto motto from E pluribus unum, which had been used since the Great Seal of the United States' original design, to this one in 1956.
Lunar Rover Used For First Time
On this day in 1971, Apollo 15 astronauts David Scott and James Irwin land on the moon with the first lunar rover used to begin exploring the moon's surface. The first lunar rover is used by astronauts David Scott and James Irwin from Apollo 15 to land on the moon and start investigating its surface.