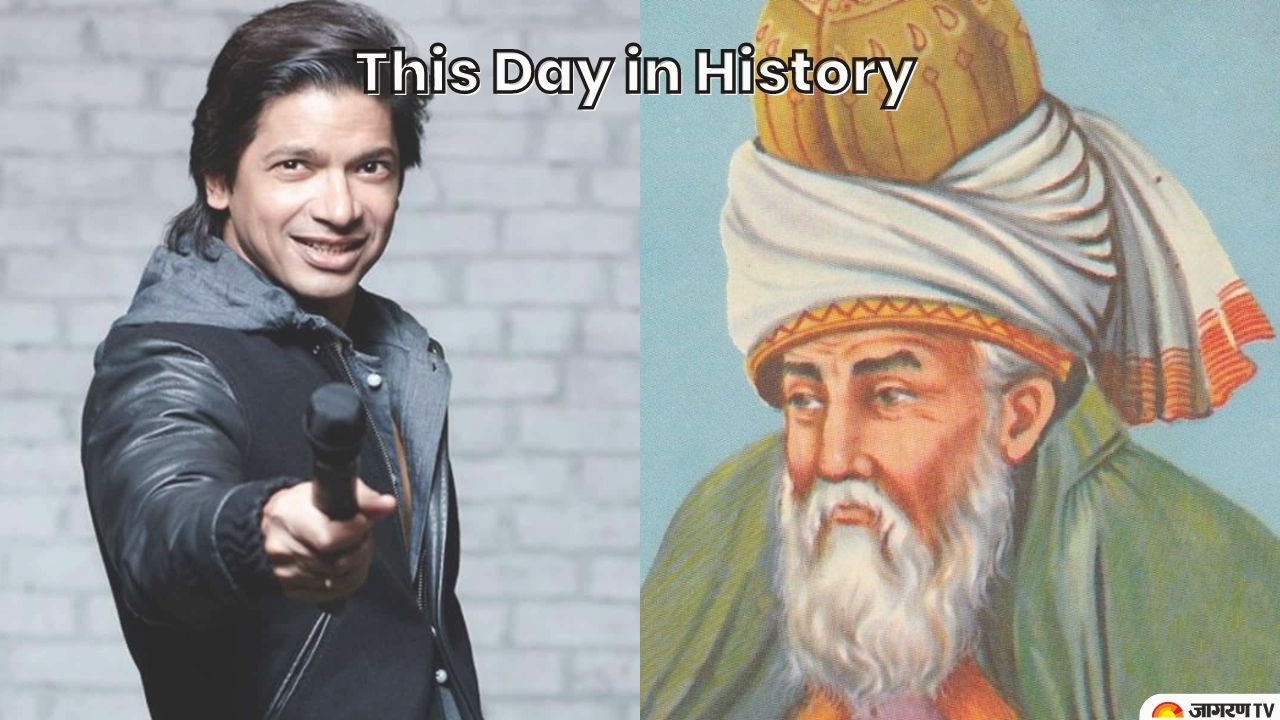 This Day in History: According to the Gregorian calendar, 30 September is the 273st day of the year and the 274nd day of a leap year.
On this day let's see some important events and anniversaries. We have compiled a list of some monumental events that happened worldwide on 30 September as well as the birthdays of famous people.
Major Events Happened on this Day
Rumi Birthday
Born on this day in 1207, Originally from Greater Khorasan in Greater Iran, Jalal al-Din Muhammad Rumi was a poet, Hanafi faqih, Islamic scholar, Maturidi theologian, and Sufi mystic. He is most commonly known by his pen name, Rumi. Rumi's influence cuts over ethnic and national boundaries; throughout the past seven centuries, Muslims in the Indian subcontinent as well as Iranians, Tajiks, Turks, Greeks, Pashtuns, and other Central Asian Muslims have all benefited significantly from his spiritual legacy. His poems have been widely translated into a variety of languages and media around the world. According to reports, Rumi is the "most read poet" and "top seller" in the country.
Hrishikesh Mukherjee Birthday
Born on this day in 1922, Hrishikesh Mukherjee was an Indian film director, editor and writer regarded as one of the greatest filmmakers of Indian cinema. He is k own for a number of films, including Anari, Satyakam, Chupke Chupke, Anupama, Anand, Abhimaan, Guddi, Gol Maal, Majhli Didi, Chaitali, Aashirwad, Bawarchi, Khubsoorat, Kissi Se Na Kehna, and Namak Haraam.
Deepa Malik Birthday
Born on this day in 1970, Deepa Malik, India's shotput and javelin throw player. She earned a silver medal in the shot put event at the 2016 Summer Paralympics, becoming the first Indian woman to do so. Additionally, she earned a gold medal in the 2018 Dubai Para Athletic Grand Prix in the F-53/54 Javelin competition. In the F-53 category, she is currently ranked first in the world.
Shantanu Mukherjee (Shaan) Birthday
Born on this day in 1972, Shaan, also known as Shantanu Mukherjee, is a playback singer, composer, actor, and television personality from India. As one of the highest-paid and most renowned playback singers in Indian cinema, he has recorded songs for movies and albums in a variety of Indian languages.
International Translation Day 
International Translation Day is observed every year on this day to raise awareness about the translation profession and to pay tribute to the work of language professionals.
Name of 'Madras' changed to 'Chennai'
On this day in 1996, The name of the South Indian state of Tamil Nadu's capital was changed from Madras to Chennai.'