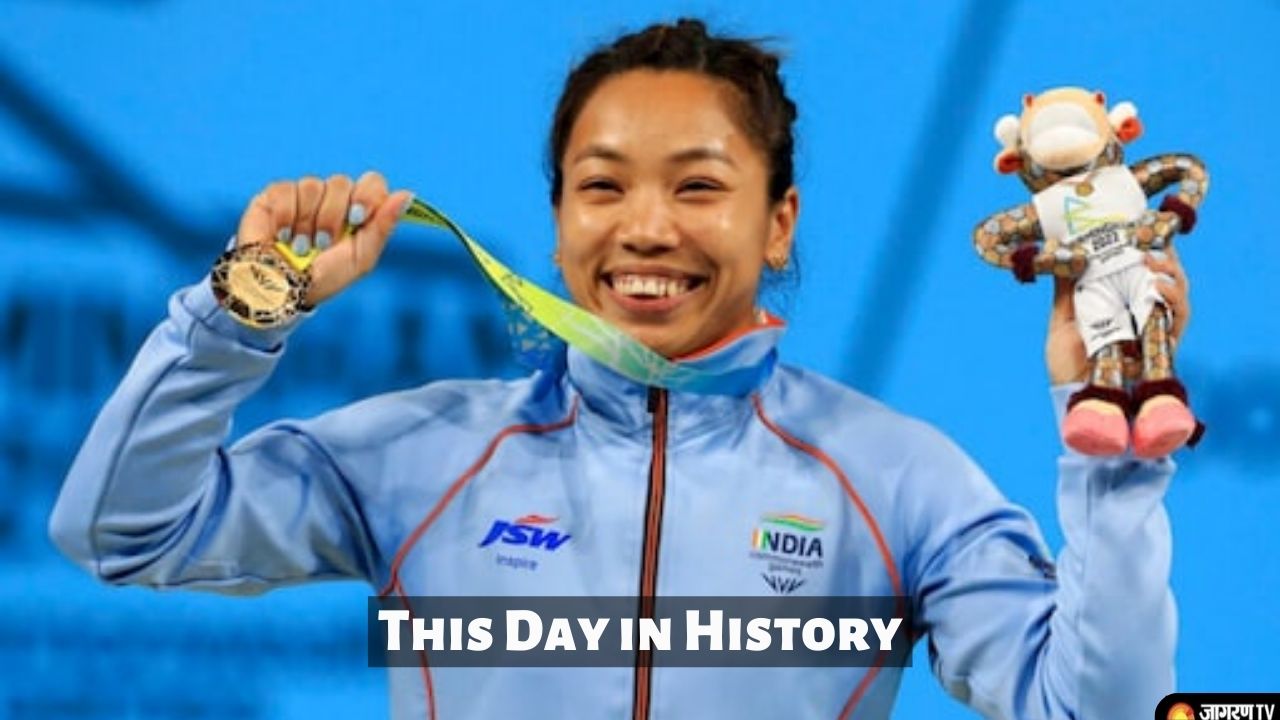 This Day in History: According to the Gregorian calendar, 8 August is the 220th day of the year and the 221th day of a leap year.
On this day let's see some important events and anniversaries. We have compiled a list of some monumental events that happened all around the world on 8 August as well as the birthdays of famous people.
Major Events Happened on this Day
Mirabai Chanu Birthday
Born on this day in 1994, Saikhom Mirabai Chanu is an Indian weightlifter. At the 2020 Tokyo Olympics, she took home the silver medal in the Women's 49 kg division. Mirabai Chanu has won many medals in the Commonwealth Games and the World Championships. She received the Padma Shri from the Indian government for her services to the game. Major Dhyan Chand Khel Ratna, a sporting honour, was given to her by the Indian government in 2018. Her greatest accomplishment was winning the gold medal in the 2017 World Weightlifting Championships in Anaheim, California. She currently holds the 49 kg category Clean & Jerk world record.
Bhisham Sahni Birthday
Born on this day in 1915, Bhisham Sahni was an Indian writer, playwright in Hindi and actor, most famous for his novel and television screenplay Tamas. Bhisham Sahni's epic work Tamas (Darkness, Ignorance 1974) is a novel based on the riots of 1947 Partition of India which he witnessed at Rawalpindi. 
Emperor Krishnadeva Raya Crowned
On this day in 1509, Emperor Krishnadeva Raya was crowned, marking the beginning of the regeneration of the Vijayanagara Empire in Southern India.
Quit India Movement Launched
On this day in 1942, Mahatma Gandhi launched the Quit India Movement for freedom from British rule in Mumbai.
The Great Train Robbery
On this day in 1963, The date of "The Great Train Robbery" in the United Kingdom when thieves held up a train carrying the Royal Mail and stole 120 mail sacks, the mail sacks contained cash and gems valued in excess of 7 Million.
ASEAN Founded
On this day in 1967, The Association of Southeast Asian Nations (ASEAN) is an economic and political organization which was formed after the heads of Indonesia, Malaysia, the Philippines, Singapore, and Thailand signed the Bangkok Declaration. The purpose of the organisation is to promote regional peace and stability and encourage economic development in the region. Today, ASEAN has 10 member states.