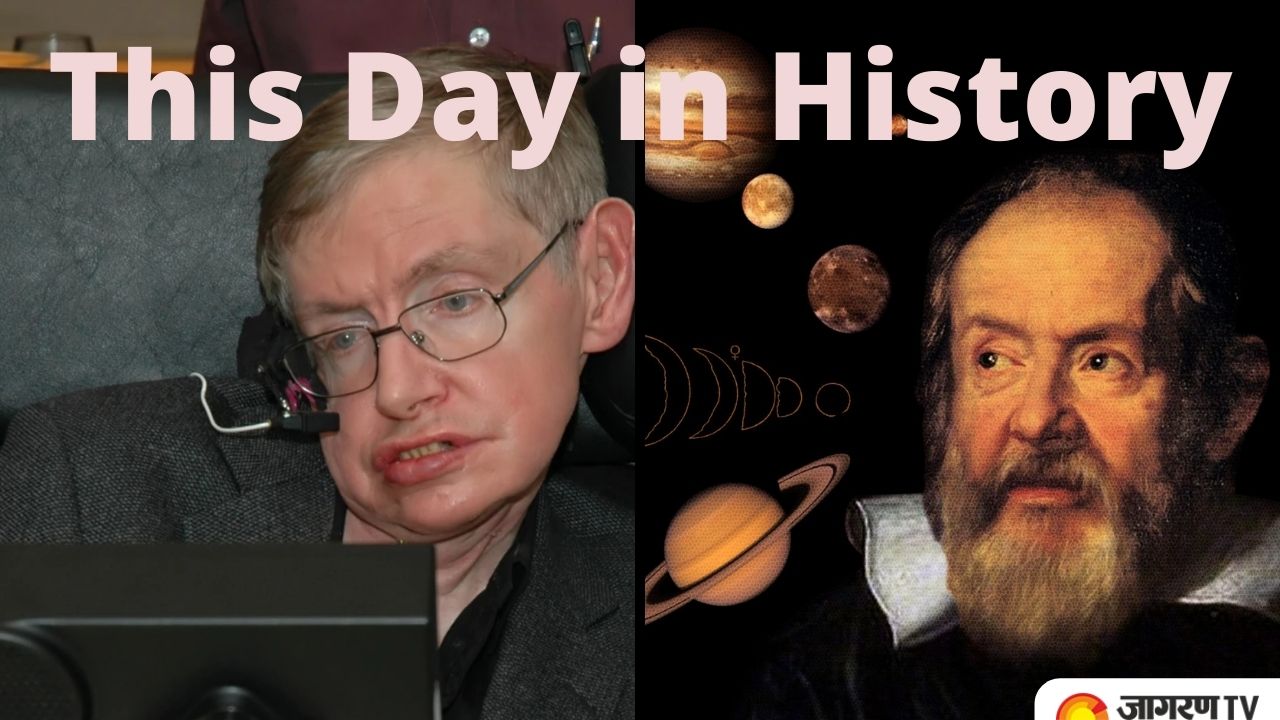 This Day in History:
According to the Gregorian calendar, January 8 is the 8th day of the year and the 8th day in a leap year.
On this day let's see some important events and anniversaries. We have compiled a list of some monumental events that happened all around the world on 8 January as well as birthdays of famous people.
10 Major Events Happened Today in History 
Stephen Hawking Birthday
Stephen Hawking whose full name is  Stephen William Hawking was born in 1942 in Oxford, Oxfordshire, England. He was an English theoretical physicist whose theory of exploding black holes drew upon both relativity theory and quantum mechanics. He also worked with space-time singularities. In the 1960s Hawking developed amyotrophic lateral sclerosis, an incurable degenerative neuromuscular disease. He died on March 14, 2018, in Cambridge.
Kelucharan Mohapatra Birth Anniversary 
Born in 1926, Kelucharan Mohapatra was a legendary Indian classical dancer and exponent of Odissi dance. He was conferred with many awards, Sangeet Natak Akademi Award(1966), Padma Shri(1974), Padma Bhushan(1988), Sangeet Natak Akademi Fellowship(1991), Padma Vibhushan(2000), and Kalidas Samman from the Madhya Pradesh government.
Saed Jaffrey Birthday
Saeed Jaffrey OBE was a British-Indian actor, born in 1929. He was versatile and fluent in many languages. This skill allowed him to become a radio jockey. He played a prominent role in Satyajit Ray's Hindi film based on British-era in India, Shatranj Ke Khiladi. In the 1980's he was considered to be Britain's highest-profile Asian actor. His international movies are  My Beautiful Laundrette (1985), The Jewel in the Crown (1984), Tandoori Nights (1985–1987), Little Napoleons (1994) and more.
Soviet Space Mission Luna 21 is launched
Launched in 1973, Luna 21's mission was to deliver a Soviet lunar rover, called Lunokhod 2 to the Moon. The plan was the rover would have to collect images of the lunar surface, determine whether ambient light levels are conducive to using the Moon as a base for astronomical observations. It was supposed to perform laser ranging experiments from Earth, observe solar X-rays, measure local magnetic fields, and study mechanical properties of the lunar soil.
Keshub Chandra Sen Death Anniversary
Keshub Chandra Sen was a Hindu philosopher and social reformer who attempted to incorporate Christian theology within the framework of Hinduism.
 India all out 63 in one-day international v Australia
In 1981 India was all out 63 in a one-day international vs Australia.
The Democratic Party of the United States is organized
In 1828, The Democratic Party of the United States was formed. The Democratic Party of the United States is one of the two major political parties. The other major political party in the USA is the Republican Party. The Democratic Party has gone through considerable changes during its more than two centuries of existence. Democrats have won 6  out of the last twelve presidential elections. The current government of the USA is also led by the Democratic Party, with Joe Biden becoming the 46th President of the country. 
Galileo Galilei Death Anniversary
Galileo Galilei is famously known as the "father of modern science" also, "father of observational astronomy".  Some of his major achievements are hydrostatic balance, the invention of the thermoscope which led to the modern thermometer invention, the invention of the Galileo telescope, and the discovery of phases of venus.
World War I Allies Counter Attack
In 1918, French, British, and Italian forces began the process of preparing a counterattack along the Piave River in Italy during the First World War. The Germans once again attempted to gain control over the Western Front of the Piave River in March of this same year. This was considered one of the German Army's last efforts to win the war. 
 Sagarika Ghatge Birthday
Born in 1986 in Kolhapur Maharashtra, Sagarika Ghatge is an Indian model, national-level athlete and actress known predominantly for her role of Preeti Sabharwal in Chak De! India. On 24 April 2017, she announced her engagement to famous cricketer Zaheer Khan. 
Above are the 10 most important events that happened in the history of India and the whole world. It includes major birthdays, death anniversaries, fun facts and important historical events that occurred in India as well as globally.