Today in History April 19: From Aryabhatta Satellite Launch to Mukesh Ambani's Birthday, list of 10 most important events happened today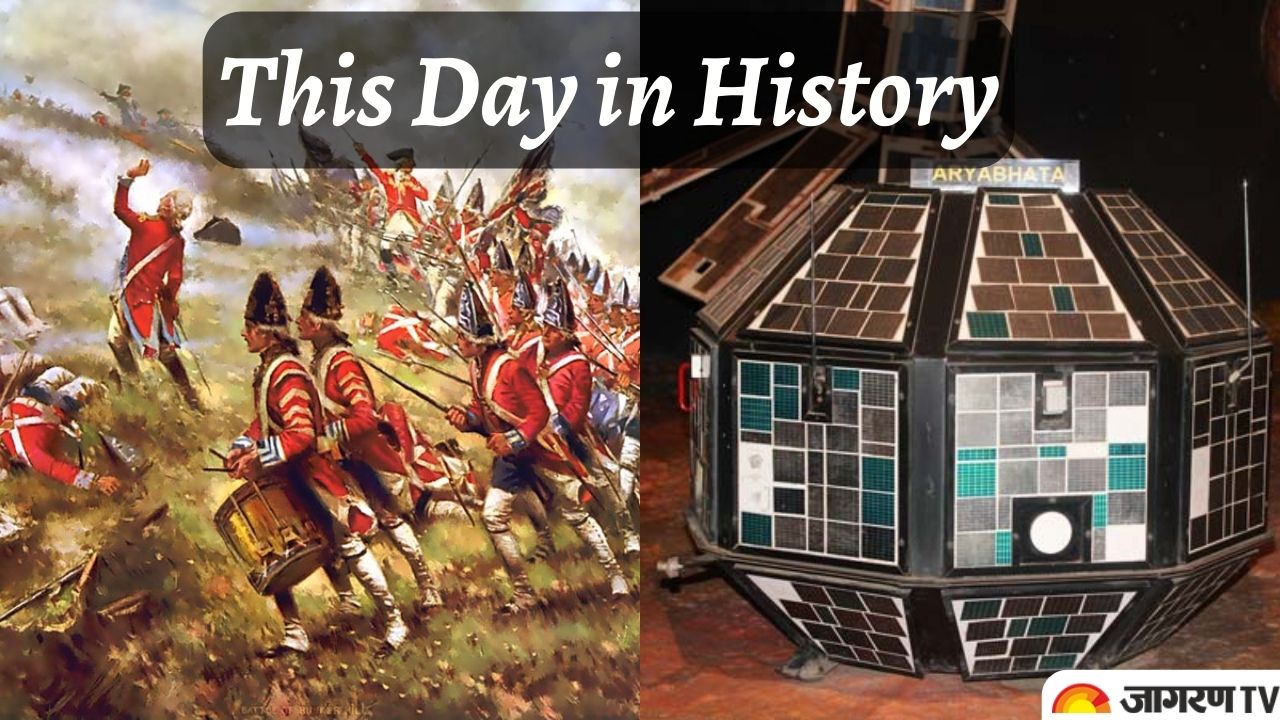 This Day in History: According to the Gregorian calendar, April 19 is the 119th day of the year and the 120th day of a leap year.
On this day let's see some important events and anniversaries. We have compiled a list of some monumental events that happened all around the world on April 19 as well as the birthdays of famous people.
10 Major Events Happened on this Day
Kankana Banerjee's Birthday   
Born on this day in 1946, Kankana Banerjee is an Indian Classical singer who trained under the tutelage of Indian classical vocalist Ustad Amir Khan. She has many awards including the State Government of Andhra Pradesh felicitation "Andhra Ratna Award (Kala Saraswati)" presented by Mother Teresa in 1987.
@smmusic2018 ends with melodious performance of noted singer Kankana Banerjee. We depart to meet next year in @SMmusic2019 pic.twitter.com/N38ZWCehgB

— Sankatmochan2018 (@smmusic2018) April 10, 2018
Mukesh Ambani's Birthday
Born on this day in 1957, Mukesh Ambani is an Indian billionaire and the largest shareholder of Reliance Industries Ltd. According to Forbes and Bloomberg Billionaires Index, Ambani's net worth is estimated at around US$101 billion as of March 2022, making him the second-richest person in Asia and India and the 10th richest person in the world. 
1990 :: Mukesh Ambani Coming Out of Larsen & Toubro Head Quarter After Attending L&T AGM https://t.co/3rtLHfqaWx pic.twitter.com/v4AaZqQ8G1

— indianhistorypics (@IndiaHistorypic) April 16, 2022
Anju Bobby George's Birthday
Born on this day in 1977, Anju Bobby George is a retired Indian athlete. She was awarded the Arjuna Award in 2002, Khel Ratna in 2003 and Padma Shri in 2004. She had got 5th position with personal best score of 6.83 at the 2004 Athens Olympics. 
It's an honour to receive 'Women of the year' award from World Athletics. It's not just for my performance but what I am giving back to Sports. From my Sports Foundation in Bengaluru one of my students has already reached world stage: Former long jumper Anju Bobby George (27.12) pic.twitter.com/p8u0EbiJr4

— ANI (@ANI) December 27, 2021
Wazir Ali Khan's Birthday
Born on this day in 1780, Wazir Ali Khan fourth nawab wazir of Oudh. He was the adopted son of Asaf-Ud-Dowlah, who had no son.
Not quite #miniature but certainly rather tiny. This gorgeously gilded Qur'an belonged to Wazir Ali Khan (1780—1817), the fourth Nawab of Oudh (21 September 1797 to 21 January 1798) @CBL_Dublin Is 1574, India 📚 #IslamicManuscripts #IndianManuscripts #MidweekManuscript pic.twitter.com/29BNCxxX3Q

— Kristine Rose-Beers (@iamkristinesr) December 9, 2020
Krishnaji Gopal Karve's Death Anniversary
Krishnaji Gopal Karve was an Indian freedom fighter and a revolutionary. He was sentenced to death in the Bombay high court and hanged in Thane Jail on 19 April 1910.
1/7

21 years before Bhagath Singh, Rajguru and Sukhdev,

On this day of April 19, 1910, at 7 A M,

3 Freedom Fighters from #AbhinavBharath, were hanged by British.

19 year old#AnantLakshmanKanhere

23 year old#KrishnajiGopalKarve

21 year old#VinayakNarayanDeshpande pic.twitter.com/EdVetsHIAl

— Sheshapatangi1 ಪ್ರಭಾ ಮಗ ಈ ಅಲೆಮಾರಿ ಅಯ್ಯಂಗಾರಿ🇮🇳 (@sheshapatangi1) April 19, 2021
Bahlol Lodi Captured Delhi
On this day in 1451, Delhi was captured by Bahlol Lodi. Bahlol Lodi was the founder of the Lodi dynasty from the Delhi Sultanate upon the abdication of the last claimant from the previous Sayyid rule. He  became sultan of the dynasty on 19 April 1451.
1. #IbrahimLodi was the son of #SikandarLodi and the grandson of #BahlolLodi
2. Strongest ruler of #LodiDynasty
3. Great #Persian poet
4. Last #LodiSultan
5. Became the Sultan of #DelhiSultanate on 21 November 1517 #OnThisDay
Additional fact: Defeated in the 1st #BattleOfPanipat pic.twitter.com/E6XVzTiJxW

— Indian History Facts (@IndianItihas) November 21, 2017
Aryabhata Satellite Launched
On this day in 1975, India's first satellite Aryabhata was launched into orbit from Kapustin Yar, Russia. Aryabhata, the first uncrewed Earth satellite built by India. 
India created history #OnThisDay in 1975 !!
Built by ISRO, India's first satellite #Aryabhata was launched on April 19, 1975. pic.twitter.com/spcZTRPpTV

— Prasar Bharati प्रसार भारती (@prasarbharati) April 18, 2017
American Revolution begun
Launched this day in 1775 with the Battles of Lexington and Concord, the American Revolution was an effort by 13 British colonies in North America (with help from France, Spain, and the Netherlands) to win their independence.
On this date in 1775

The American Revolution begins

The battle of Lexington started with the "shot heard around the world" when 700 British troops tried to capture Patriot leaders.

8 Americans died that night, 10 lay wounded, but the Revolution had begun. pic.twitter.com/rZ77cer2jC

— JJ Truth (@1Romans58) April 19, 2018
Charles Darwin Death Anniversary
Charles Robert Darwin was an English naturalist, geologist and biologist,  best known for his contributions to evolutionary biology. Darwin has been described as one of the most influential figures in human history,  and he was honoured by burial in Westminster Abbey. 
Shrewsbury's most famous Son - Charles Darwin (1809-1882) Sat in his chair pride of place outside Shrewsbury library (which was once his school) #ShotOniPhone #ShotOniPhone13ProMax @OriginalShrews @tim_cook pic.twitter.com/vMlRZwe6Wg

— Shaun Jenks 📱⌚️💻🎧📸✈️ (@Shaunjenks) April 17, 2022
Maria Sharapova's Birthday
Maria Yuryevna Sharapova is a Russian former world No. 1 tennis player. She is one of ten women, and the only Russian, to achieve the career Grand Slam. She is also an Olympic medalist, having won silver in women's singles at the 2012 London Olympics.
Someone's in birthday mood already https://t.co/gE2pkGxvWp

— Swagata (@socorooopova) April 17, 2022
Above are the 10 important events that happened in the history of India and the whole world. It includes major birthdays, death anniversaries, fun facts and important historical events that occurred in India as well as globally. 
For more such interesting content, daily check out This Day in History. CLICK HERE.