Today in History April 24: From Sachin Tendulkar's Birthday to National Panchayati Raj Day, list of 10 most important events happened today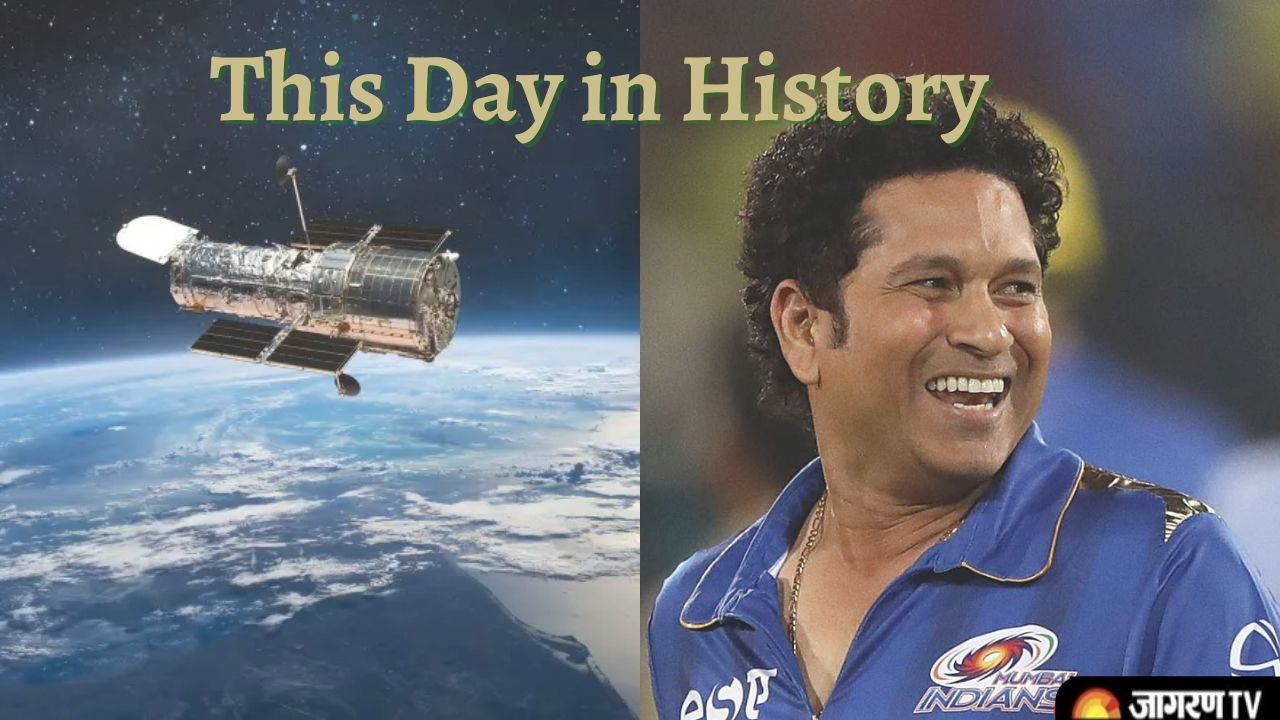 This Day in History: According to the Gregorian calendar, April 24 is the 124th day of the year and the 125th day of a leap year.
On this day let's see some important events and anniversaries. We have compiled a list of some monumental events that happened all around the world on April 24 as well as the birthdays of famous people.
Major Events Happened on this Day
Madhavan Ayyappath Birthday
Born on this day in 1934, Madhavan Ayyappath was the poet and translator from the south Indian state of Kerala. He was a recipient of the Kerala Sahitya Akademi Award. Some of his famous works are Jivacharitra Kurippukal, Kilimozhikal, Sri Narayana Guru and more
Kuttikalkku Kure Budha Kathakal by Madhavan Ayyappath at http://t.co/cdlalFnHJp pic.twitter.com/Yq7LZFIG6P

— Kerala Book Store (@KeralaBookStore) October 21, 2014
Teejan Bai Birthday
Born on this day in 1956- Teejan Bai is an exponent of Pandavani, a traditional performing art form, from Chhattisgarh. She enacts tales from the Mahabharata. She has been awarded the Padma Shri in 1987, Padma Bhushan in 2003, and Padma Vibhushan in 2019 by Government of India. 
President Kovind presents Padma Vibhushan to Dr Teejan Bai for Arts. A renowned exponent of Pandwani, a traditional performing art of Chhattisgarh, she has been enacting tales from the Mahabharata, with musical accompaniments pic.twitter.com/L8hJp6Ti8k

— President of India (@rashtrapatibhvn) March 16, 2019
Sachin Tendulkar Birthday
Born on this day in 1973, Sachin Ramesh Tendulkar is a former international cricketer who captained the Indian national team. Because of his exceptional performance, he is regarded as one of the greatest batsmen in the history of cricket. He received the Arjuna Award and the Khel Ratna Award, India's highest sporting honour. He was also awarded the Padma Shri and Padma Vibhushan awards in 1999 and 2008, respectively.  Tendulkar played 664 international cricket matches in total, scoring 34,357 runs. 
Sahitya, written by my father Shri Ramesh Tendulkar.
Miss you Baba!#WorldBookDay pic.twitter.com/387qOwg4Qa

— Sachin Tendulkar (@sachin_rt) April 23, 2022
Ramdhari Singh Dinkar Death Anniversary
Ramdhari Singh Dinkar was an Indian Hindi poet, essayist, patriot and academic. He has been hailed as a Rashtrakavi ('national poet') for his inspiring patriotic compositions. Pranbhang (1929), Renuka (1935), Hunkar (an epic poem) (1938), Rasavanti (1939), and Dvandvageet (1940) are some of his famous works. 
On his death anniversary, we remember the "Bad Gandhian" Rashtrakavi Ramdhari Singh Dinkar whose poems served as a clarion call for the youth during the freedom movement. pic.twitter.com/r6oypsXXRf

— Swatantra (@Swatantramag) April 24, 2021
Russo-Turkish War
On this day in 1877 Russia declared war on the Ottoman Empire.
#Russia declared war on the #Ottoman #Empire #onthisday in 1877 beginning the Russo-Turkish #War pic.twitter.com/PRokxUJHTB

— Xander HB Millar (@XanderHBMillar) April 24, 2014
General Malik Kafur South India Campaign Ended
On this day 1311, General Malik Kafur returns to Delhi after a campaign in South India. Malik Kafur was a slave-general of the Delhi Sultanate ruler Alauddin Khalji.
As a prominent slave general, Malik Kafur led a series of expeditions in the south India, against the Yadavas (1308), the Kakatiyas (1310), the Hoysalas (1311), and the Pandyas (1311), successfully defeating all of them. He returned to Delhi with untold amount of wealth. pic.twitter.com/3fPG2EvHa8

— ︎ ︎︎ ︎ ︎ ︎ (@IMRANHA55AN) February 1, 2022
National Panchayati Raj Day
National Panchayati Raj Day is observed annually on 24 April. India is the world's largest democracy. Due to the high population and large area in many states, the person sitting at the highest post, i.e Chief Minister of the state does not get an actual scenario of the problems faced by the people of rural areas. So the Government of India decided that the power of democracy should be decentralised. Therefore, a committee was constituted in 1957 under the chairmanship of Balwantrai Mehta.Panchayati Raj day is celebrated on 24 April because of the 73rd Constitution Amendment Act, 1992. The passing of the 73rd Constitution Amendment Act, 1992 came into force with effect on 24 April 1993. 
Remembering the 'Architect of Panchayati Raj System'

Balwant Rai Mehta, the second Chief Minister of Gujarat was one of the legendry freedom fighters of the country who participated in the Bardoli Satyagraha. He is credited with pioneering the concept of Panchayti raj in India. pic.twitter.com/HN6cseHkTV

— All India Mahila Congress (@MahilaCongress) September 19, 2019
Spanish-American War
On this day in 1898, Spain declared war on the United States. Hostilities began between the 2 nations in the aftermath of the internal explosion of USS Maine in Havana Harbor, Cuba. This lead to United States intervention in the Cuban War of Independence. 
Spanish-American war postcards pic.twitter.com/C7rhg3SKbw

— 𝗺𝗶𝗰𝗵𝗮𝗲𝗹 🇺🇸 ᛟ (@nordid_) April 17, 2022
French national anthem composed
On this day in 1792, French army officer Claude-Joseph Rouget de Lisle composed La Marseillaise, the French national anthem.
April 25, 1792, "La Marseillaise" was composed by Claude Joseph Rouget de Lisle, a French army officer of the French Revolutionary Wars. In 1795, it became the French national anthem....
Marchons ! Marchons !
Qu'un sang impur
Abreuve nos sillons !#PaulHenreid #ThisDayinHistory pic.twitter.com/kAjUodmJKH

— Monika Henreid (@MEHenreid) April 25, 2019
Hubble Space Telescope Launched
On this day in 1990, the Hubble Space Telescope is launched into Earth's orbit
Unhindered by the impurities and distortions of Earth's atmosphere, the 2.4 meter (7.9 feet) aperture telescope has delivered some of the most spectacular images of the far reaches of the Universe.
Three decades after it was launched into Earth's orbit, the Hubble Space Telescope is still introducing us to our galactic wonders, making it 'NASA's biggest success story' pic.twitter.com/bUUdDIwzmH

— Reuters (@Reuters) June 22, 2020
Above are the 10 important events that happened in the history of India and the whole world. It includes major birthdays, death anniversaries, fun facts and important historical events that occurred in India as well as globally. 
For more such interesting content, daily check out This Day in History. CLICK HERE.