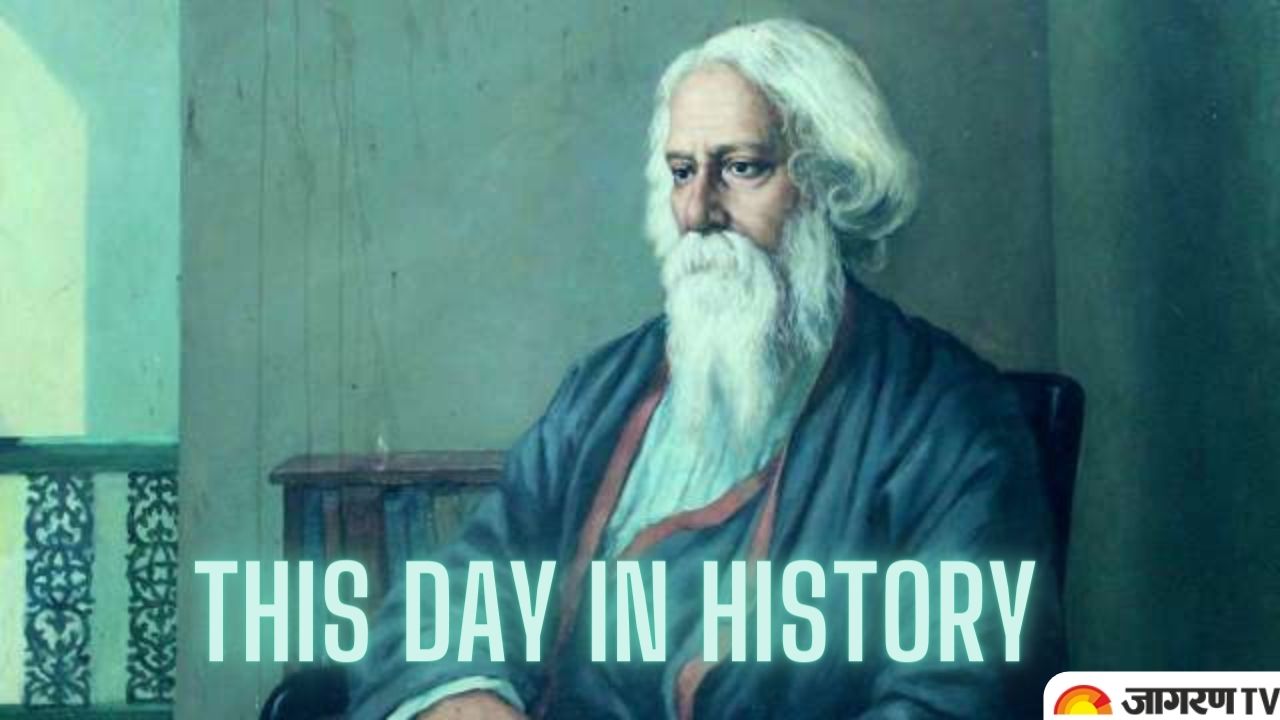 This Day in History: According to the Gregorian calendar, May 7 is the 137th day of the year and the 138th day of a leap year.
On this day let's see some important events and anniversaries. We have compiled a list of some monumental events that happened all around the world on May 7 as well as the birthdays of famous people.
10 Major Events Happened on this Day
Rabindranath Tagore's Birthday
Born on this day in 1861,  Rabindranath Tagore was the first Indian to receive the Nobel Prize in Literature for his collection of poems, Gitanjali.. He was a polymath, musician, artist, and Ayurveda-researcher. Referred to as "the Bard of Bengal" Referred to as "the Bard of Bengal", he reshaped Bengali literature and music as well as Indian art with Contextual Modernism. His compositions were chosen by two nations as national anthems: India's "Jana Gana Mana" and Bangladesh's "Amar Shonar Bangla".
David Hume birthday
Born on this day in 1711, Hume was a Scottish Enlightenment philosopher, historian, economist, librarian and essayist, who is best known today for his highly influential system of philosophical empiricism, scepticism, and naturalism.
Bhubaneswar Mishra Death Anniversary
Bhubaneswar Mishra was an Indian music director and a classical violin player. He was an exponent of Odissi, Hindustani and Carnatic style of playing the violin. He teamed up with Pandit Hariprasad Chaurasia to score music for Hindi and Odia films. 
Indiana Territory Created
On this day in 1800, Indiana Territory was created.  It was organised by a congressional act that President John Adams signed to form an organized incorporated territory of the United States that existed from July 4, 1800, to December 11, 1816, when the remaining southeastern portion of the territory was admitted to the Union as the state of Indiana.
World Athletics Day
Every year, May 7 is celebrated and observed as World Athletics Day. The International Association of Athletics Federations (IAAF), formerly known as the International Amateur Athletic Federation, founded this day as a social responsibility project 'Athletics for a Better World'.
Arunachal Pradesh's Capital was Formed
On this day in 1973, the foundation stone for Itanagar, the new capital of Arunachal Pradesh was laid. It is the largest city in the Indian state of Arunachal Pradesh. 
N. S. Hardikar Birthday
Narayan Subbarao Hardikar was a freedom fighter and Congress politician who founded the Congress Seva Dal.
"Baahubali 2: The Conclusion" Earned $ 120 million
On this day in 2017, "Baahubali 2: The Conclusion" becomes the highest-grossing Indian box office film ever earning $120 million.
Theatre Royal opened
The Theatre Royal was built by the dramatist Thomas Killigrew for his company of actors and is now commonly known as the Drury Lane Theatre, opened in London this day in 1663 and is the oldest English theatre still operating. 
United States Entered World War I
On this day in 1915, a German submarine sunk the Lusitania, a British ocean liner, indirectly contributing to the entry of the United States into World War I.
Above are the 10 important events that happened in the history of India and the whole world. It includes major birthdays, death anniversaries, fun facts and important historical events that occurred in India as well as globally. 
For more such interesting content, daily check out This Day in History. CLICK HERE.