Facebook- IAS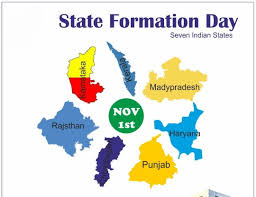 1st November in History:
The making of our beautiful nation India hasn't been a quick and easy task. Even after the independence, India has gone through a lot of alterations and political amendments to be what it is today. So, in today's "This Day in History" article, let's know more about one such important event in history, that led to the formation of various Indian states. 
On 1st November 1956, various Indian states including the states of Madhya Pradesh, Karnataka, Chhattisgarh, Kerala, Andhra Pradesh, Tamil Nadu, Punjab, and Haryana were formed, while Delhi, Lakshadweep, Andaman and Nicobar, Puchcherry, and Chandigarh were announced as Union Territories, and hence, the day is known as Formation Day.
So, here is the list of Indian States formed on Formation Day:
Tamil Nadu (1st November 1956): 
The state of Tamil Nadu was formed after a part of Andhra Pradesh, Karnataka, and Kerala were separated from Madras's Presidency. The death of a Tamil scholar named K Sankaralinganar followed by a 75 day indefinite fast in October 1956 led the administration to pass the Linguistics Reorganisation of States in 1956 bill in the state assembly and also secure the parliamentary agreement. 
Andhra Pradesh (1st November 1956):
The state of Andhra Pradesh was formed after being separated from the then Madras Presidency, after great agitation and sacrifices. The Telangana region, part of then Hyderabad state was merged with the Andhra State to form a complete Andhra Pradesh.
Kerala (1st November 1956):
The state of Kerala was formed after the merger of Malabar, Cochin, and Travancore provinces, along with Andhra Pradesh and Karnataka, after getting separated from Madras Presidency, on 1st November 1956, after the Linguistic Reorganisation of States in 1956 was passed.
Madhya Pradesh (1st November 1956):
The state of Madhya Pradesh was formed after the states f Madhya Bharat, Vindhya Pradesh, and Bhopal were merged together. While the Marathi-speaking southern region, Vidarbha was merged into Bombay.
Karnataka (1st November 1956):
The state of Karnataka was formed after the Kannada-speaking regions of South India were merged together. Further, the princely state of Mysore was merged with Kannada-speaking regions of Madras presidencies and Bombay, and also of the principality of Hyderabad to create Karnataka. 
Haryana (1st November 1966): 
Under the chairmanship of Justice JC Shah, the existing state of Punjab was divided to form the boundaries of the new state of Haryana, as per the Punjab Reorganisation Act,1966.
Punjab (1st November 1966):
The state of Punjab was formed with the state of East Punjab, to form an enlarged state called "Punjab". After separating Haryana on a linguistic basis, the Punjabi-speaking population was merged into Punjab, under the Punjab Reorganization Act, 1966.
Chhattisgarh (1st November 2000):
The state of Chattisgarh was formed by partitioning 10 Chattisgarhi and 6 Gondi-speaking southeastern regions of Madhya Pradesh, after receiving the consent of the then president on the Madhya Pradesh Reorganisation Act, 2000 on 25th August 2000.