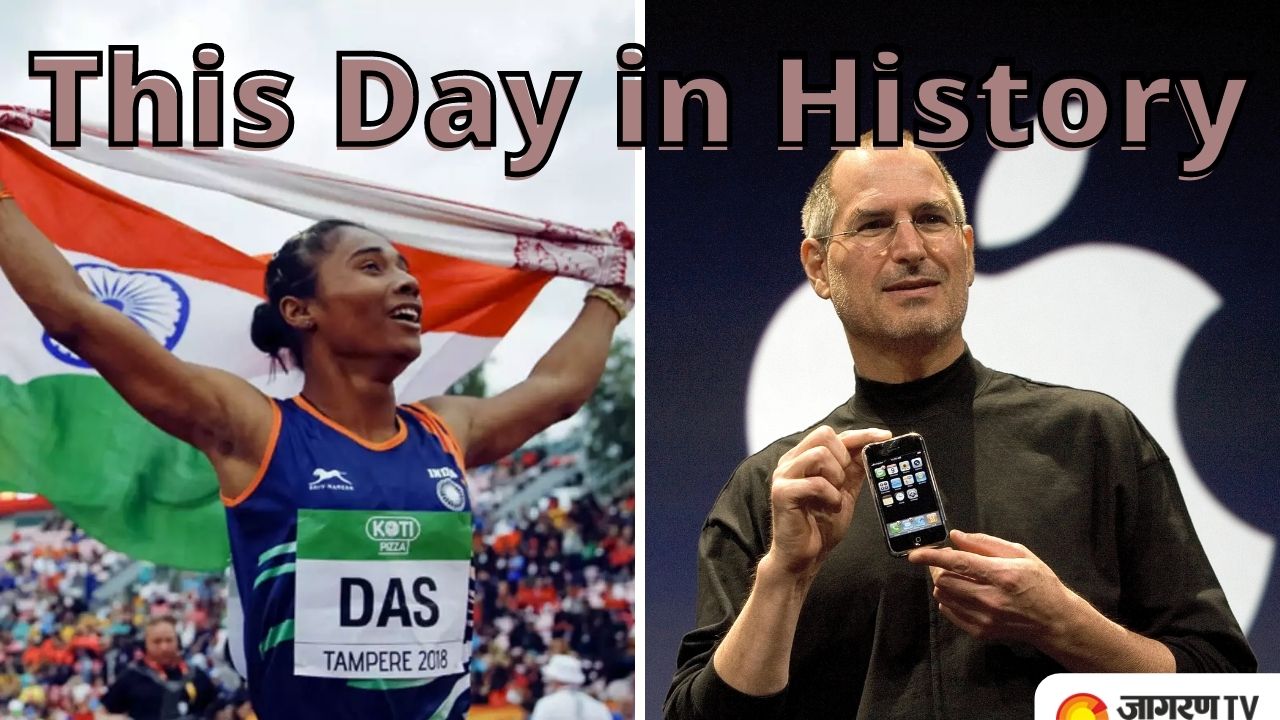 This Day in History:
According to the Gregorian calendar, January 9 is the 9th day of the year and the 9th day in a leap year.
On this day let's see some important events and anniversaries. We have compiled a list of some monumental events that happened all around the world on 9 January as well as birthdays of famous people.
Sunderlal Bhaguna Birthday
Born in 1927 in Garwal, Uttarakhand, Sunderlal Bhaguna was an Indian environmentalist and Chipko movement leader.  He avidly worked for the preservation of forests in the Himalayas. Bhaguna stated the Chipko movement in the 1970s, also supported the anti-Tehri Dam movement. 
In the Chipko Movement villagers of Uttarakhand(then Uttar Pradesh) objected to the cutting down of trees by the forests contractors. When contractors tried to cut the trees down villagers started hugging the trees to save them. Word 'Chipko' in Hindi means 'to hug'.


Happy Birthday Hima Das
Also nicknamed as Dhing Express, Hima Das is an Indian sprinter from Assam state. Currently, she holds the Indian national record in 400 meters with a timing of 50.79 s that she achieved at the 2018 Asian Games in Jakarta, Indonesia. Das is the first Indian athlete to win a gold medal in track at the IAAF World U20 Championships. She was conferred with Arjuna Award on 25 September 2018.


US space mission STS 32 (Columbia 10) launches into orbit
In 1990, STS-32R became the 33rd mission of NASA's Space Shuttle program, and Space Shuttle Columbia's 9th launch. Its Commander was Daniel C. Brandenstein with James D. Wetherbee as its pilot.
Swaraj Party founded 
In 1923 Swaraj Party was founded. Its first name was Congress-Khilafat Swaraj Party. The ideology of this political party was 'swaraj' which means independence or self-rule.  Chittaranjan Das was the president of the party and Motilal Nehru was the secretary. 


Vrindavan Lal Verma Birth Anniversary
A highly talented Hindi novelist and playwright, Vrindavan Lal Verma was born in 1889 in Jhansi, India. Lal was honoured with Padma Bhushan for his literary works. Also, he was conferred with  Soviet Land Nehru Award and the Government of India also awarded him for his brilliant novel, Jhansi Ki Rani. Some of his famous works are Virata ki Padmini (1930), Mriganayani (1950), Amar Bel (1952) and more.


Satyendranath Tagore Death Anniversary
Satyendranath Tagore was the first Indian to become an IAS officer. He was Rabindranath Tagore's elder brother to qualify for the Civil Services Examination in 1864. he was assigned to the Bombay Presidency, and then to Ahmedabad City. He died on 1923 in Calcutta, India.
Simone de Beauvoir Birthday
Simone Lucie Ernestine Marie Bertrand de Beauvoir was a French writer, existentialist philosopher, political activist, feminist, socialist, and social theorist. She is predominantly known for feminist existentialism and feminist theory. Beauvoir wrote many novels, essays, biographies, autobiographies and monographs. Her most famous work is The Second Sex, in which she portrays the treatment of women throughout history.


Kavignar Meenavan Birth Anniversary
Kavignar Meenavan was an activis, Tamil poet, and writer. Meenavan was a popular scholar and has written many poems and research articles in the Tamil language.


Apple CEO Steve Jobs introduces the original iPhone
In 2007, Apple Inc. CEO Steve Jobs inaugurates and unveils the iPhone. iPhone is a touchscreen mobile phone with an iPod, camera, capable of Web-browsing, among other features. It was unveiled at the Macworld convention in San Francisco.


 First commercial Photography Invented
In 1839, Louis Jacques Mandé Daguerre invented the first commercially successful photography in France, known as Daguerreotype.



Above are the 10 most important events that happened in the history of India and the whole world. It includes major birthdays, death anniversaries, fun facts and important historical events that occurred in India as well as globally.