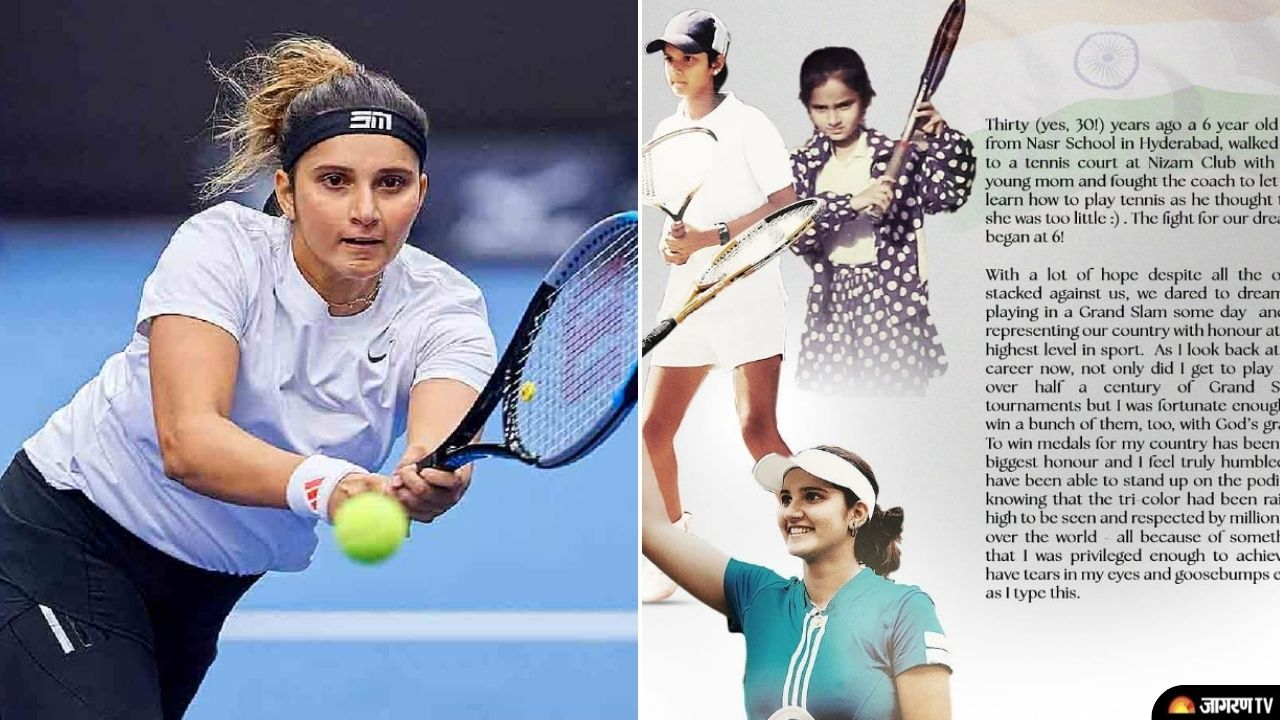 The tennis marvel Sania Mirza has formally bid goodbye to her glorious 20-year-old career in Tennis. After the Australian Open in 2023, Sania Mirza plans to stop competing internationally. Sania has previously declared her intention to retire following the WTA 1000 Dubai Tennis Championships, which begin on February 19. 
The 36-year-old Mirza had intended to hang up her racket at the end of the 2018 season, but an elbow injury compelled her to retire before the US Open and as early as August. The Australian Open is this month, and Mirza, a six-time major champion (three in doubles and three in mixed doubles), has committed to playing alongside Anna Danilina of Kazakhstan.
Achievements of Sania Mirza
Sania Mirza is the first woman from India to win any kind of Women's Tennis Association (WTA) championship. She won two WTA finals—the first one in 2014 with Cara Black and the second in 2015 with Swiss superstar Martin Hingis as she successfully defended her WTA title.

The 35-year-old had a history of success in the doubles division. She finished her career with six Grand Slam victories, three of which were in the mixed doubles division. In women's doubles, Sania and Martina Hingis also won three grand slam titles. By winning both the US Open and Wimbledon in 2015, the duo collected their first two Grand Slams. The 2016 Australian Open was later won by Sania and Martina as well, giving them a third Grand Slam triumph.

Sania won three Grand Slams in the mixed doubles division in addition to her success in women's doubles. Sania won her first two mixed doubles Grand Slams by winning the Australian Open in 2009 and the French Open in 2012 with Mahesh Bhupati. She later  team up with Brazilian tennis star Bruno Soares andto  win the 2014 US Open.

Tennis prodigy from India attained the sport's highest honour in the doubles division on April 13, 2015, when she was ranked as the world's top doubles player. Sania Mirza's career peaked at that time, when she became the first Indian woman to hold the coveted top spot in her sport.

Sania Mirza took home a whopping 14 medals from various sporting competitions, including 6 golds for India. Throughout various Asian Games editions, she earned a total of 7 medals in the women's and mixed doubles divisions. She also took home a bronze in women's doubles and a silver in women's singles in the Delhi-hosted Commonwealth Games in 2010.
Awards of Sania Mirza 
Arjuna Award (2004)

WTA Newcomer of the Year (2005)

Padma Shri (2006)

Major Dhyan Chand Khel Ratna (2015)

BBC list of 100 inspiring women (2015)

Padma Bhushan (2016)

NRI of the Year (2016)