Turkish actor Burak Deniz who has Desi fans scream over his charisma makes his maiden visit to India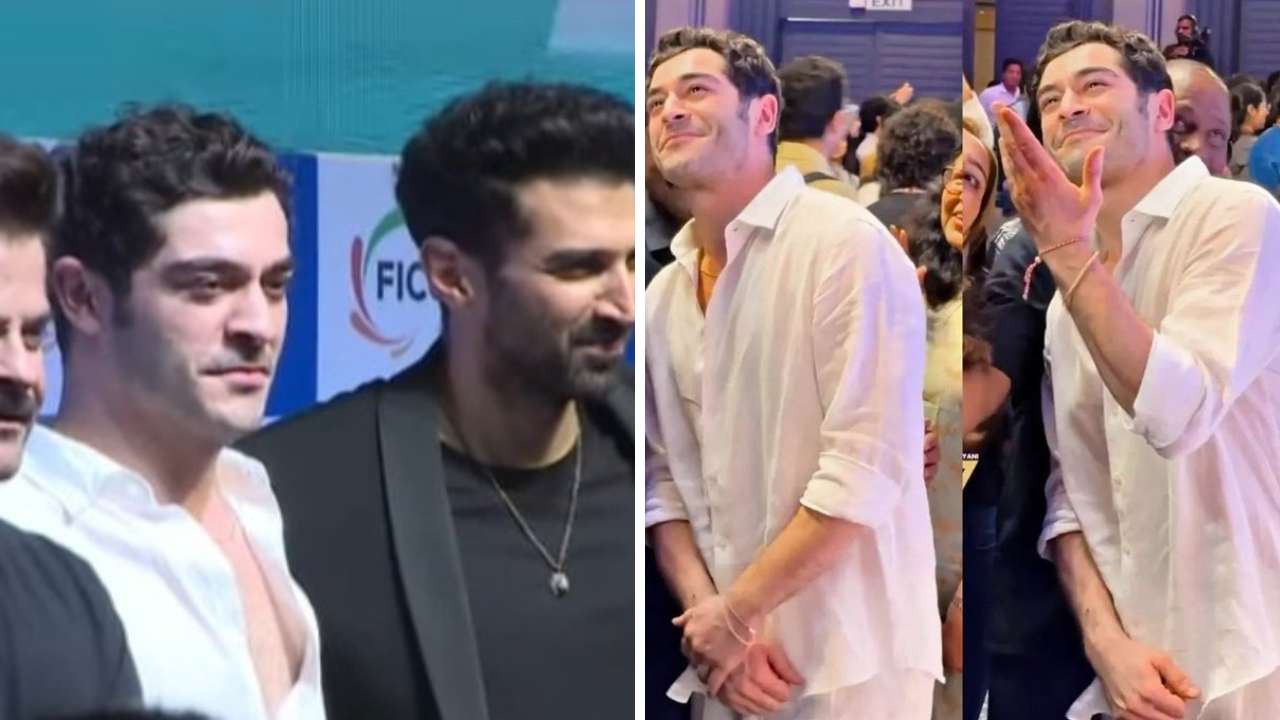 If Hayat and Murat is a name very familiar to you then you are sailing in the same boat as thousands of fans in Mumbai right now. Turkish superstar Burak Deniz in his maiden visit to India had fans screaming and rooting for him despite his presence on the stage. Burak Deniz also credited with some of the all time hit Turkish drama such as The Ignorant Angels, Don't Leave, Arada arrived Mumbai to take part in the 23rd edition of FICCI FRAMES. The event was organzised by the Federation of Indian Chambers of Commerce & Industry- media and entertainment section. Several pictures of Burak with Aditya Roy Kapur and Anil Kapoor are currently making waves on the internet with fans going gaga over him. 
The Night Manager Part 2: Anil Kapoor-Aditya Roy starrer to release on this date; deets inside
Who is Burak Deniz
Like K-drama, Turkish drama too enjoys a vast popularity in India. And there is no doubt that a large segment of fans who are fans of this drama segment started watching it after Burak became a household name. The short clips and videos of his most famous series 'Aşk Laftan Anlamaz' also translates to 'Pyar Lafzon me Kahan' started a wave of craze on social media platforms following which most of the audience were drawn to the Turkish drama industry. Burak is a Turkish model and actor who started his career with TV series Kolej Günlüğü (College Diary),in 2011. This was the first time when the actor visited India and interacted with his fans.
BurakDeniz FicciFrames pic.twitter.com/07raZVrtgS

— Asra Saeed (@AsraSaeed8) May 5, 2023
Wow this here is impressive, @_denizburak definitely India loves you! I'm very happy that they can enjoy you at this time! You deserve only love and affection! 🤍
BurakDeniz FicciFrames #BurakDeniz pic.twitter.com/YVVWhgoy1F

— 𝐠𝐚𝐛𝐫𝐢𝐞𝐥𝐚 | 𝐒𝐭𝐚𝐧 𝐒𝐚𝐯𝐜𝐢 𝐋𝐞𝐲𝐥𝐚 (@hand3miyy) May 4, 2023
Burak Deniz in India
Burak Deniz during his meet up with the Bollywood celebs and fans was spotted keeping it casual in white ensemble. The FICCI event was attended by celebs such as Ayushmann Khurrana, Anil Kapoor, Manoj Bajpayee, Bhumi Pednekar, Aditya Roy Kapur, Jim Sarbh, Shobhita Dhulipala etc. Even at the airport Burak was seen interacting with his fans quite patiently and politely. For the unversed FICCI Frames is a 3 day event. Burak later posted a series of Instagram stories from his recent visit to the event he even dropped a video of himself listening to 'Ye Raat Aur Ye Doori' from Andaaz Apna Apna.
His story 🤧♥️ …Plsss He's not leaving India anytime soon 😂😂#BurakDeniz #FICCIFRAMES2023 pic.twitter.com/lPMu7Ht4Wk

— Saarah🌼🌼🌼 (@DaisySaarah) May 4, 2023