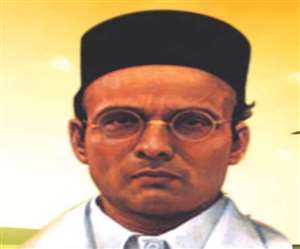 In an event at Ambedkar International Centre, during the launch of a book on VD Savarkar, Rajnath Singh hailed Veer Savarkar and described him as India's biggest and first defence and strategic affairs expert of 20th century, who presented the country with "robust defence and diplomatic doctrine."  
He also slammed the people who have tried to malign his image and contributions and said that those belonging to leninist or marxist ideologies slander him by speaking of him as a fascist and proponent of Hindutva.
Rajnath Singh address

"He was very forthright in saying that India's relations with other countries should depend on how conducive they are to our security and National interests. He was clear that it did not matter what kind of government there was (in the other country) but what mattered was that country will remain a friend as long as it remained conducive to our interests," Said the Defence Minister.
He further added,"He was a freedom fighter and there are no two ways about it. It is not forgivable to paint him otherwise."
Savarkar Mercy Petition Controversy

While speaking about the controversy of mercy petition to British while he was serving life imprisonment in Andaman and Nicobar Island, he said that it was on Gandhiji's request that Veer Savarkar filed the petition.
Singh Said,"A lot of falsehood was spread against Savarkar. It was repeatedly said that he filed multiple mercy petitions before the British government. The truth is he did not file these petitions for his release. Generally a prisoner has right to file a mercy petition. Mahatma Gandhi had asked that you file a mercy petition. It was on Gandhi's suggestion that he filed a mercy petition. And Mahatma Gandhi had appealed that Savarkar ji should be released. He had said the way we are running movement for freedom peacefully, so would Savarkar." 
He also lauded Savarkar and said that he inspired people to break the shackles of slavery and supported many other social causes includin women empowerment. But despite of this, his efforts in maintaining and strengthening the cultural unity of the nation were ignored.
Mohan Bhagwat Address

During the event, the chief of Rashtriya Swayamsevak Sangh, Mohan Bhagwat, was also present. In his address he said that constant efforts to malign Veer Savarkar started just right after the independence. 
"But the real goal is to malign the reputations of Swami Vivekanand, Swami Dayanand Saraswati and Yogi Arvind who are next in line. Because they are the ones who first brought to the fore Indian nationalism. The target is not a person, but the idea of Indian nationalism who unites the whole world. And the people behind this are those whose shops will be shut after this happens," He added.
Bhagwat also agreed to Mahurkar, who in his address argued that the roads shall not be named after figures such as Aurangzeb. While supporting him, Bhagwat said,"The history has seen Dara Shukoh and Akbar, but also seen Aurangzeb who did the opposite. So when Mahurkar ji says that his name should not be there and Dara Shukoh's should, I support him 100 per cent."
Veer Savarkar: the Man Who Could Have Prevented Partition

The Book, Veer Savarkar:The Man Who Could Have Prevented Partition,has been written by Uday Mahurkar and Chirayu Pandit and is published by Rupa Publications