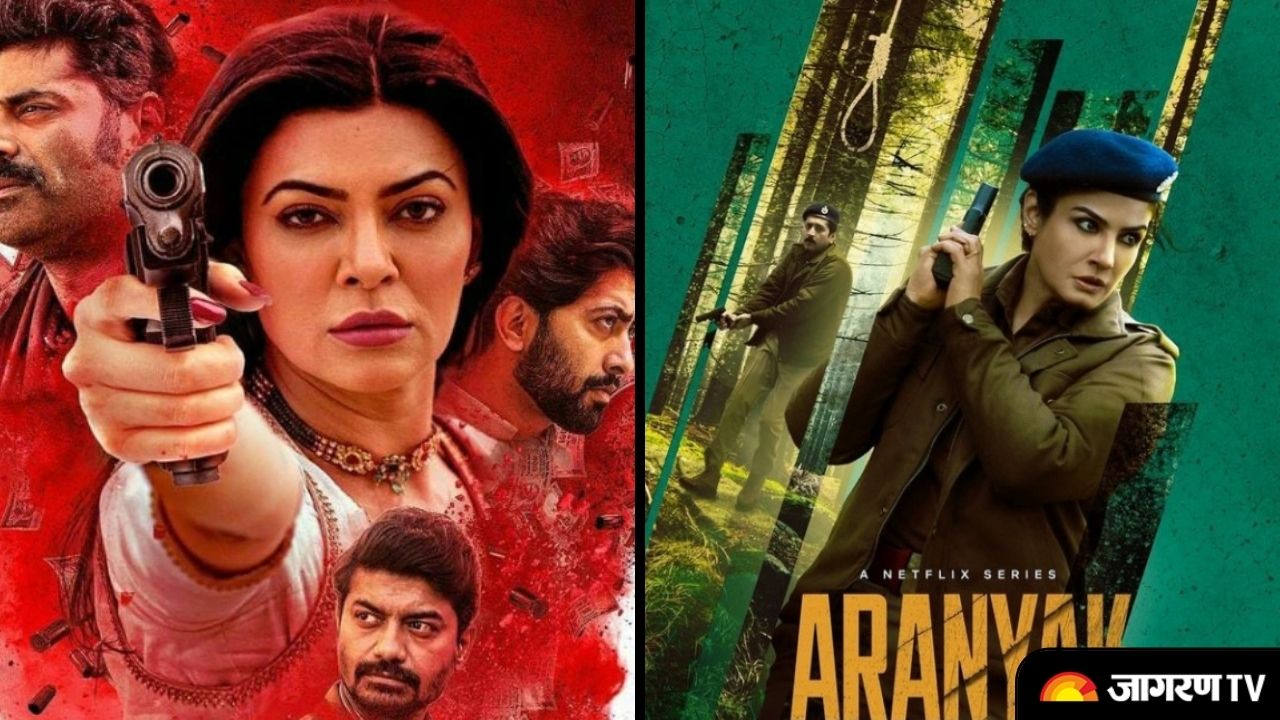 Weekend Release 6th To 12th December: After a week full of binge and heist, the other week of December is bringing you the thrill and action with Aarya, Arnayak,  David and the Elves, Voir and others. A lot of new stories, a lot of sequels and a big bucket of popcorn. Beat your Monday blues with the upcoming weekend planning or just set your night right to kick all the stress out. 
So if you are also looking forward to all the new releases here is the list. 
Movies and Series Releasing this week from  6th To 12th December- 
Aranyak
December 10th On Netflix
Raveena Tandon is all set for her OTT debut with Aranayak. As described by Netflix, Arnayak is "Political ploys, personal agendas and the myth of a murderous entity all surface as two mismatched hill station police officers navigate a web of suspects after a puzzling murder."
Aarya: Season 2
December 10th On DisneyPlus Hotstar
The most awaited sequel is finally dropping this week. Sushmita is returning back to protect her family and to do everything for their safety. Co-created by Ram Madhvani and Sandeep Modi, the trailer of the second season already hit records and proved the waiting of the binge watchers. 
David and the Elves
December 6th On Netflix
Bring the Christmas home and go on the holiday adventure with Young David who embark on to the Tatra mountains with an Elf in search of David's grandparents.
Voir
December 6th On Netflix
'Film lovers examine the cinematic moments that thrilled, perplexed, challenged and forever changed them in this collection of visual essays.'
Welcome To Earth: Season 1
December 8th On DisneyPlus Hotstar
It's a National Geographic original series hosted by Will Smith as he travels to the extreme ends of the Earth, from active volcanoes to deep ocean adventures.
Qatil Haseenaon Ke Naam
December 10th On Zee5
Directed by British-Indian director Meenu Gaur, the six-part anthology series will tell the stories of 7 fiery women who refuse to be victimized. 
More Release to Look Out This Weekend- 
Toofaan
December 7th On MUBI India
Nicole Byer: BBW (Big Beautiful Weirdo)
December 7th On: Netflix
Centaurworld: Season 2
December 7th On Netflix
Go Dog Go: Season 2
December 7th On Netflix
The Croods: A New Age
December 8th On BookMyShow Stream
Titans: Season 3
December 8th On Netflix
Carolin Kebekus: The Last Christmas Special
December 8th On Netflix
Bali: The Victim
December 9th On Amazon Prime Video
Bonus Family: Season 4
December 9th On Netflix
Asakusa Kid
December 9th On Netflix
The Family That Sings Together: The Camargos
December 9th On Netflix
Pushpaka Vimanam (Telugu)
December 10th On Aha Video
Twentysomethings: Austin
December 10th On  Netflix
Saturday Morning All Star Hits!
December 10th On Netflix
How To Ruin Christmas: The Funeral
December 10th On Netflix
Encounter
December 10th On Amazon Prime Video
Two
December 10th On Netflix
Together Together
December 10th On BookMyShow Stream
Anonymously Yours
December 10th On Netflix
The Expanse: Season 6
December 10 On Amazon Prime Video
Still Out of My League
December 10th On Netflix
One Careful Owner
December 10th On BookMyShow Stream
Back To The Outback
December 10th On Netflix
Golondaaj (Bengali)
December 10th On Hoichoi
The Unforgivable
December 10th On Netflix
Snoopy Presents: For Auld Lang Syne
December 10th On Apple TV+
Karkhanisanchi Waari (Marathi)
December 10th On SonyLIV
Inspector Koo
December 11th On Netflix
The Hungry And The Hairy
December 11th On Netflix
In The Mood For Love
December 12th On MUBI India