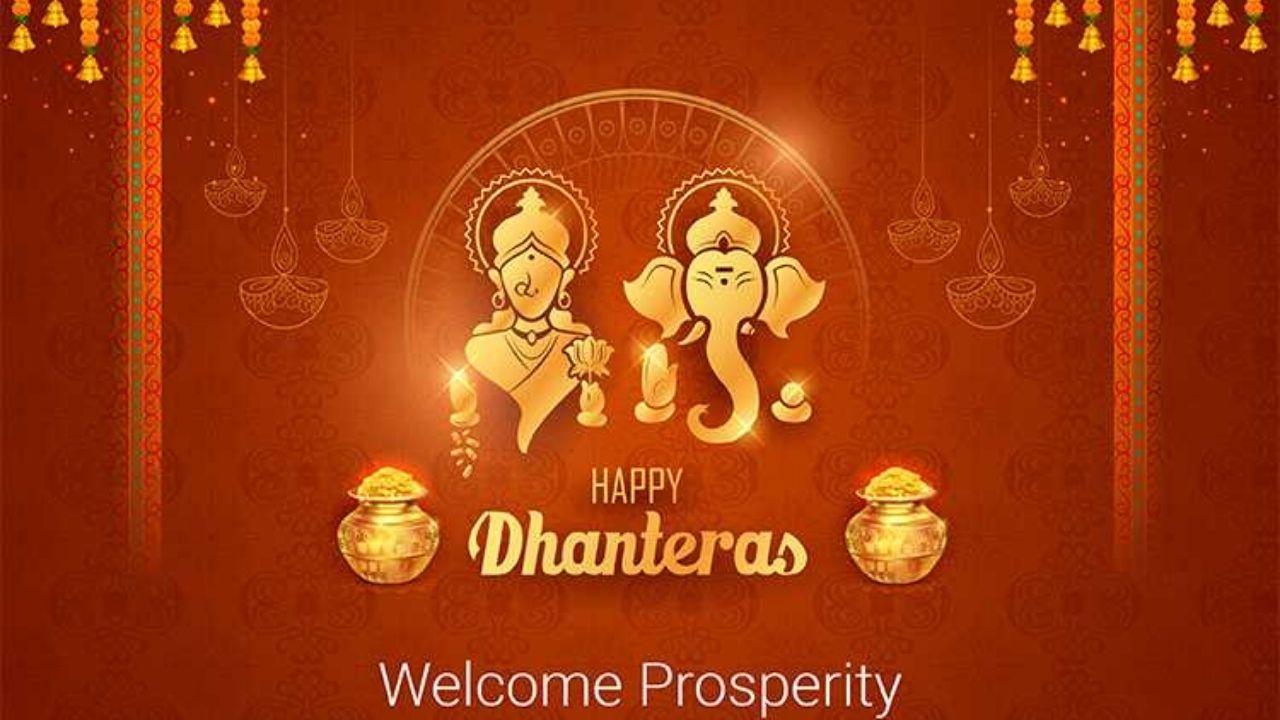 The name Dhanteras is derived from two words- Dhan and Teras. Dhan means wealth whereas teras means thirteen. The festival is celebrated on the thirteen day of Krishna Paksha in the month of Kartik. Goddess of wealth Maa Lakshmi is worshipped this day. The occasion falls on the first day of the five days of the Diwali Festival and is also known as Dhantrayodashi.
Dhanteras 2021 Significance 
It is said that Goddess Lakshmi emerged out of ocean on the Dhantrayodashi during the Sagar Manthan(churning of milk sea). God of Wealth Kubera also emerged out of the milk sea on this day and hence, he is also worshipped along with Goddess Lakshmi on the day of Dhantrayodashi.
Dhanteras is also called Yammadeepdaa as on this day, a lamp is lightened and kept outside the home,for the God of death, to prevent the untimely death of any family member.
Dhanteras is also celebrated as the birth anniversary of Dhanvantri, God of Ayurveda and is observed as Dhanvantri Jayanti. It is said that Dhanvantri emerged out of the sea towards the end of Sagar Manthan(churning of milk sea) with the nectar of immortality (Amrit) in his hands.
Lakshmi Puja is done on Dhanteras and Prasad of traditional sweets is offered to the Goddess of Wealth. The three forms of Goddess Lakshmi- Goddess Maha Lakshmi, Maha Kaali and Goddess Saraswati are worshipped on Dhanteras. Lord Kubera and Lord Ganesha are also worshipped.
Auspicious things to Buy on Dhanteras 2021
Here are the auspicious items to buy on Dhanteras which can bring home luck, peace and prosperity:
Gold, Silver, Brass and Copper Items:
Gold and Silver coins can be bought on this day as they are considered auspicious. Gold or silver jewellery, silverware or utensils made of brass can also bring prosperity.
Lakshmi Ganesh Idols:
Idols of Goddess Lakshmi and Lord Ganesh, with made up of clay or metal,should be bought as they are important for Puja.
Utensils:
Instead of utensils made up of steel or iron, buy the utensils made up of copper, brass or silver according to the traditional beliefs. You must fill them with water or food before entering the house with the other newly bought items.Scissors, knives and pins or aluminium utensils should not be bought as they are linked with Rahu or bad luck.
Broom:
It is believed that broom removes negativity from the house as as the devotees consider it to be the house of Goddess of Wealth, Lakshmi. Hence, it infuses positivity, removes all the financial worries and is considered lucky.
Gomti Chakra:
Gomti Chakra is sacred and another auspicious thing to buy on Dhanteras. It is not easily found and is the rare sea snail found in river Gomti. It is believed that it brings prosperity and luck and also protects from evil eyes. 11 gomti chakras can be wrapped in yellow cloth and used for Diwali Puja and can be kept in locker.
Electronics or Home appliances:
Electronic or home appliances such as mobile, laptop, a music player, television, microwave, refrigerator etc. are also considered auspicious to buy on Dhanteras. However, these items must be kept in north-east direction inside the house.
Invest in Business:
New shops, offices, business or even a new bank account can be opened on Dhanteras and Lakshmi puja can be performed to bring good luck.
Dhanteras 2021 Puja Mahurat
Here is the mahurat of celebration and offerings of Dhanteras according to Drig Panchayat:
Dhanteras Puja Mahurat: 6:17 PM to 8:11 PM
Yama Deepam
Pradosh Kaal- 5:35 PM to 8:11 PM
Vrishabha Kaal- 6:17 PM to 8:12 PM
Dhanteras 2021 Citywise Mahurat
New Delhi: 06:17 PM to 08:11 PM
Kolkata: 05:42 PM to 07:31 PM
Mumbai: 06:50 PM to 08:36 PM
Pune: 06:47 PM to 08:32 PM
Bengaluru: 06:40 PM to 08:21 PM
Hyderabad: 06:30 PM to 08:14 PM
Chennai: 06:29 PM to 08:10 PM
Chandigarh: 06:14 PM to 08:09 PM
Gurgaon: 06:18 PM to 08:12 PM
Noida: 06:16 PM to 08:10 PM
Ahmedabad: 06:45 PM to 08:34 PM
Jaipur: 06:25 PM to 08:18 PM