Jagran.com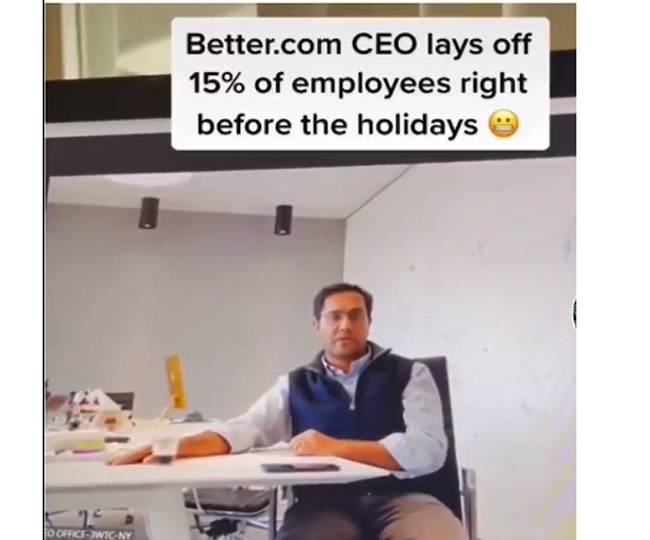 The CEO of Better.com Vishal Garg was all over the internet when the news broke out of him firing 900 employees over a zoom call. The incident happened on Wednesday. The news got the top position in the trending list as netizens also wondered that why such a drastic decision was taken by him. 
Who is Vishal Garg?
Vishal Garg is the Indian-American CEO and founder of the company Better.com. Better.com is also known as Better Mortgage. The company was established in 2016 which is an online lender that operates completely on an online basis. It deals with rates, loan preapprovals, and resources 24/7. It is a digital-first homeownership company. Garg also appeared in the news earlier this year when he donated around $2M to help New York City public school students to continue learning online during the pandemic of COVID-19. This amount was used to purchase Chromebooks, Ipads, wifi hotspots, and books for children coming from lower-income backgrounds.
What is the incident that is trending?
On Wednesday, over a Zoom call CEO Vishal Garg broke the shocking news when he conveyed the message of firing all the people who were present at that meeting. He said "This isn't news that you're going to want to hear. If you're on this call, you are part of the unlucky group that is being laid off. Your employment here is terminated effective immediately," 
900 employees were immediately terminated, most of them which belonged to India and the United States of America. It was a piece of sheer heartbreaking news as festival season is just around.
Vishal Garg also cited the reason for this big decision.
"This is the second time in my career I'm doing this and I do not want to do this. The last time I did it, I cried. This time, I hope to be stronger. We are laying off about 15 percent of the company for a number of reasons — the market, efficiency and performances, and productivity," during the video call he explained this thing to his employees. The short video clip is now viral and getting huge reactions from the netizens.
The net worth of Vishal Garg 
Vishal Garg's financial standings are not publicly available.  Better.com company's CEO is estimated to have a net worth of at least $1billion.
Garg received a $25million cash bonus for the holidays in 2020, According to the report of The Daily Beast.
Vishal Garg's net worth is estimated at around $4billion, says The Daily News Catcher. The Better.com company itself is estimated to be worth around $7.7billion.
Garg reportedly invested $10million in November 2020 into AlphaFlow. It is a  platform for investing in real estate debt.