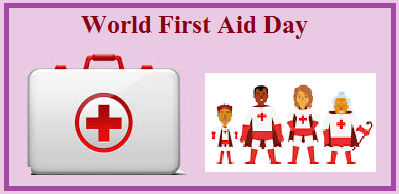 World First Aid Day 2021:
Being able to give basic first aid is one of the most essential life skills that a person has. The act of providing correct first aid in intense situations can even save the lives of many who lost their lives just because of a delay or non-availability in medical treatment. Being able to save lives in a time of crisis is one of the greatest virtue. 
At times, first aid saves a person from entering into strenuous medical conditions, and hence, it is necessary that a larger number of people shall gain the knowledge of first aid, and be proactive in proving such medical assistance. And World First Aid Day is observed every year to promote the importance of basic first aid so as to save as many lives can be saved. 
In this article further, let's know more about the Date, history, significance, and theme of World First Aid Day 2021.
World First Aid Day 2021 Date:
World First Aid Day is celebrated every year on the second Saturday of September, and hence, it is being observed on 11th September 2021 this year, across the globe.
World First Aid Day 2021 History:
World First Aid Day was introduced in the year 2000 by the IFRC, the organization which has been providing first aid services to people for more than 100 years now. However, the history of World First Aid Day dates back to the year 1859 when a young businessman Henry Dunant saw the slaughter at the battle of Solferino and was totally terrified by the visuals. 
Henry, later on, wrote a book titled "Memoirs of Solferino" that addressed his idea of running an independent organization to provide care to wounded soldiers. While the gesture was later encouraged the establishment of the International Committee of Red Cross (ICRC), of which Dunant became the co-founder.
World First Aid Day 2021 Significance:
World First Day is an annual event that is observed with an aim o promoting the knowledge of first aid, and the importance of being able to provide first aid in intense and difficult situations that can save a person's life. 
While reports state that as much as 27% of the deaths occur due to lack of medical attention, which can for the time being be compensated with first aid. This clearly states that being first aid trained is the need of the hour.
World First Aid Day 2021 Theme: 
The celebration of World First Aid Day is based on a theme every year, and the theme of World First Aid Day 2021 is "First aid and road safety."