Coronavirus India Update:  The cases of coronavirus are increasing rapidly in the country. In the last 24 hours, 348,421 new corona cases have come and 4205 infected people have lost their lives. On the other hand, during the Covid-19, there is a fear in the mind of the people that if we go near the people, then our health is a threat. People are running away considering it untouchable. However, Front Line Workers are taking care of Covid-19 Positive patients without any excuse. In one such case, despite being a Doctor of Jalandhar, a 9 Months Pregnant Doctor is giving Treatment To Corona Positive Patients and taking care of them. 
The doctor set an example by serving the patients of Covid-19 by becoming a Nodal Officer at the Charitable Hospital of Gurdwara Sahib.  Doctor Richa Chatrath says that she is 9 months pregnant and not sick. She helps people with the entire procedure as she wants to serve the people in this pandemic while taking care of herself.
Dr. Richa Chatrath looking after the management of the Covid Care Center
Dr. Richa Chatrath says that she has been providing services in the hospital as a physiotherapist for the last one year. As the corona Pandemic progresses, the hospital has a Covid Care Center set up for Level-1 patients as it was being prepared for the last one month. The centre was launched on Wednesday and Richa has been appointed as the nodal officer of the centre. 
She is looking at management and keeping pace with the on-call doctors and conveying the message to the doctors and staff posted in the ward. Apart from this, she also sees the work of providing medicines and other goods for the patients.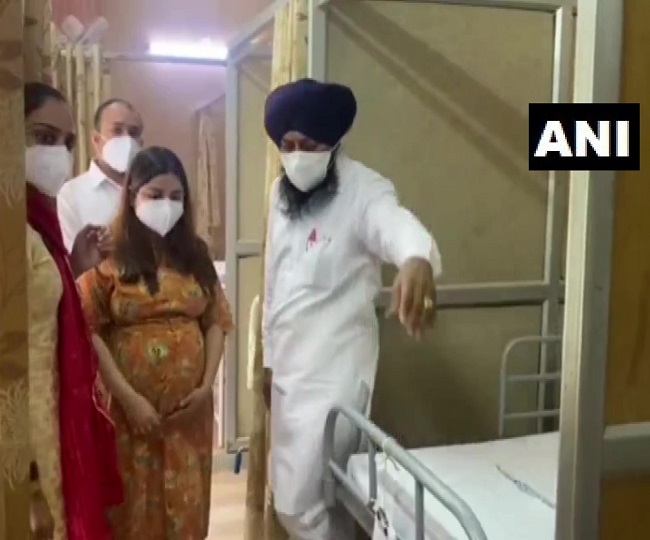 Delivery expected in next two weeks
She is making every effort to defeat Corona even during her pregnancy. Her delivery is scheduled in the next two weeks. After that, she will be on phone calls with the staff and trust officials from home. 
Richa says that she knows that there is a need to stay away from the corona during pregnancy. She is fully adhering to the Covid rules.
Hospital management is taking full care
Center Chairman and former Senior Deputy Mayor Kamaljit Singh Bhatia said that Dr. Richa is a very hardworking and courageous girl. She has been kept away from corona-positive patients as per the given COVID regulations. She is playing the role of Nodal Officer in the office. Their duty is to maintain the arrangement of the centre in coordination with the people concerned.