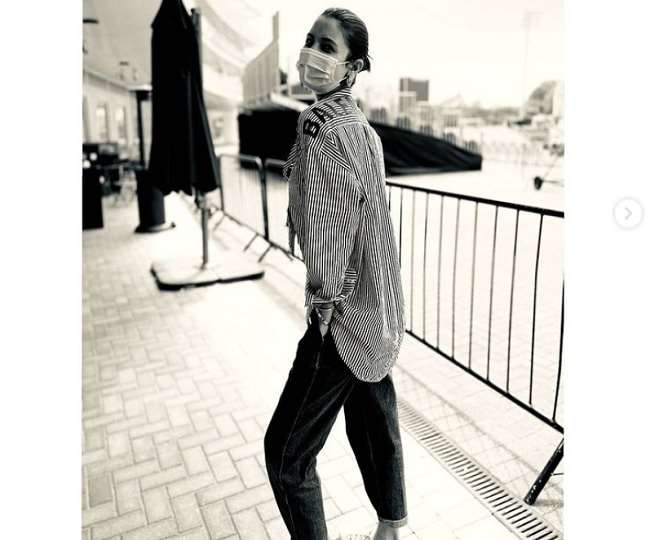 Bollywood actress Anushka Sharma and Indian cricket team captain Virat Kohli welcomed their baby girl 'Vamika' on January 11, 2021. While Anushka took a break from her birth during her maternity leave, the actress was back on the sets and shoots after 2-3 months of giving birth. Not only this she even surprised her fans by looking all fit and in shape even after pregnancy. She often shares her recent pictures and videos with fans keeping them updated. Recently she shared some 'random pictures with quirky captions' while posing in London. While the picture itself went viral and netizens loved her random no-plan look, everyone also got a bit intrigued to know the price of her Balenciaga oversized shirt she wore. 
Anushka Sharma Balenciaga Shirt worth ₹83, 672.
In the photos posted by Anushka on her official Instagram account, Anushka is wearing a loose shirt of white and black colour, paired with black colour trousers. While the shirt itself is pretty and casual, its price will surely surprise you. Anushka wore the Oversized Shirt from the fashion house of Spanish luxury brand Balenciaga. And this shirt is worth  ₹83, 672. In a similar price range, you can get a ticket for a flight to London.
Sharing the picture Anushka wrote in the caption, "A 'take random photos and think of a quirky caption' kind of post."
No doubt her random photo is worth a lot of money. But if they will not feel the luxury then who will? Also not to forget that oversized shirts are best for a casual easy-breezy look, And Anushka being a mommy, it's best for her to look stylish yet casual and manageable while handling baby Vamika.