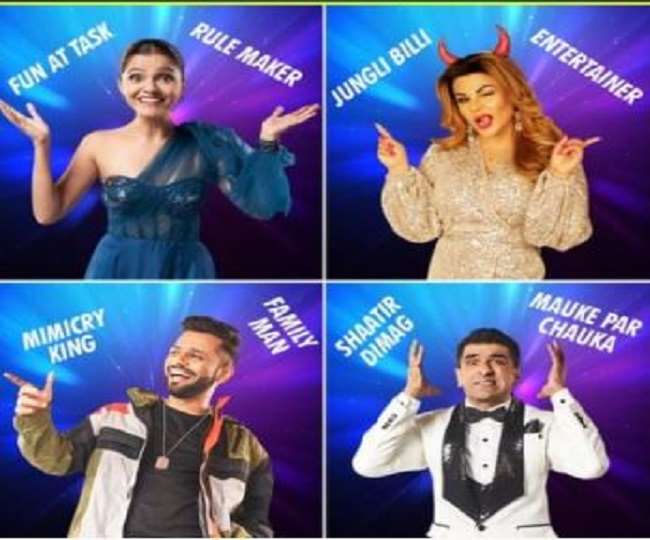 Bigg Boss 14 Winner Prediction: Bigg Boss Season 14 hosted by Bollywood hotshot Salman Khan has become the talk of the town ever since its premiere 3rd October '2020. With all the drama, fights and laughs the shows have become the cauldron of entertainment. Glueing the audiences to their screens, this drama-packed entertainment celebrity reality show has managed to attract the heights in TRP's. 
Bigg Boss 14 Challengers
Starting with the tasks given by the Bigg Boss Seniors, none-other than the famous ex-contestants of Bigg Boss house Hina Khan, Guauhar Khan and Siddharth Shukla, this season's contents did there 200% to come in the good books of the house seniors and continue their BB 14 journey. But the Bigg Boss House never fails to bring on some unexpected twists and turns. And following these traditions, Bigg Boss 14 producers roped in some ex-contestants as challengers. The entry of Vikas Gupta, Kashmera Shah, Rakhi Sawant, Rahul Mahajan, Manu Punjabi and Arshi Khan was a shocker for the housemate but it promised some series twists in the reality show to the audience.
With all the drama and tiff between housemates and challengers, the show completed its 14 weeks and entered its 15th week. With the shocking eviction of Jasmine Bhasin and Vikas Gupta leaving the show for health reasons, BB 14 is moving with Rubina Dilaik, Abhinav Shukla, Aly Goni, Eijaz Khan, Arshi Khan, Rahul Vaidya, Rakhi Sawant, Nikki Tamboli and Sonali Phogat who are swedging with each other and putting their best effort to the hearts of viewers and reach into Bigg Boss 14 finale. 
Who Will Win Bigg Boss 14?
As the show is getting interesting with all the twists and turns, viewers are also speculating the winner of Bigg Boss 14. And in this article, we'll look upon the contestants who are winning the hearts of the audiences and proving their iron to win the Bigg Boss 14 finale trophy. 
Rubina Dilaik Winner of Bigg Boss 14
This Choti bahu or the television industry has won many hearts by her various tv shows and now she is proving herself in Bigg Boss 14. With a lot of fans following Rubina is conjectured to be the winner of Bigg Boss 14. The actress has shown her potential in the Bigg Boss house and has been there since day one. Completing her 100 days journey, Rubina has surely become one of the contestants to win the Bigg Boss Finale. Through her journey in Bigg Boss house was not a bed of roses, she has been in heated arguments with fellow contestants. She even had a tiff with the show's host Salman Khan. She has been warned not to use English in the show and even don't share a very good equation with other participants. 
However, Rubina is proving herself with her strong solo game. She is engaged in tasks given in the show. Her chemistry and small tickling moments with husband Abhinav is surely entertaining the viewers and helping her gain votes and support. In many social media polls, Rubina is coming out as the suggested winner of the show. During the show, Rakhi Sawant, who is also one of the contestants of Bigg Boss 14 mentioned Rubina to be the winner of Bigg Boss 14. And not to forget, the hotshot seniors of this season, Hina Khan and Gauhar also quoted that they strongly believe that Rubina Dilaik is a clear winner of the show. And if you ask Google about the Winner of Bigg Boss 14, There also the name Rubina Dilaki has managed to be on the top of SEO.
In a recent Tweet by  Devoleena Bhattacharya she responded to a fan that 'Shakti' actress Rubina Dilaik will win the title of BB 14.
Eijaz Khan to win the Bigg Boss 14 final
The silent player of this season BB 14 Eijaz is also one of the tough competitors and has the potential to win the Bigg Boss 14 Trophy. Listening to some current trends and support, Eijaz Khan might win the Bigg Boss 14 Trophy. Eijaz is seen as a strong personality on the show. When he opened up about the child molestation he faced, the audience appreciated him for letting out the things and showing bravery by sharing on  National television. His revelation even got him saved against Rubina Dilaik. 
According to some talks around the social media, Eijaz Bigg Boss 14 gameplay is said to be similar to Siddharth Shukla who tends to become the Bigg Boss 13 winner. Siddharth Shukla was pointed out for his anger management and issues and similarly, Eijaz has been pointed out for the heated brawls with contestants of season 14. But these ugly fights of Eijaz Khan are not everyday stories. He is winning the hearts of the viewers by keeping cool in situations which might have turned violent. His patience during an argument with Kavita Kaushik or when he asked Arshi Khan not to poke him unnecessarily has won the hearts of the netizens. We can say that this cool contestant really has the hot fierce side and he knows when to show one of them. His ticks to handling the situation just according to the right time make the audience believe that Eijaz Khan will win Bigg Boss 14. 
Tarak Mehta Ka Ooltah Chashma actress Mumun Dutta also supported Eijaz in one of her tweets and slammed Kavita Kaushik for her behaviour. 
She tweeted, "Kavita Kaushik is absolutely rude. Period! Disgusting way of speaking to Eijaz. She forgot her own behaviour with Shardul, Pavitra, Rubina when she was the captain. Those overreactions.. Respect for Eijaz today for still being respectful in front of that verbal diarrhoea."
Rakhi Sawant to win Bigg Boss 14
Talking about the most entertaining contestant of this season, Rakhi Sawant is the first name on the lips of the audience. Event family members of the Bigg Boss 14 Contestants found Rakhi to be the most entertaining participant of this season. Be it her Funny pokes to Abhinav to be her love interest, or catching the attention of social media sensation Yashraj Mukhate and being in his latest video, Rakhi Sawant is the talk of the town for giving Bigg Boss 14 House the layer of entertainment and tickling smiles. 
Rakhi Sawant was the known face of celebrity reality shows Bigg Boss from Season one. In the previous season, she managed to be top 4 but was not able to grab the winner's title. In this season of Bigg Boss 14, she came back as a contestant and proved her to be one of the deserving candidates for the finals. 
Her recent emotional outburst after seeing her mom hospitalized made her fans connected to her and won the hearts of many. 
In one of the episodes of Bigg Boss 14, ex-contestant Rahul Mahajan who is not evicted from this season was seen talking to Rakhi Sawant about her personal life. In the episode, Mahajan talked about the heartbreaking part of Rakhi's life. He mentioned that Rakhi is lonely and stressed about her relationship with her husband and misses him every day. He also shared Rakhi's troubled past about how she struggled to enter the glamour world. He stated that Rakhi used to be in a strict house due to the strict ideologies of her parents. Rahul then made these struggles of Rakhi accountable for her different behaviour. 
Rakhi is no doubt a box of entertainment. But she also has a fierce side. She had a tiff with Jasmine and indulged into an argument with Sonali Phogat. Currently, all the contestants are also questioning her captaincy. 
This will be interesting to watch on how Rakhi will come up on top while competing with other contestants and struggling with her personal problems. Though she is winning the hearts of Audiences. Will she be able to win the support as much so that she can win the season's finale. It will be interesting to watch if Rakhi Sawant becomes the winner of Bigg Boss 14 or no one from challengers will lift the trophy.
Rubina Dilaik, Eijaz Khan or Rakhi Sawant who will lift the trophy of Bigg Boss 14? Or maybe someone else's stars will favour them to be the winner of Bigg Boss 14. Contestants like Abhinav Shukla and Aly Goni are also putting their best on the show but with a slow pace. Will they gear up for the trophy or will there be any wild card entry. Eviction of Jasmine has also made highlights whether she will come back as a wild card or not. We don't know. But we definitely know that the contestant who will win the hearts of the audience and fill the Bigg Boss house with drama and entertainment will be the one winning the trophy of Bigg Boss 14.