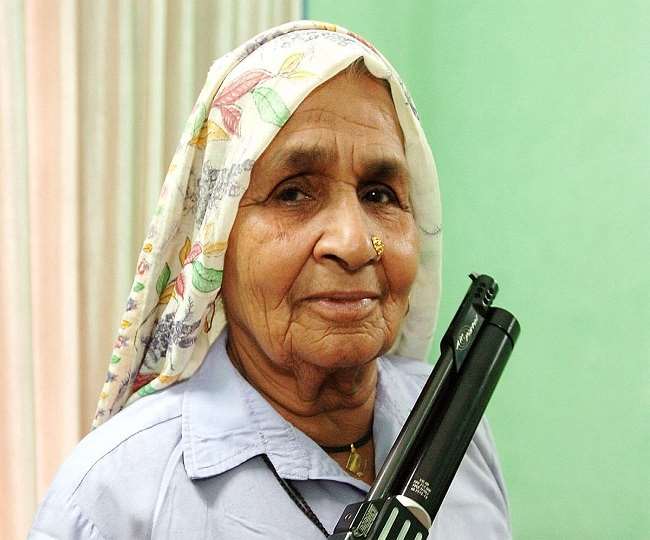 Indian Sharp Shooter Chandro Tomar, who made headlines after the film 'Saand ki Aankh' passed away on Friday after suffering from Coronavirus infection. 89-year-old Chandro Tomar, known as Shooter Dadi, was an octogenarian sharpshooter from the small village of Johri in the Baghpat district in the Indian state of Uttar Pradesh.
89-year-old Dadi Chandro Tomar, a veteran shooter of Jauhari of Binauli in Baghpat, died on Friday while undergoing treatment at Meerut Medical College. She was infected with the Covid-19 and was admitted to the Medical College of Meerut. On Thursday night she was shifted from Anand Hospital in Baghpat. As per the reports by Grandma's relatives she died due to a brain haemorrhage.
His son Vinod Tomar shared that on Monday, Chandra had trouble breathing and after tests, she was reported positive with Covid-19. Later she was admitted to a hospital in Meerut. She succumbed to the virus on Friday leaving her family and fans in grief.
Shooter Dadi- Chandro Tomar- Biography
Story of being the Shooter Dadi
Tomar was born on January 1, 1932, in Shamli, Uttar Pradesh, India. Being from a small village and surrounded by a patriarchal society, Chandro Tomar never attended school and was married at the age of 15. While she lived a normal life, it was after the age of 65 that she became a sharpshooter and trailed her career in it.
Initially, people used to laugh at her and were derided. But she kept her zeal to learn the shooting and attended professional competitions. Many people opposed her going out and participating in competitions including her husband and brother but nothing stopped her. Her daughter and grandmother also joined Tomar's shooting team and her dedication even inspired other girls of the village to come out and join. 
Why did she learn to shoot?
Shooter Dadi had five children and twelve grandchildren. When one of her granddaughters proposed to learn shooting but was hesitant to go alone because of an all-boys shooting club, Chandro accompanied her to the Johri Rifle Club. It was her fate that Dadi visited the club and her life took a u-turn. During the practice when her granddaughter was unable to load the pistol, Chandro helped her and even shot her target. To everyone's surprise, Dadi's first shoot targeted the bull's eye and this got the attention of the coach. 
The coach of Johri Rifle Club, Farooq Pathan was surprised and impressed by Dadi's skills for shooting and he suggested she join the club. And Tomar exactly did the same.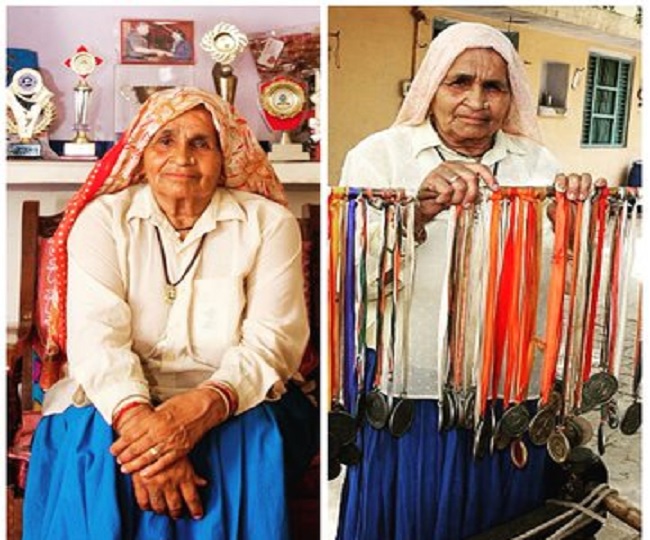 Shooter Dadi Won Accolades
In an interview with New York Times in 2021, Tomar shared how she got all her strength and agility. She said, "All the household chores I used to do from a young age, like grinding the wheat by hand, milking the cows, cutting the grass, It's important to stay active. Your body might grow old, but keep your mind sharp."
Chandro Tomar's niece Seema Tomar is also a sharpshooter and is India's first woman to win a medal at  Rifle and Pistol World Cup in 2010. Chandra' granddaughter Shefali Tomar, also received many achievements as an international shooter and took part in international competitions in Hungary and Germany. 
Shooter Dadi has won 25 state and larger championships around the country. She also won Gold Medal at the Veteran Shooting Championship held in Chennai becoming the true idol for the girls of her village and also the Nation.