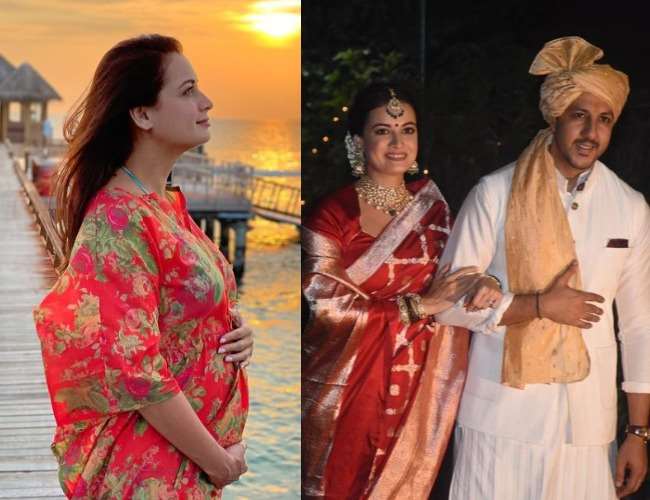 Bollywood actress Dia Mirza surprised fans by announcing her pregnancy suddenly last week. She recently got married to her boyfriend Vaibhav Rekhi in February 2021 and her wedding was the talk of the town as many orthodox rituals were not carried out. The ceremony was concluded by a female priest and other rituals like Kanyadan were not performed. 
Netizens Questioned Dia Mirza on Pregnancy 
While the actress was praised for her progressive ideology and breaking stereotypes, the news of her pregnancy got a mixed reaction. When the actress announced her pregnancy just one month after the marriage, many of her fans and netizens commented that she got married due to her pregnancy. One of the social media users questioned her why she did not declare her pregnancy before marriage when she broke stereotypes in her marriage? Why can't a woman be pregnant before marriage?
Responding to the comment Diya replied with a long note while sharing her happiness of motherhood. Diya wrote, "Interesting question. Firstly we didn't marry because we were having a baby together we were already marrying as we wanted to spend our lives together. We discovered we were going to have a baby while we were planning our wedding So this marriage is not the result of a pregnancy. We didn't announce the pregnancy until we knew it's safe (medical reasons) to. This is the happiest news of my life, i've waited for many many years for this to happen. No way i would hide it for any reason other than medical.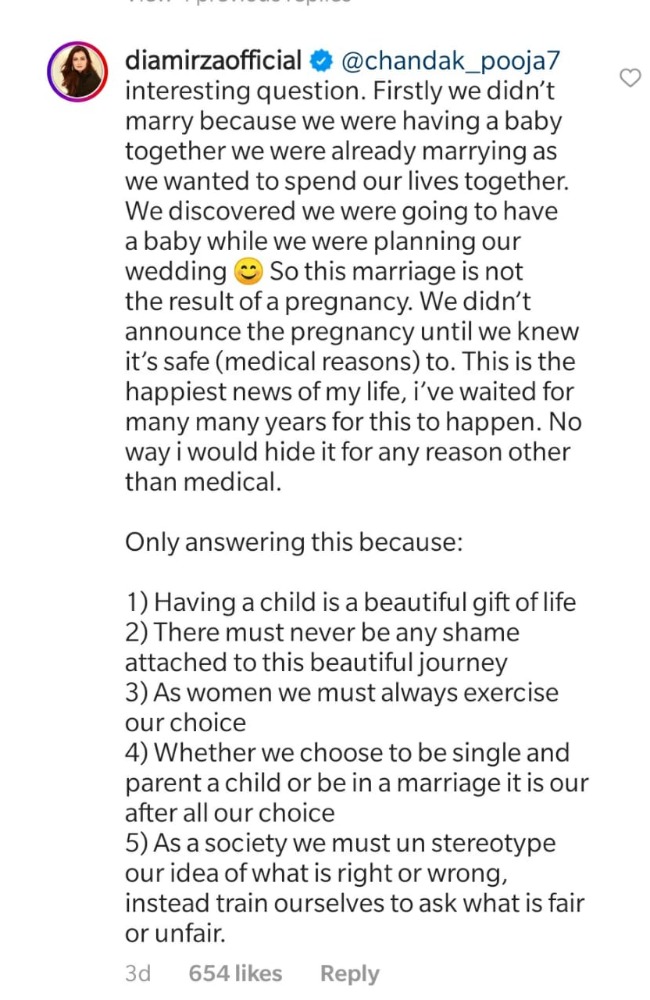 Further, Diya also explained in points and wrote that it's entire someone's choice whether to raise a child by staying single or after marriage.
Dia Mirza Announce Pregnancy
Dia revealed her pregnancy on Friday by posting a picture of herself with Baby Bump on Instagram. In this, she wrote -Blessed to be...One with Mother Earth...One with the Life Force that is the beginning of everything...Of all stories. Lullabies. Songs.Of new saplings. And the blossoming of hope. Blessed to cradle this purest of all dreams in my womb ."
Dia Mirza, along with businessman Vaibhav Rekhi, took the nuptial vows according to Hindu customs on February 15. Diya posted on Twitter a picture of the Phera ritual and told that an elderly priest named Sheela had performed all the rituals of her and Vaibhav's wedding. The picture went viral on the internet and people loved the new initiative.