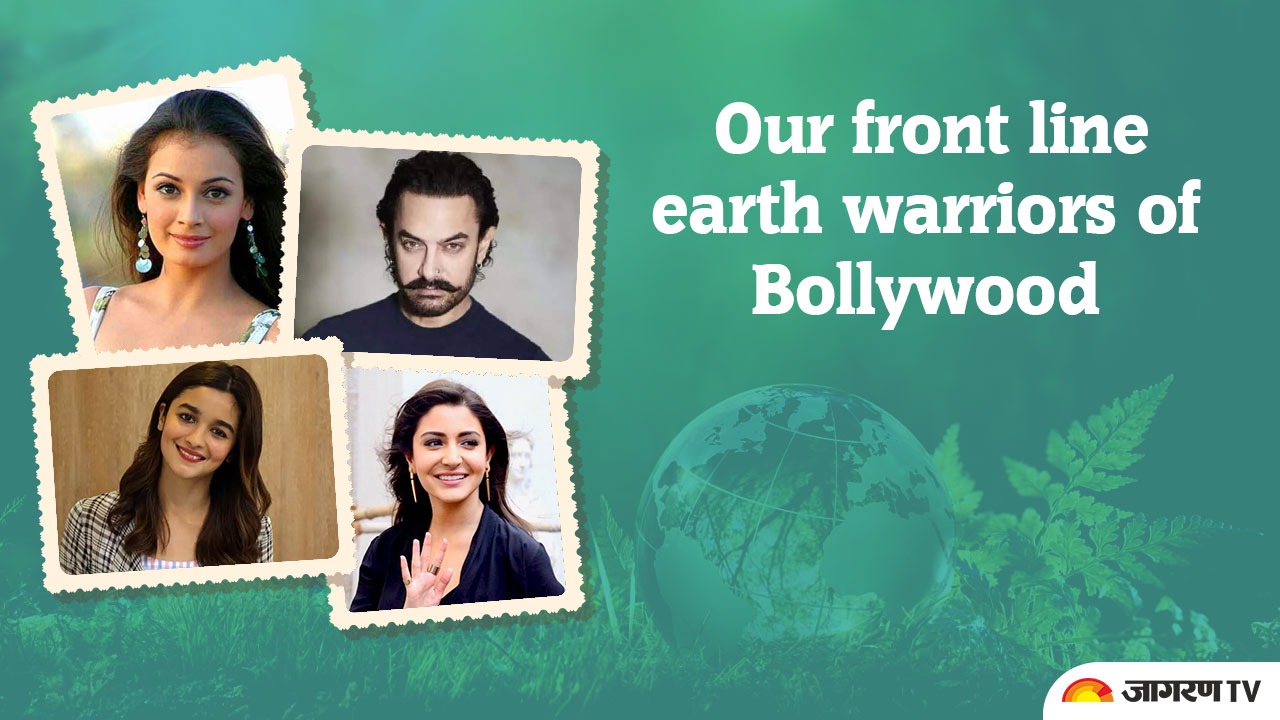 We live on one of the most beautiful planets of the solar system ' Earth'. Our planet holds the essence of life i.e plants, animals, oceans and to its greatest creature human, it's indeed the magical sphere of this universe. While we celebrate Earth Day since 1970 every April 22 to observe the annual environmental crises around the globe, it's high time to take action as our planet is suffering and the crises need immediate attention. Together we can and together we will, and on this mission, our celebs are also on the frontline with us to take initiative. From Dia Mirza to Amir Khan our Earth Warriors are doing their best to highlight the issues while working on them.
Bollywood Earth Warriors
Dia Mirza 
The UNEP Goodwill Ambassador and United Nations SDGs Advocate have been always vocal about raising climatic conditions. Be it deforestation or the issue of rising plastic pollution, Dia Mirza is one of the climate warriors. Being an influential celeb she always tries to amplify the issues and work to curb them or to bring them to the notice. 
She has been engaged in many voluntary programmes like habitat prevention, wildlife protection, beach cleaning initiative and other work. Dia favours sustainable living and even to this Earth Day, she is talking about the rising plastic pollution due to pandemic. In one of the interviews, Dia also stated that it's a collective authority of us and our officials to work on the environment. 
 

 

 

View this post on Instagram
Aamir Khan 
Out perfectionist B'Town aka Aamir Khan founded the NGO 'Paani Foundation, to curb the need for water in the drought-affected areas of Maharashtra. The foundation has been active in drought prevention and watershed management to help people understand and save every drop of water. 
Spreading the knowledge of watershed management and groundwater replenishment, Aamir's Paani Foundation actively works on encouraging people to save water. The foundation also organizes the Satyamev Jayate Water Cup competition every year for the villagers in which they take part and implement the watershed management and conservation methods. This not only encourages them but helps them to save water during monsoons. 
 

 

 

View this post on Instagram
Anushka Sharma
Actress Anushka has always been protective of the environment and animals. While she often raises a voice against animal cruelty she also supports the initiates to save the enviroment. She has chosen the path of veganism and highlighted the vegan lifestyle which not only saves the animals but also leaves a positive footprint on our earth. Along with her husband Virat Kohli, she has also opened many animal shelters and is giving her contribution to mother earth. And how can we forget Virat-and Anishka's wedding invite where the couple sent a small sapling along with their card. Definitely, Anushka is not leaving any opportunity to promote sustainability and a greener environment. 
 

 

 

View this post on Instagram
 Alia Bhatt
Alia Bhatt has always supported the idea of co-exiting. While the actress often works for animal welfare, she also promotes the idea of living together with animals and plants on this beautiful earth. Her new venture Ed-a-mama which is a sustainable clothing site promotes the idea of reusing the clothes and its products come with a small seed to plant new trees.
Alia also took a vow to make her lifestyle plastic-free as her contribution towards saving the Earth. She has also urged her fans to kick plastic out from their living and be conscious of our environment. 
 

 

 

View this post on Instagram
While we all want to do our bit towards the environment, initiatives by our celebrities create a huge impact. We adore them and often follow their steps. So if they work towards our home planet then why should we keep a back? We have only one home, and this blue planet of our's is caring for us like a mother. If not us then who will save it? 
Our small step will create a huge impact and a big change just needs a small push. 
Happy Earth Day!