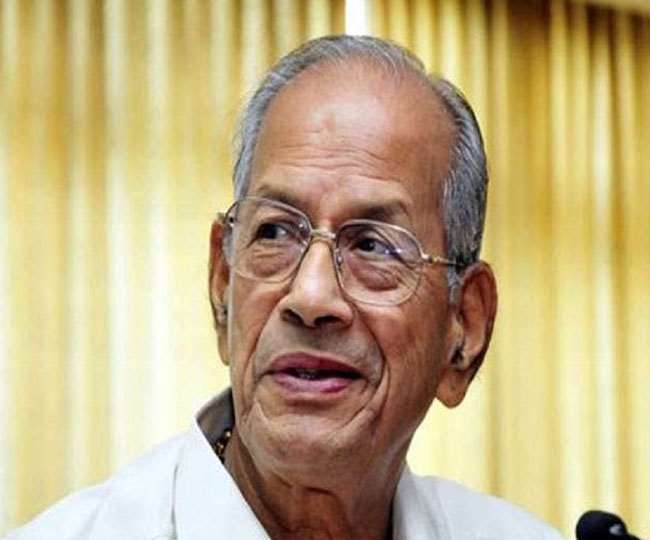 Indian engineer and politician Elattuvalapil Sreedharan also known as the Metro Man of India was the managing director of Delhi Metro Rail Corporation from 1995-2012. During his serving period, he changed the face of public transport in India while leading the Konkan Railway and the Delhi Metro projects. He was awarded Padma Shri in 2001, Padma Vibhushan in 2008, Chevalier de la Légion d'honneur in 2005 by French Government and was named Asia's Heroes by TIME Magazine in 2003. Sreedharan was appointed by Ban Ki-moon (former UN Secretary-General) to serve on the UN's High-Level Advisory Group on Sustainable Transport (HLAG-ST) in 2015. 
Elattuvalapil Sreedharan Personal Life and Education
Hailing from Karukaputhur, Palakkad, Kerala E. Sreedharan was born on June 12, 1932 to Keezhveettil Neelakandan Moosath and Ammalu Amma. He completed his higher education from Basel Evangelical Mission Higher Secondary School and later went to Victoria College in Palghat. He attended Government Engineering College, Kakinada to complete his bachelor's degree in  Civil Engineering. Later he got married to Radha Sreedharan.
Elattuvalapil Sreedhararan 'The Metro Man'
Sreedharan worked as a Civil Engineering lecturer in Government Polytechnic, Kozhikode. In 1953, he cleared IES conducted by UPSC and joined the Indian Railway Service of Engineers. In 1964, parts of Pamban Bridge that connected Rameswaram to Tamil Nadu was broken by a cyclone. The Railways set a target of 6 months and Sreedharan was put in charge who executed the restoration in mere 46 days.
For this achievement, he was awarded Railway Minister's Award. Sreedharan made sure that Cochin Shipyard Limited built its first ship while he was its Chairman and Managing Director. In 1981, the shipyard launched its first ship named the MV Rani Padmini. He also led a large number of projects which include Konkan Railway, Delhi Metro, Kochi Metro, Lucknow Metro and other metros. Hence for his valuable contribution to the Indian Metro services he is also called 'The Metro Man.'
Elattuvalapil Sreedharan Political Career
Before joining politics, Sreedharan used to give his views on various political issues and was actively participating in Political affairs. When Kejriwal's (Aam Aadmi Party) AAP government in Delhi announced a free travel facility for women in buses and Metros, he opposed the decision and wrote to the PM for his intervention. 
He also opposed Kerala Government over legislation that facilitates student organisational activities in all institutions. He called Kochi metro's Pettah-Tripunithura extension a "foolish act" and suggested KMRL reduce fair prices. He also suggested Indian Railways raise fare prices instead of borrowing capital for operations. He also argued that the bullet train project was "highly expensive".
Elattuvalapi Sreedhararan Joined BJP
On 18 February 2021, Sreedharan joined the Bharatiya Janata Party ahead of the 2021 Kerala Legislative Assembly election. He contested in the 2021 Kerala Legislative Assembly Elections from the Palakkad assembly constituency.