Twitter Map Controversy: In the recent case of tampering with the Indian map, the police has registered a case against MD and India Head of Twitter India Manish Maheshwari. The case was registered on the complaint of Khurja's Bajrang Dal office-bearer and advocate. Earlier, a map of India was shown on Twitter, in which Jammu and Kashmir and Ladakh were marked outside India. 
Later this map was revealed on the company's website on Monday morning. The objectionable map of India appeared under the heading 'Tweep Life' in the careers section of the website. After the image of the controversial map surfaced, questions were raised on the intention of Twitter across the country. The company also faced heavy criticism. However, now Twitter has removed the map showing Jammu and Kashmir and Ladakh as separate countries from its website.
Complaint registered by Praveen Bhati, Bajrang Dal office-bearer and advocate
Objecting to Twitter and seeing the tampering of the map of India, Praveen Bhati, a resident of Mohalla Murari Nagar, Khurja, advocate cum provincial co-convener of Bajrang Dal, registered a complaint in Kotwali police on Monday evening. In the complaint, he described that he was using Twitter at three o'clock in the afternoon. During that time, he saw that Jammu and Kashmir and Ladakh have been shown separately from the map of India. This thing hurt the sentiments of the people of India. 
According to him, this act has been done by Twitter and its MD Manish Maheshwari and News Partnership Head Amrita Tripathi to confuse the world by creating this forged map. He alleged that this sedition act was done intentionally.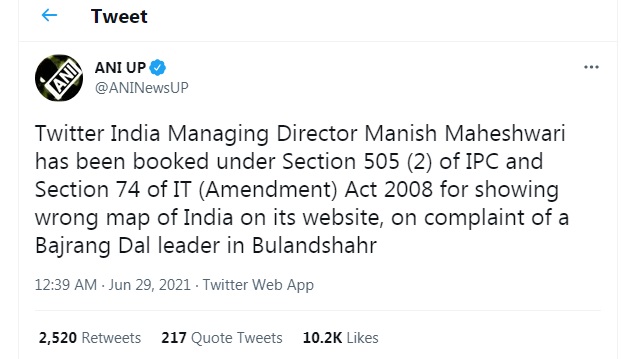 FIR against  Twitter India MD Manish Maheshwari
Kotwali in charge of Dixit Kumar Tyagi said that on the basis of Tahrir, a case has been registered against Manish Maheshwari and Amrita Tripathi and the following is under investigation. 
According to the news agency ANI, A case has been registered under section 74. against the Managing Director of Twitter India  Manish Maheshwari, under Section 505 (2) of the IPC and the IT (Amendment) Act 2008, on the complaint of a Bajrang Dal leader in Bulandshahr.