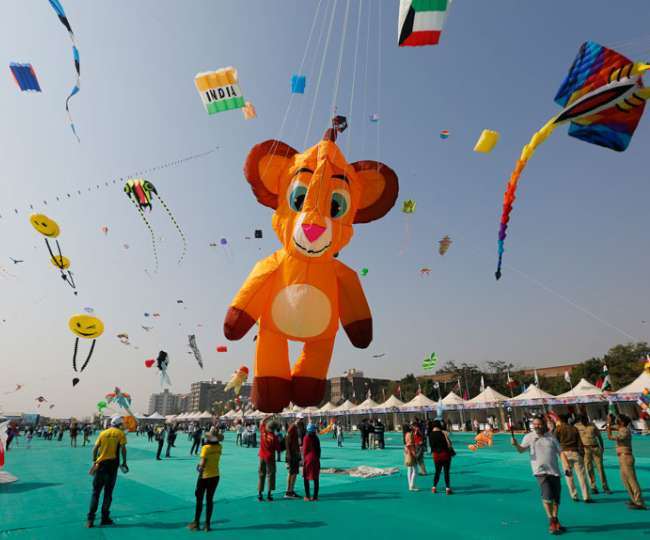 International Kite Festival 2021: There are many occasions where sports are associated with festivals in India, and one of the most loved out of those sports is kite flying. Though kites are flown during different parts of the year, it is most enjoyed on Independence day, Makar Sankranti and a particular day dedicated to kite flying, also known as International Kite Festival. Every year, the International Kite Festival (also known as the Uttarayan Festival) is observed on 14th January, in Gujarat. It is one of the biggest festival celebrated in the state, where n number of houses start manufacturing kites months before the festival. 
The festival marks the change of seasons from winter to spring and is a sign for farmers all over India that, Sun is back and advancement of the harvest season which is also known as Makara Sankranti/ Mahasankranti. It is considered one of the most important harvest day in India.  
Internatial Kite Festival Date
Just like every year, the International Kite Festival 2021 will be observed on 14th January 2021. On the day of the Uttarayan festival, tourists show up in huge numbers to enjoy the festival and participate in the celebrations. Further in this article, we will know about the history of the International Kite Festival and  Why we celebrate International Kite Festival.
International Kite Festival History
Almost every Indian knows that there are many festivals which are associated with the sport of Kite flying. The festival represents the show of awakening of from deep sleep. At the same time, it is believed that India's famous tradition of flying kite was made due to the Kings, Royalties followed by Nawabs. It is believed that these Kings and Nawabs used to find this sport of kite flying an entertaining sport and a way of showcasing their skills and power. After this, the sport became immensely popular and reached out to the masses. The International Kite Festival was celebrated for the first time in 1989 on 14th January when all the participants across the globe came together and showcased their innovative kites. Since then, the festival is celebrated with great enthusiasm and zeal, especially in Gujarat. 
Significance of International Kite Festival:
Being an important festival for the denizens of Gujarat, it is considered as an auspicious beginning of a six-month period known as Uttarayana. The festival is mainly celebrated on 14th January, Makar Sankranti each year and continues till 15th January, known as Vasi-Uttarayan. During these two days, a public holiday is observed throughout the state of Gujarat. 
Local delicacies such as Undhiyu (a mixed vegetable including yam and beans), Chikki(sesame seeds brittle) and Jalebis are served in massive quantities amongst family members, friends and crowds. 
In 2012, the Tourism Corporation of Gujarat made a statement that a total of 42 countries participated in the International Kite Festival that year and tried to make it to Guinness World records.
Highlights of International Kite Festival 2021.
The essential highlights of this festival will, of course, be the beautiful coloured kites, but will not be limited to this. There are many magnificent kites from different parts of the world on display, including banner kites by the USA, Japanese Wau-Balang kites, sculptural kites by Italy, Chinese flying dragon kites, and other magnificent kites. 
An important highlight of this festival is the markets that are all decked up with coloured kites and hundreds of customers lining up to pile up their stock of kites for the festival. One of the most famous market among others is Patang Bazar in Ahmedabad, which opens 24 hours a day during the days of the festivities. 
Here's to wishing everyone a very Happy International Kite Festival, 2021.