Bollywood actress Kangana Ranaut remains very active on social media. Kangana keeps her opinions and raises her voices fearlessly through the platforms. Although her tweets and reactions often left her being trolled, the actress never holds herself back from keeping her words.  However,  now it seems that Kangana's backlash has fallen on her because Twitter has suspended her account.
Twitter suspends Kangana Ranaut account
Yes, you heard it right the social media platform Twitter has suspended the Twitter account of the actress on charges of violating its rules. If you search Kangana's Twitter account, then 'Account Suspended' is written in clear words and the profile photo of the actress is visible.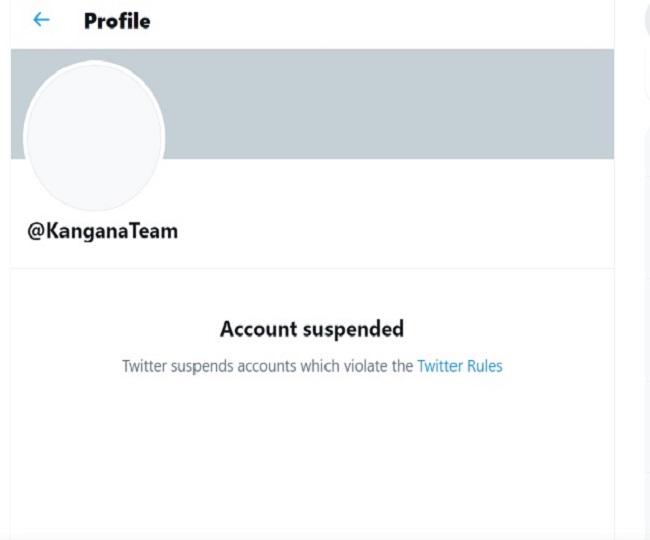 As soon as Kangana's Twitter was suspended, there was a flood of memes on social media. Some people are expressing happiness over this decision on Twitter and are sharing funny memes, while some people are demanding to bring back the account of the actress.
 Kangana Ranaut Tweet
Let me tell you that after the recent defeat of the BJP in the Bengal elections and the victory of the Trinamool Congress, Kangana Ranaut had made several tweets in a series of tweets. In which she directly accused TMC for the violence in Bengal. Which included everything from sexual abuse to murder. Not only this, but Kangana Ranaut also directly targeted Bengal Chief Minister Mamata Banerjee.
In one of her tweets, the actress wrote, "I was wrong she is not Ravana he was the best king built richest country in the world great administrator,scholar and Veena player absolutely competent n kind to his subject,she's bloodthirsty demon Tadka, who all voted for her the blood is on your hands as well #Bengal Violence."
With this tweet, Kangana Ranaut wrote #BengalisBurning #PresidentruleinBengal in the hashtag. However, this was not the first time Kangana had become so aggressive towards someone. Earlier Kangana has commented on Maharashtra Government and even targeted Congress in her tweets.