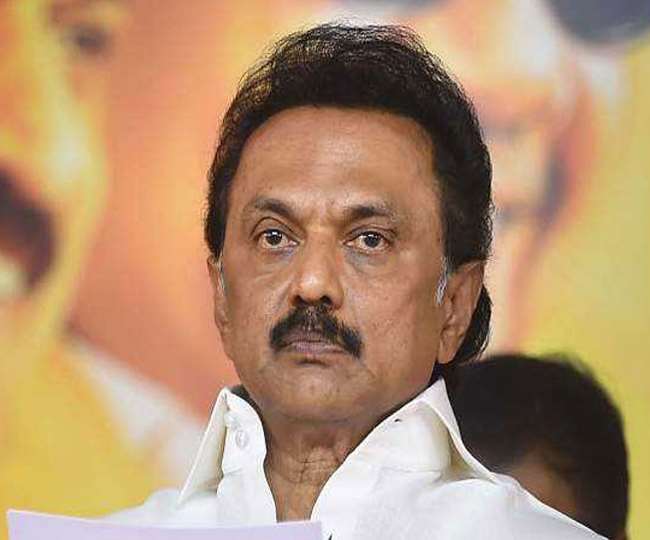 Indian politician Muthuvel Karunanidhi Stalin also known as the M.K. Stalin is the President of Dravida Munnetra Kazhagam (DMK) Political Party in the state of Tamil Nadu. He is also the opposition leader in Tamil Nadu Legislative Assembly since the last formed government on May 25, 2016. 
M.K. Stalin is the eldest Son of Tamil Nadu's former Chief Minister  M. Karunanidhi who served the state for two decades over five terms between 1969 and 2011. M.K. Stalin was the 37th Mayor of Chennai from the year 1996-2002 and was also the 1st Deputy Chief Minister of Tamil Nadu from 2009 to 2011.
Holding the powerful political personality, Stalin was also on the list of India's Most powerful Personalities in 2019 by the Indian Express and was positioned in 30th place.  
While the Tamil Nadu Elections for 2021 was recently held on April 6, 2021, The results are awaited on May 2021. However the exit poll for the assembly elections was out on April 29, and predictions were in favour of the DMK party led by M.K Stalin. As per the poll prediction, DMK+ will be coming in the power of Tamil Nadu defeating AIADMK (All India Anna Dravida Munnetra Kazhagam) and M.K. Stalin is the candidate for Chief Minister from his party. 
M.K. Stalin Personal Life and Education
Hailing from Madras, now Chennai, M.K. Stalin was born on March 1, 1953, to M. Karunanidhi and Dayalu Ammal. Four days before the birth of Stalin, Karunanidhi addressed a  condolence meeting for Soviet leader Joseph Stalin and thus he named his son after him. 
Stalin completed his Higher Secondary from Madras Christian College Higher Secondary School and did a pre-university course at Vivekananda College. In 1973, Stalin also pursued a Degree in History from Presidency College, Chennai of the University of Madras. On August 1, 2009, Stalin was conferred with Honorary Doctorates by Anna University.
M.K. Stalin tied the knot with Durga on August 25, 1975, and has two children Udhayanidhi Stalin and Senthamarai.
M.K. Stalin Political Career
M.K. Stalin's political career kicked off in his teen years. Initially, he commenced the  DMK Gopalapuram Youth Wing which he used to run in a tea shop along with his friends. He also helped his uncle Murasoli Maran in the 1967 elections when he was only 14 years of age. Later in 1973 M.K. Stalin was elected to the General Committee of the DMK.
M.K. Stalin Jailed during Indira Gandhi Emergency 
M.K. Stalin got into highlights during the emergency imposed by Indira Gandhi, former Prime Minister of India. He was arrested after protesting against the Emergency in 1976 and was sent to Central Prison, Madras under the Maintenance of Internal Security Act (MISA). When he was in custody, another DMK member and Stalin's friend C. Chittibabu succumbed to death due to injuries caused by police. He was in his final year during the emergency and completed his final exams from jail. Later Stalin the youth wing of DMK and became the youth wing secretary in 1982 ad remained on the post for four decades. 
M.K. Stalin changed his constituency from  Thousand Lights to Kolathur 
While Stalin's political career was full of roller coasters. Initially, he failed to gain the seat from the Thousand Lights constituency but later he won the Assembly polls in the year 1989. However, in 1991, the DMK government was dismissed before its 5-year term. Later Stalin again stood in the Assembly elections from the Thousand Lights constituency but was defeated by  AIADMK under Jayalalithaa. But in 1996 he won the seat again. 
For the first time in his political career, Stalin changed his constituency in 2011 and moved to the Kolathur constituency of Chennai. 
M.K. Stalin became Deputy Chief Minister
DMK won the Assembly Election in 2006 and Stalin was appointed as the Minister for Rural Development and Local Administration in the Government of Tamil Nadu. During his tenure, he worked on his administration prowess and helped self-help groups to strengthen the state. Later in 2008, M.K. Stalin was appointed as the treasurer of DMK.
Former Tamil Nadu Governor Surjit Singh Barnala nominated M.K. Stalin as Deputy Chief Minister of Tamil Nadu on May 29, 2009. And later on January 3, 2013, Politician and Stalin's father named him as his heir apparent which cleared the speculations of who will reign the party after Karunanidhi's death. 
M.K. Stalin Opposition leader
In the Tamil Nadu Assembly Elections of 2016, Stalin went on a State tour titled Namakku Naame and appealed to youth. He won the seat from his constituency Kolathur constituency and was appointed as the opposition leader during the government of AIADMK. In 2018, Stalin was appointed as the president of DMK after the demise of his father Karunanidhi.