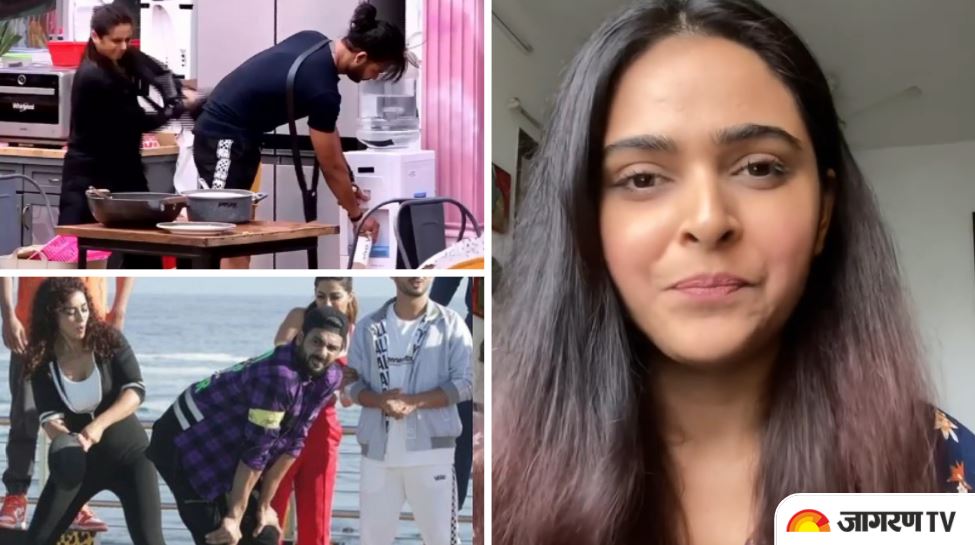 Colours Tv's stunt-based reality show 'Khatron Ke Khiladi 11' has finally started with its new season from July 17. Bringing the best of Television stars to hyping up the excitement, makers are doing their best to get the viewers attention. Amid all the promos and comic moments, the show has also attracted controversy. During a scene in the show, contestant Mehek Chahal hits another contestant Vishal Aditya Singh. While some may think this was just for comedy, let us tell you that this scene was a recreation of an incident that happened in the Bigg Boss 13 house. 
Frying Pan Incident of Bigg Boss 13
Two years ago in the 13th season of Bigg Boss, Vishal Aditya Singh and Madhurima Tuli were included in the contestants of the season. During an episode of, Bigg Boss 13, Visha and Madhurima have a fierce fight ahead of which, Madhurima beats Vishal with a frying pan. This scene not only got a lot of attention on social media, but Show's host Salman Khan even made Madhurima leave the show after condemning her act. 
However, now this controversial incident was created on the sets of Khatron Ke Khiladi as Mehek hits Vishal in friendly banter. While the makers thought it to be funny, this scene has created a lot of turbulence on social media. 
Madhurima calls out Colors TV for playing with emotions 
Bigg Boss 13 contestant Madhurima also got to see this KKK 11 recreation of her infamous scene as the actress has finally spoken on It. Madhurima has called out Colors Tv for not respecting people's emotions. She alleges them for targeting her for something which she is trying to forget and move on. She also blamed the channel for being biased and ask them to recreate everything which happened in that house and not to target one individual. 
Madhurima mom hospitalised after seeing KKK 11 offending  scene 
Madhurima called out the makers of the Khatron Ke Khiladi through a video which she posted on Instagram. She captioned the video and wrote, "Humble request to @colorstv. Dear @colorstv My Mom is crying since morning, she has Diabetes issues and was hospitalized earlier due to the same incident. You guys don't know a single thing about my personal relationship with the person that incident happened. Every single relation in the house was poisonous and everyone has done mistakes in the same house. Please let me move on. Its a request, please consider this video a humble request to not play with my family's emotions again and again.. Thank you."
Watch the video below-